Toto Wolff won't comment on finances in Lewis Hamilton deal
Toto Wolff says he won't comment on the financial side of Lewis Hamilton's contract renewal, but says the Brit understand the "world has changed a lot".
This season World Champion Lewis Hamilton is once again the best paid driver on the grid, reportedly earning €48m.
2020, though, is the final year in that contract.
While Mercedes has already confirmed Valtteri Bottas for 2021, Hamilton has yet to sit down with Mercedes motorsport Wolff to iron out a new deal.
The Brit explained why on Thursday.
"I really want to," he said. "I'm sure Toto is probably getting a little bit anxious because I haven't been too forward with it – like 'let's get it done, now!'
"I think particularly in a time when people are losing their jobs, I generally honestly feel a little bit awkward with sitting down and talking about numbers and talking about a new contract when there are people out there who are not eating, people out there who are starving, people out there who have lost their jobs during this pandemic.
"So, I don't know, I feel a little bit awkward with it, that's why I've kind of stepped back a little bit. But of course, I will do at some stage. But it's awkward – I'm like 'how long can I leave it until it's maybe a little bit more normal, things maybe get a little bit better?'
"But I am absolutely 100% committed to my team. I'm as loyal as ever and I don't lie, so it's not like I'm communicating with someone else – I don't want to be anywhere else."
The new F1 2020 game is out now! Order for PS4, Xbox One and PC
While reports earlier this year claimed that Hamilton was looking for an increase in his next deal, these days there is speculation that he will have to take a pay cut given the world's financial situation.
Wolff was asked about this in the build up to the 70th Anniversary Grand Prix but said he would not comment on money.
"This is a very direct question, which I don't want to comment [upon]," he said. "Lewis has been a very important part of the team.
"We recognise his driving ability, his behaviour and culture within the team, we enjoy his global presence, we respect his opinion on the various topics that are close to his heart and if you look at the impact that he has on Formula 1, not only with him driving exceptionally, he was always worth the expectations in terms of salary, which we respect.
"Now, the world has changed a lot. We face difficult times and all that. And Lewis completely understands that and we will discuss what that means.
"I don't want to lay out financial terms here because it's truly a matter only between Lewis and I and as we have both expressed we will continue to race with each other – best driver and best team – and come to a solution in whatever amount of time."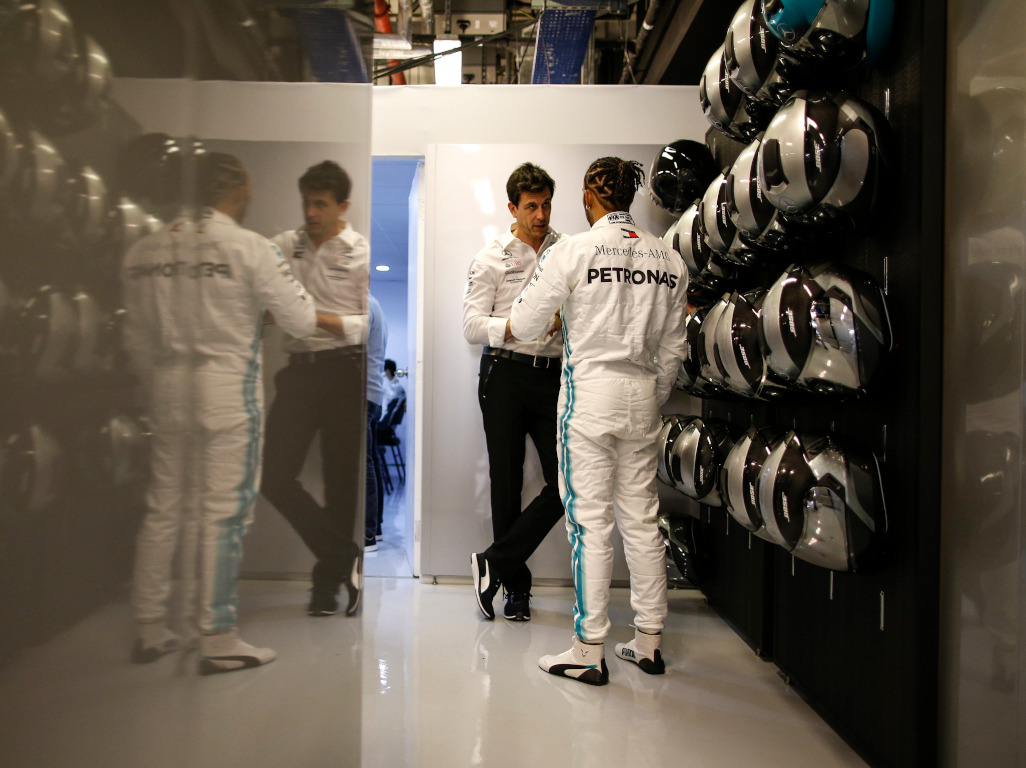 Asked if he was in a hurry to get the Brit's signature on a new deal, the Austrian said: "I am of the same mindset as him, because there is such a fundamental base of trust between us we have… our relationship has evolved from a purely professional relationship to something more important and we dislike the discussions about money between us, because at the end we have the same objectives and this is the only area where we have a different approach.
Asked again if he was in a hurry, he replied: "No, not at all. You have sat the two French clowns next to me and they keep interrupting and it's distracting! So, not at all in a hurry. Same feeling as Lewis.
"We will eventually sit down somewhere, carve it out in a few hours, and go for pizza – like we did last time."
Source: Read Full Article