More Formula 1 drivers concerned about health issues from porpoising
The issue of car porpoising has become particularly prevalent after a tortuous Azerbaijan Grand Prix for some of the drivers.
McLaren's Daniel Ricciardo has added his voice to support calls for a rule change to target a reduction in the severity of car porpoising.
The current F1 rules, which have seen a switch to a ground-effect concept, have resulted in a new phenomenon known as 'porpoising'. This is where the airflow flowing underneath the car, which creates the suction to pull the car down to the ground, suddenly runs out of room as the car lowers with speed. This results in an air stall.
The stall results in the car losing the generated suction and springing back into the air, allowing the air to flow again – only for the cycle to repeat with increasing violence as a car increases in speed.
All of the cars are suffering from the issue to varying degrees. The likes of Red Bull appear to have a good handle on it but Mercedes and Ferrari have struggled badly with the phenomenon – albeit with very different levels of pace.
As the season progresses, the complaints from the drivers have increased. Haas' Kevin Magnussen has struggled with nerve pain since encountering the problem, while Ferrari's Carlos Sainz has pondered the effects on drivers' long-term health.
Ricciardo spoke about the issue after a gruelling race in Baku, in which the Australian appeared physically the worse for wear after coming home in eighth place.
From P12 to P8, and on one stop. A stellar drive from the Honey Badger! 🍯🦡#AzerbaijanGP 🇦🇿 pic.twitter.com/6h6AnjcwiL
— McLaren (@McLarenF1) June 12, 2022
"Yeah, we do [have porpoising]," Ricciardo told Sky F1.
"Certainly the wind or something changed, but it got worse and worse. I sympathise with everyone that's had it now because it's bad. Like I genuinely feel rattled, so I'll definitely help out when people talk about it.
"I feel like, you know in pro basketball when players bounce the ball really low? That's what I felt like someone was doing to my helmet. I know George [Russell] has been vocal about it not [being] sustainable and I genuinely feel rattled, like shook. It's definitely not good.
"Hopefully we can figure it out. When I say it's not good, it's just not good for our general health and wellbeing. It's not normal, like the high-frequency loads we get. I'm probably more shook because it's the first time I've truly felt probably what some others feel.
"I know watching the onboards it looks bad, especially the Mercedes, and I now feel what they feel, I believe, because it definitely felt bad."
Russell has also been a vocal spokesperson to push for some form of change to be made, with the British driver going into further detail after claiming third place on the podium.
"I feel like, with all the porpoising, like I'm shrinking," he joked, before turning serious about the problem.
"It definitely wasn't pleasant. I feel it and I feel this was one of the worst. The straight was so bumpy out there – I don't really know what's going on here. It's obviously a seven-lane motorway [when not a racetrack], so it probably doesn't help things during the season to keep it nice and smooth!"
Given a lot of Mercedes' pace issues have largely come about as a result of not being able to rectify the porpoising, Russell denied there is any political aspect to his comments.
"Nobody is just saying this to try and get any advantage," he said.
"Even the Ferrari drivers and Max [Verstappen] were saying how tough it is. You've either got porpoising and the car's hitting the ground or, if you're not porpoising, you're able to run the car less than one centimetre from the ground and you're smashing the bumps. So whichever way you've got it, it's not great for anyone. Something will happen, there's no doubt about it."
Indeed, Russell feels the problem has actually only got worse since the start of the season as the cars have been developed.
"It does feel worse. At the start of the season, we had this porpoising and it was a slower sort of wavey effect," he explained.
"Since Barcelona, we've had a different kind of issue. These cars aren't straightforward!"
A solution to the problem is to raise the ride height of the cars, which has the drawback of reducing the amount of aerodynamic force generated due to a reduction in the ground effect. However, the teams are not likely to make such a change without some sort of rule change being agreed across the board.
Damon Hill, the 1996 F1 World Champion, pointed to the obvious physical discomfort of Lewis Hamilton after the race ended, with the British driver climbing gingerly from his W13 after complaining about back pain and his "back going cold" in the closing stages.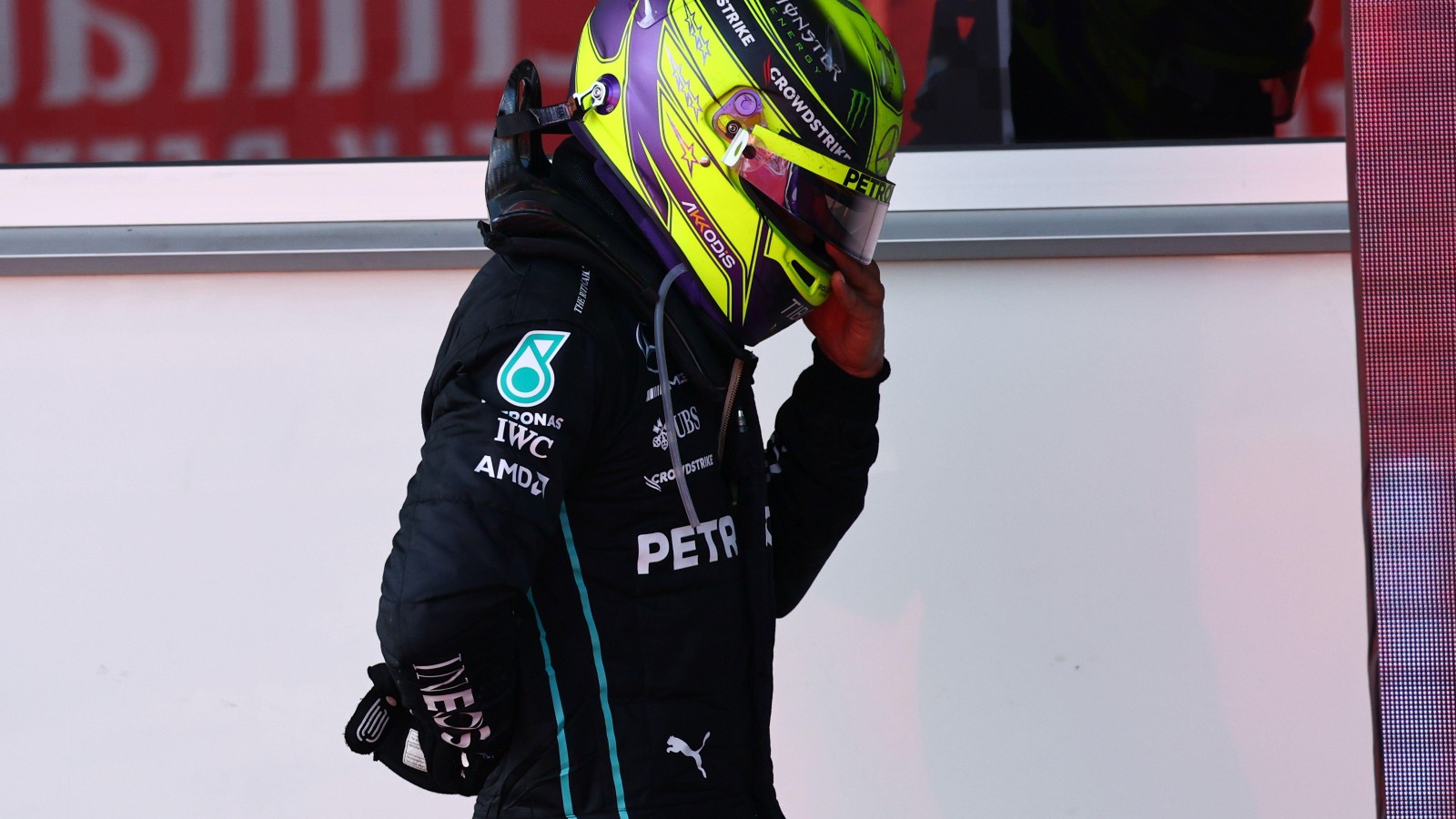 "The thing I'm thinking about is that if you keep doing that to your head, you'll get some sort of concussion," Hill said.
"In other words, it's a mild thing but his head is banging the whole way around the circuit. It's just not an ideal state of play at all. Apart from that, he has probably scuffed a bit of skin off his lower back."
Fellow Sky F1 pundit Johnny Herbert agreed with Hill, saying some sort of rule change is required to save the teams from themselves.
"It's a horrible frequency that Mercedes is doing as well compared to a Red Bull," he said. "It's a very high-pitched one and I think it's really hammering on that back.
"It's a horrible frequency for the head, but also for the back at the same time. They have got to do something – they can't expect Lewis and George to go through this year suffering the way they are at the moment.
"They have got to make those drivers get through a whole season and their careers."
Source: Read Full Article