Lewis Hamilton: I've never won on three wheels
In what is fast becoming a record-breaking season for Lewis Hamilton, the Brit did something new on Sunday, he won a grand prix on "three wheels".
Taking pole position by a full second ahead of the closest non-Mercedes driver, Hamilton and Valtteri Bottas locked out the front row of the British Grand Prix grid.
Just over 24 hours later the Mercedes team-mates were racing towards a 1-2 finish, comfortably ahead of third placed Max Verstappen.
Disaster struck.
Bottas' front left tyre failed on the penultimate lap forcing the Finn to pit for fresh rubber, not only robbing him of a podium but he didn't even score a single point.
One lap later Hamilton befell the same fate.
Get your hands on the official Mercedes 2020 collection via the Formula 1 store
His front left suddenly deflated at Woodcote corner with the Brit leading Verstappen by almost half a minute.
As Hamilton nursed his car, sparks flew and bits of rubber continued to fly off the flapping tyre.
He held on for the win, crossing the line 5.8s ahead of Verstappen.
A dramatic final minute at Silverstone, as @LewisHamilton and his Mercedes hold on for a famous victory! ? ?#BritishGP ?? #F1 pic.twitter.com/CmD8hrz2Fw
— Formula 1 (@F1) August 2, 2020
"I don't think I've won a race on three wheels before," he said.
"There was a race in Formula Renault at Croft when the rear suspension had two rear springs and one had snapped off and through the left-handers I had one wheel in the air.
"That was a race where I was in the lead and I managed to hang on to win. It was similar here but obviously today was more extreme and the cost was a lot higher."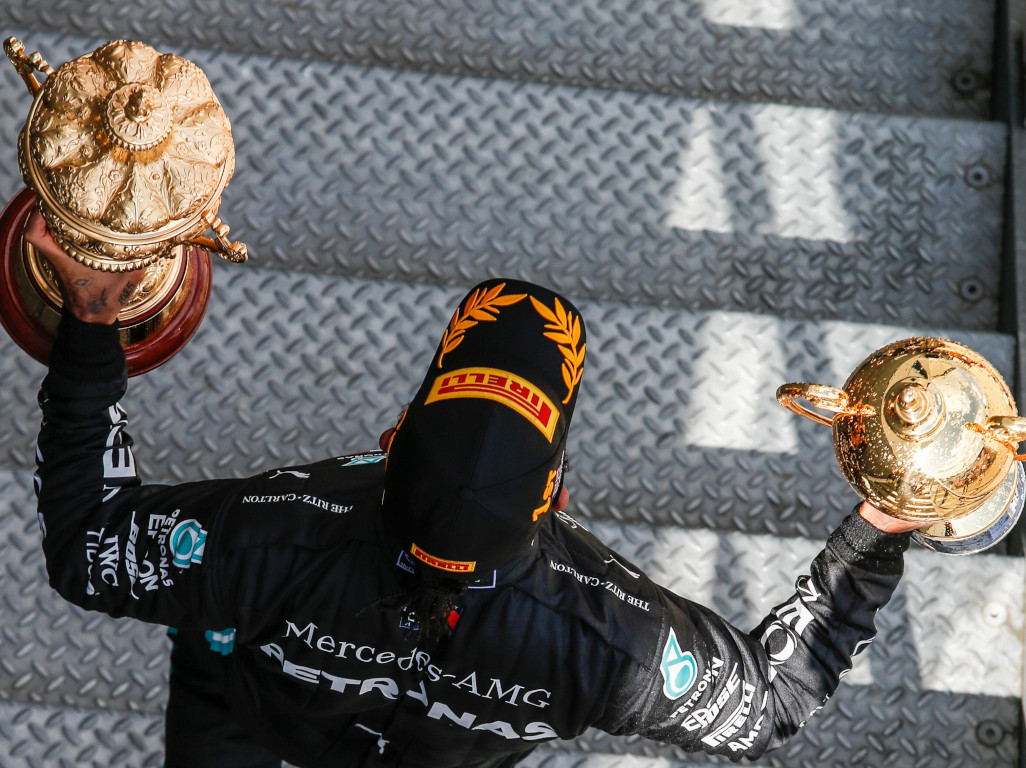 The victory meant Hamilton claimed another 25 points towards his title quest with the Brit leading Bottas by 30 points after just four races.
"If the tyre gave up in a high-speed corner it would have been a much different picture so I feel incredibly grateful that it didn't," he added.
"It's the fight for survival instinct which comes out and I was able to stay calm and really measured to bring the thing home.
"I heard Max was catching at crazy speed. He was 19 seconds behind at one point. I tried to pick up speed but the wheel was a mess.
"I was thinking how am I going to get through these last corners without losing too much time?
"But I got round Turn 15 and, once I got through the last two corners, I could hear the gap to Max counting down on the radio, seven, six, five seconds.
"I just managed to keep it together."
Source: Read Full Article