A.J. Foyt Racing Plans Future IndyCar Hopes on Lights Champ Kyle Kirkwood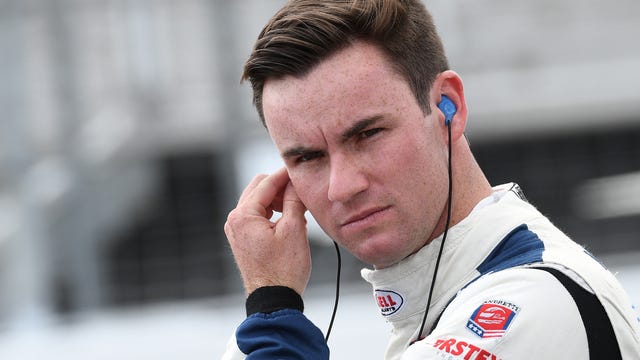 Andretti Autosport's loss may become a huge gain for the future fortunes of A.J. Foyt Racing, which announced Wednesday it had signed 2021 Indy Lights champion Kyle Kirkwood to be one of its two full-time drivers in the NTT IndyCar Series in 2022.
"We feel like we've got a great driver, and we're going to put the best around him that we can and go see what we can do," Larry Foyt, president of A.J. Foyt Racing, said when asked by Autoweek in a Wednesday morning teleconference. "And then just continue to build our resources, build our team, and when you've got a guy like Kyle that not only has shown how capable he is, he's got a great attitude, people want to work with that. I think it's going to help us attract the best people we can."
Kirkwood, 23, has signed a one-year contract to drive AJFR's legendary No. 14 car in the 2022 NTT IndyCar Series. Kirkwood could become a significant cog in bringing the Foyt brand back to prominence.
"Oh, man, I'm absolutely over the moon right now to be driving for A.J. Foyt Racing in the No. 14, filling in some really big shoes with (Sebastien) Bourdais leaving," Kirkwood said. "I'm at a loss for words because I'm ecstatic.
"It's been my entire career building up to this moment, all the way from karting. I started when I was four years old, and I've always had dreams of making it to IndyCar, racing the Indy 500 and competing for a championship, and to do it with a legendary team like AJ Foyt Racing is absolutely incredible."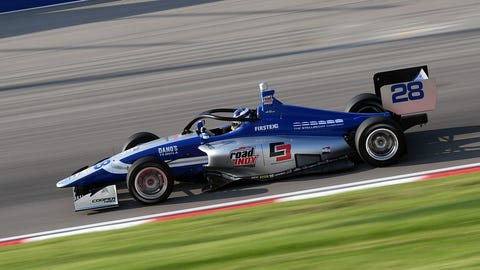 The Jupiter, Florida native has had an exceptional career to date, earning championships in the USF2000 series (2018), Indy Pro 2000 series (2019) and Indy Lights this past season. He also won the Formula 4 US championship in 2017 and the F3 Americas title in 2018.
Kirkwood had been expected to move to IndyCar with Andretti Autosport next season. That was predicated upon Colton Herta, who Kirkwood was slated to replace. securing a ride with a planned Andretti-owned team in Formula 1.
However, the F1 deal fell apart late last month, so Herta will return to his spot in Andretti Autosport's IndyCar lineup. Also, by that point, the Andretti camp had already committed to signing another of its promising young drivers, Devlin DeFrancesco, to join its IndyCar stable for next season. DeFrancesco was winless in the 2021 Indy Lights season and finished sixth in the season standings.
In so doing, Andretti Autosport gave Kirkwood, who had been in the team's Indy Lights program along with DeFrancesco, permission to seek out another deal and team for 2022.
When Kirkwood became available, Larry Foyt quickly pounced.
"I was surprised that Kyle didn't have a full-time deal," Foyt said. "It was just one of those things everyone kind of assumed he was locked up where he was. When I found out that he was available, it was kind of a no-brainer for us. The kid deserves to be in a full-time IndyCar ride, and obviously with Seb (Sebastien Bourdais) doing his sports car things, there were some conflicts there, and I think we really wanted a full-time driver in the 14 car. It just really worked out perfectly for us."
Kirkwood added, telling Autoweek, "It came together pretty last minute. When the Andretti thing fell through … Andretti allowed us to go venture out and see our options, and we were actually pretty flattered on how many options we had.
Kirkwood is expected to be paired with Canadian driver Dalton Kellett,
"The way it came about with Larry is we had a conversation. I really liked what he was talking about and how he wanted to progress with the team, and I thought it was a perfect scenario where I can grow as a driver, first year coming into IndyCar, and potentially we can all grow as a team together. When you have kind of this atmosphere where everyone is excited, there's a lot of progression, big things happen."
Kirkwood is expected to be paired with Canadian driver Dalton Kellett, who struggled in 2021 in his first season with A.J. Foyt Racing, finishing 25th in the final standings. Kellett's best finish was 12th at Gateway.
While Kellett has not officially re-signed with the Foyt camp, it's expected he will do so soon.
"I imagine we'll get it done here pretty soon," Larry Foyt said. "We're just ironing out some details. I think the intention from both sides is there. I think we'll get it done, and excited to see how he continues to grow with his driving. He definitely showed some great pace on some of the ovals and did a great job at some of the street courses, as well.
"He's still got some to learn, but he's doing a great job, and I think we'll get the deal done."
Kirkwood's addition will be a key part for AJFR, as 2022 is expected to be a very pivotal year for the organization, which is already in the process hiring a number of new crew members.
The organization has struggled for much of the past 25 years. It's last championships in that period came in its first season of the Indy Racing League in 1996, when Foyt driver Scott Sharp (as well as Buzz Calkins) tied for the championship, as well as in 1998 when Swedish driver Kenny Brack won the IRL title (and finished second the following year).
Since then, the highest finishing drivers in a season for AJFR have been Eliseo Salazar (4th in 2000 and 5th in 2001) and Airton Dare (9th in 2002). The organization's last win came in 2013 (Takuma Sato).
While moving up to IndyCar will be a big jump, Kirkwood also brings a great deal of promise to AJFR. He dominated Indy Lights competition this past season with 10 wins,14 podiums and six poles in the 20-race schedule.
Even so, it was a close battle for the championship, as he defeated 20-year-old David Malukas by just 13 points. Malukas, who is expected to sign with Dale Coyne Racing and also make the jump to IndyCar next season, was almost as dominating as Kirkwood was in Indy Lights this past season, earning seven wins, 16 podiums and seven poles.
By comparison, DeFrancesco failed to win any races in Indy Lights in 2021, garnering just two podium finishes and ultimately finished sixth in the final season standings.
"The thing with Devlin is not something that just happened overnight," Andretti said in a conference call last Thursday. "This is something that we've been working on. It's been like a three-year program. It's just Devlin getting the seat was always in the plan before Kyle was even around.
"It's not like we picked Devlin over Kyle; it was always going to be Devlin … unfortunately at the moment we don't have a spot for Kyle, but that's not to say we won't in the future. We're definitely going to watch him, and I'm hoping he gets a full-time ride to get experience, and we'll see how that goes. The goal is to get him back in our family one day again."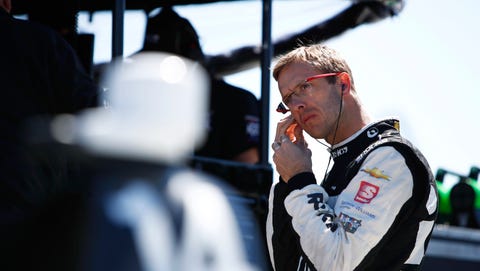 As for Kirkwood's expected pairing with Kellett, the latter just completed his first full IndyCar season in 2021, finished 23rd in final standings for AJFR. His best finish was 12th at Gateway. He also had five DNFs, including two due to crashes and three due to engine issues.
Former four-time IndyCar champ Sebastien Bourdais left AJFR at the end of this past season and will drive full-time in IMSA next season for Chip Ganassi Racing. However, Bourdais has said he's open to driving a potential part-time IndyCar schedule if the right situation develops, which could play into AJFR's hopes of potentially having a third team – albeit part-time – in 2022 if sponsorship becomes available.
But as for Kirkwood, he's ready to go.
"When I got out of the Indy Lights car and got into the IndyCar, I was like, man, this isn't that big of a deal," Kirkwood said. "Within the first three laps I was in the IndyCar (test) at Sebring I was within a second of what (Alexander) Rossi did there previously in the test when they tested back in I think June or July.
"I mean, it's not a massive jump, and I think I'll come up to pace pretty quickly. I've done that in multiple cars, so I think that's a strong suit of mine, which is nice because coming into IndyCar against a lot of people that have tons of experience at the tracks, the car, racing it because now I'm actually going to have to do some fuel saving and some tire strategy or strategy in general.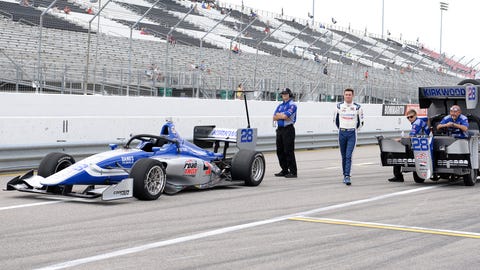 "There's a lot of new things, but I think I'm ready for it."
And as for driving for a four-time Indy 500 champ and one of the most legendary names in motorsports, Kirkwood told Autoweek, "It's exciting. I remember watching Foyt Racing when I was a kid, six, seven years old, in IndyCar, and man, it's such a historic and legendary team.
"They've obviously done really well in their past, maybe not in the past couple years, but we want to bring it back up to speed and contend for wins because we're all hungry, we're all racing drivers at the end of the day. Larry was, as well. A.J. was, too.
"We're racers through and through, so we're going to do everything in our power to go back to the top."
Follow Autoweek correspondent Jerry Bonkowski on Twitter @JerryBonkowski
Source: Read Full Article