Vauxhall readies SUV-inspired Insignia replacement with electrified powertrains
The Insignia saloon fell out of favour before it was axed last year, and its replacement will respond to market hunger for SUVs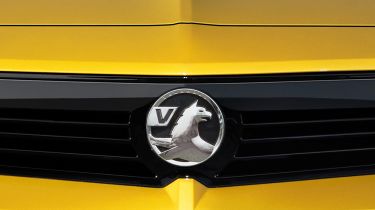 Last year, the UK bid farewell to two staples of British motoring – the Ford Mondeo and Vauxhall Insignia. The once popular family saloons suffered dwindling sales before being discontinued in the wake of the SUV boom, but Vauxhall will respond with a class-busting Insignia replacement within the next few years. 
Customers continue to gravitate towards high-riding crossovers in 2022, and in response, the next Insignia will abandon its traditional three-box layout. Speaking exclusively to Auto Express, Vauxhall chief designer Mark Adams said:
2023 Vauxhall Mokka Electric gets an improved 252-mile range
"We're going to replace the Insignia with something, but it will categorically not be a saloon. Large saloons are a shrinking part of the market. For brands like Vauxhall that work in the upper mainstream sector, they don't work. We've been thinking about the right balance, and we believe that the car that does replace the Insignia needs to be really attractive and aspirational. It's about finding that new formula".
When pressed on the market trends that will influence the new model, Adams admitted that "the popularity of SUVs has been huge", and that Vauxhall would be responding to this demand. 
Even so, the Insignia's replacement may not adopt a traditional SUV stance in a bid to mitigate the weight and efficiency penalties that they inevitably bring. These are key considerations for the new model according to Adams: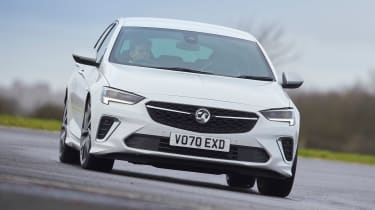 "We recognise that cars are getting taller and heavier and that's not a good thing", he said. "Customers like a higher seating position and a sense of protectiveness, and the trick going forward is making those connections with the customer but in a package that's more efficient".
As such, the new Insignia could follow the form of the Citroen C5 X, a car that adopts SUV cues in a sleeker, fastback body style. It could also adopt the EMP2 platform that underpins Citroen's flagship, with range-topping models that use the same 222bhp plug-in hybrid powertrain as its French counterpart.
However, parent-firm Stellantis is beginning to roll out its all-new STLA pure-electric platform, which will debut later this year with the Peugeot e-3008. If it arrives with the forthcoming STLA Medium architecture, expect a range figure in excess of 400 miles and a choice of single or dual motor variants. Whichever platform it uses, we don't expect the new car to arrive before 2024.
Now read our review of the Vauxhall Grandland GSe…
Source: Read Full Article