Used Renault Clio (Mk5, 2019-date) review
A full used buyer's guide on the Renault Clio covering the Clio Mk5 that has been on sale since 2019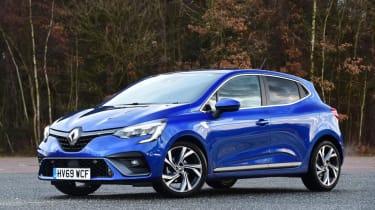 Verdict
It's more than three decades since the Clio burst onto the scene, advertised in the famous Nicole and Papa TV adverts. Since then, Renault's stylish supermini has matured superbly, and while it isn't quite as small as it used to be (the Clio Mk5 is 30cm longer and 16cm wider than the original), that just makes it more usable, while still being small enough to be easy to park and agile to drive. Not only did our sister brand Carbuyer make the Clio its Car of the Year in its 2020 New Car Awards, it followed up with the Best Small Car crown in 2021. The same year Auto Express announced that the Clio was its Supermini of the Year in its New Car Awards ceremony. On the downside, Clio prices have risen over the past few years, because while this is a small car, it still features a lot of tech. However, the Clio's rivals are more expensive too, and if you're looking for a really good supermini-sized all-rounder, the Clio should be on your shortlist.
Renault made its first car at the end of the 19th century, and since then it has built a reputation for creating some great cars, most of which have been small. Of course this French company has tried its hand at cars of all sizes, but it's models such as the 4CV, R4 and R5 that have made some of the biggest waves. To that list the Clio can be added. Since its debut in 1990, this chic small car has become a best seller for its maker, thanks in no small part to its attractive pricing, low running costs, smart styling and keen value.
More reviews
Car group tests
Skoda Fabia vs Renault Clio vs Vauxhall Corsa-e: 2022 group test review
Kia Rio vs Hyundai i20 vs Renault Clio
Peugeot 208 vs Renault Clio
In-depth reviews
Long-term tests
Renault Clio Iconic: long-term test review
Road tests
New Renault Clio TCe 90 2022 review
New Renault Clio E-Tech Hybrid 2020 review
Used car tests
Used Renault Clio (Mk4, 2012-2019) review
Things took a big jump in the right direction with the arrival of the fourth-generation Clio in 2013, because that's when Renault increased the size and it also made big strides in terms of quality. So when the Clio Mk5 arrived six years later, it was no surprise that on the outside Renault didn't make big changes. But inside the Clio was much more grown up and quality was further improved, making it the most appealing edition yet.
History
The first examples of the Clio Mk5 were delivered in October 2019. The range started with the 71bhp non-turbo 1.0-litre SCe 75, while there was also a turbocharged version of this three-cylinder engine available, in the 99bhp TCe 100. For those who wanted a bit more poke the range was topped off with a 1.3-litre four-cylinder engine in the 128bhp TCe 130. Buyers with more of a focus on economy could choose the Blue dCi 85 with an 84bhp 1.5-litre diesel engine.
Used Renault Clio (Mk4, 2012-2019) review
A year after the Clio arrived, in October 2020, Renault introduced a hybrid version of the Clio called the E-Tech. Whereas the Captur SUV and Megane hatchback E-tech models featured plug-in capability, this didn't feature on the Clio, so its electric-only range was much less. The Clio E-Tech was powered by a 1.6-litre petrol engine backed up by an electric motor to give 138bhp, making it the most powerful model in the range. The Clio E-Tech was fitted with a 1.2kWh battery pack and this powertrain was offered with all of the standard trims: Play, Iconic, S Edition and R.S. Line.
Around the time that the E-Tech was introduced, Renault replaced the TCe 100 with the 90bhp 1.0 TCe 90, which came with either a manual or a CVT automatic transmission. Within weeks, the Blue dCi 85 diesel engine had been axed and the SCe engine had been downgraded to 65bhp (to become the SCe 65). By the end of 2021 the Clio range consisted of just two models: the TCe 90 (by now with no CVT option), and the E-Tech.
Which one should I buy?
Gone are the days of having to choose how many doors your Clio comes with; all of them come exclusively with five. So it's just a question of choosing the best engine for your needs, and in reality it's going to be a TCe unit, or the E-tech hybrid, because the SCe and dCi engines are rare and offer few advantages. If you do lots of urban driving the E-Tech is probably your best bet, but if you do mainly longer journeys, a TCe powerplant will probably be more frugal as well as cheaper to buy in the first place.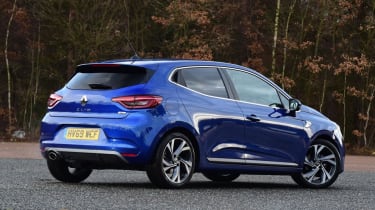 Even the entry-level Clio Play isn't spartan; it features air-con, LED headlights, a DAB radio, Bluetooth and electric front windows, along with 16-inch steel wheels. To this the Iconic adds 16-inch alloys, privacy glass, rear parking sensors, keyless go and a seven-inch touch-screen display. Powered rear windows came in from the S Edition, which also featured climate control, a 9.3-inch display, automatic headlights and wipers, 17-inch alloys and a shark fin antenna. The R.S. Line sat at the top of the Clio range and this came with a rear parking camera as well as front parking sensors, 17-inch wheels, sportier styling inside and out, plus selectable drive modes.
Alternatives to the Renault Clio Mk5
Just about every mainstream car maker offers at least one supermini, so you really are spoiled for choice in this segment. Our pick of the bunch is the Ford Fiesta, which is as close to the ideal used supermini as you'll find. It's readily available, there's a wide model range, prices are keen and the Fiesta is also great fun to drive. Build quality and reliability are good, equipment levels tend to be generous, and practicality is also impressive.
The Vauxhall Corsa ticks most of the same boxes as the Fiesta, with plenty of them to choose from, lots of engine and trim level combinations, a decently roomy cabin and low running costs. But the Vauxhall can't match the Ford's dynamic prowess. The Corsa is related to the Peugeot 208 which is why both of them come in electric form, although there are petrol editions available too. The Peugeot offers reasonable value and it looks superb, but in electric form both the Corsa and the 208 are costly to buy, if not to run.
If going full electric seems like a step too far, the petrol-electric hybrid Toyota Yaris might suit you better. powertrain. Economical and stylish, the Toyota is also very reliable and well equipped. While running costs are low, purchase prices are high and a small boot limits practicality, but the Yaris is still a worthy contender.
Another brilliant all-rounder is the SEAT Ibiza, which looks sharp, is well equipped, good to drive and there are plenty to choose from on the used market. Closely related to the SEAT are the Volkswagen Polo and Skoda Fabia, which sit on either side of the Ibiza in terms of price and value. Whereas the VW is more upmarket, the Skoda gives you more for your money, but it's no poor relation with its efficient engines and (usually) generous equipment levels.
Two cars that are closely related to each other are the Hyundai i20 and the Kia Rio, both of which offer reasonable value, long warranties, excellent reliability and low running costs. Other superminis worth considering include the Dacia Sandero, which delivers incredible value, while at the other end of the spectrum are the upmarket pairing of the MINI hatch and Audi A1. If ultimate practicality is your focus, it's the spacious Honda Jazz that you should be homing in on.
What to look for
EV mode
Renault claimed that the E-Tech's battery pack was big enough for 80 per cent of urban trips to be driven using electricity only, but in reality you'll probably get no more than a mile before the engine kicks in.
Tech
The Clio came with a suite of technologies that Renault called Easy Drive. This included cruise control and a speed limiter, auto emergency braking, lane keep assist and traffic sign recognition.
Spare wheel
All versions of the Clio came with a tyre repair kit rather than a spare wheel of any kind. However, a spare wheel was available from dealers, at extra cost; petrol cars got a full-size wheel while hybrids had a space saver.
Towing
Not many people will buy a Clio for its towing capabilities, but if you're one of them you'll be glad to know that you can fit a tow bar and pull up to 900kg; the limit with unbraked trailers is 555-630kg depending on the engine and transmission.
Interior
Renault doesn't have the most upmarket image, but clearly nobody told the interior designers this, because the Clio's cabin is excellent, with its impressive design, materials, fit and finish. Admittedly cheaper models don't feel as special, but buy further up the range and you'll have digital instrumentation and a 9.3-inch touch-screen display and a big-car feel to the dashboard. Interior space is also good, thanks to Renault focusing on improving the Clio's packaging as much as possible.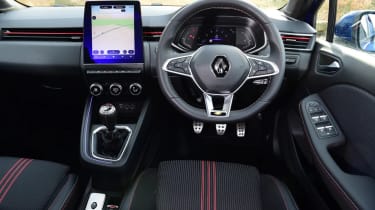 Rear seat space is still a bit tight for adults, but the trade off is a boot that's large for the class. At 391 litres with the back seats in place (366 for the diesel and 301 litres for the E-Tech), there's plenty of carrying capacity. Fold the rear bench and this figure jumps to 1,069 litres (1,054 for the diesel and 979-litres for the E-Tech).
Running costs
All Clios need to be serviced every 12 months or 18,000 miles. Services alternate between Minor and Major, which are effectively an inspection and then an oil and filter change. The two services are priced at £116 and £199 and they can be combined, but by the time a Clio has had its third birthday it's then eligible for cut-price maintenance. From this point on, more comprehensive services are offered, billed as Essential (at £129) and Full (£179).
The former is effectively an oil and filter change with an inspection; the latter includes a few extra replacement parts. Every three years or 72,000 miles the brake fluid has to be renewed (at £108), and while the engines don't have cambelts they do have auxiliary belts that need to be replaced every six years or 90,000 miles, at about £149. Incidentally, whereas the Clio Mk4 came with a three-year warranty with a 60,000-mile limit, its successor had a five-year guarantee that expired only at the 100,000-mile mark.
Recalls
Renault has recalled the Clio on just one occasion so far. In February 2020, 72 Clios built between June and October 2019 were recalled, because the power assistance could fail for the steering. The car would retain its steering, but it would suddenly get very heavy. Renault's solution was to fit a replacement steering column. To see if a car that you're thinking of buying is subject to a recall, you can log on to www.renault.co.uk/product-update.html for the latest.
Driver Power owner satisfaction
Having made its debut in our 2020 Driver Power new car survey in an unimpressive 62nd place out of 75 entries, the Clio achieved a more encouraging 29th place in the 2021 poll. Clio owners were impressed with the quality of the fit and finish of their cars, the large boot and the responsiveness of the steering. Also in the pros column are the brakes, the ride quality, the fuel economy and the user-friendliness of the infotainment. Owners aren't so keen on the effectiveness of the heating and ventilation or the dashboard ergonomics, and there's room for improvement in terms of all-round visibility and interior storage space.
Next Steps
Source: Read Full Article