Used Peugeot 508 review
From £2,500 the French family car is unexciting but practical and affordable. It can make a great used buy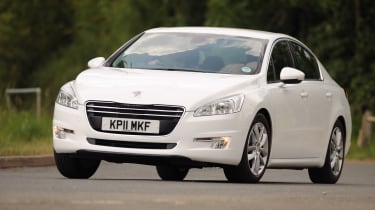 Verdict
For a mainstream model, used 508s are surprisingly unusual; we only found around 200 on sale. This is partly because many rivals have a higher profile and the car was priced optimistically when new, but the key reason for the 508's rarity is a lack of love for large saloons and estates as buyers migrate to SUVs. This, along with the 508's so-so image, means heavy depreciation, but potentially excellent value when buying used.
However, it's clear that both reliability and build quality can still be problems so, if you're tempted, ensure your checks are thorough before signing on the dotted line.
Peugeot has a long and rich history of building family cars with a focus on comfort, affordability and practicality. Indeed, what few people realise is that it's the world's second-oldest surviving auto maker behind Mercedes, building its first models in 1889.
Best used cars to buy now
With more conservative designs than its French rivals Renault and Citroen, for decades Peugeot has offered no-nonsense family cars that are well equipped and good value – at least on the used market. The first-generation 508 was typical of this ethos, just as its 405, 406 and 407 predecessors were.
More reviews for 508
Car group tests
Peugeot 508 SW vs Mazda 6 Tourer vs Skoda Superb Estate
Peugeot 508 vs Volkswagen Arteon
In-depth reviews
Peugeot 508 SW (2011-2018) review
Peugeot 508 review
Road tests
New Peugeot 508 PHEV 2020 review
New Peugeot 508 SW 2019 review
New Peugeot 508 HYbrid prototype review
But what Peugeot has often struggled to achieve is a level of desirability and build quality that can match its competitors' – so how does the 508 stack up on that score?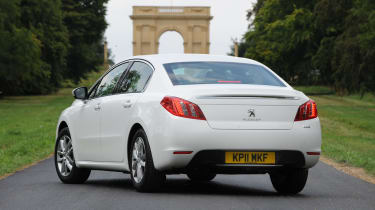 Models covered
Peugeot 508 Mk1 (2011 – 2018) – 4-door saloons and 5-door SW estates that make large, cheap family cars.
History
The 508 Mk1 reached the UK in April 2011. A 1.6-litre petrol engine was offered in non-turbo 120bhp VTi guise, which only came with an EGC robotised manual gearbox; the 1.6-litre 156bhp THP petrol turbo was manual only. Diesel fans could choose 1.6 or 2.0 HDi units; the smaller one had 112bhp with a manual or EGC transmission, while the bigger engine came in 140bhp, 163bhp or 200bhp forms. The 140bhp option only came with a manual transmission; the 200bhp unit only had an automatic.
From the outset, there were saloon or estate (SW) bodystyles; when the diesel-electric hybrid 508 RXH arrived in spring 2012 it came only with the larger body. From May 2013 all 508s got extra standard kit, while a substantial facelift in September 2014 brought a new grille, more standard equipment and improved multimedia.
Which one should i buy?
The ultra-rare RXH is quick and potentially frugal yet let down by its clunky transmission, while the 1.6 VTi is lacklustre. We prefer the 1.6 THP, but it's the diesels that shine, especially the 2.0-litre. The entry-level 508 Access is rare and spartan, albeit with air-con, CD/tuner and electric windows front and rear.
Dual-zone climate and cruise control, speed limiter, navigation, Bluetooth, plus 16-inch alloys come with the more popular SR. The Active is even more common and has automatic lights and wipers, 17-inch alloys, a panoramic glass roof (estate only), and electric lumbar adjustment.
The most available trim is Allure, which adds keyless go, rear parking sensors, an electronic parking brake, electrically folding mirrors, electrically adjustable and heated front seats, part-leather trim and 18-inch wheels. The rare GT range-topper comes with Nappa leather trim, a head-up display plus xenon directional headlights.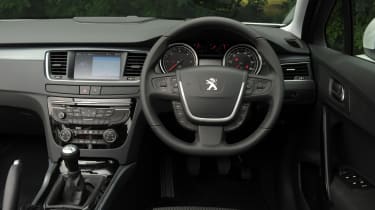 Alternatives to the Peugeot 508
Ford's Mondeo is the obvious rival to the 508; it's spacious, well equipped, good to drive and readily available – although despite its everyman image, it's not as big a seller as you'd think. Mazda's 6 is another great alternative that's superb to drive, looks sharp, is well made and generally well equipped, but it's more costly than the 508.
Vauxhall's Insignia is plentiful, good value, has a decent cabin and many trims to choose from. More costly are the VW Passat and Audi A4, which have better ergonomics and feature higher-quality interiors, as well as some very efficient engines. They're less comfortable than the Peugeot, though.
All of these things also apply to the BMW 3 Series and Mercedes C-Class, but the Kia Optima is great value, good to drive and roomy – just like the Skoda Octavia.
What to look for
Emissions
Both the 2.0 BlueHDi 150 and 180 models (from Sep 2014) were Euro 6-compliant. All other engines were Euro 5-rated.
Gearbox
The EGC automatic transmission is rather clunky; the torque-converter auto gearbox that's fitted to the 2.0 HDi model is much better.
Towing
Although the RXH diesel hybrid can pull only 775kg, other models can tow 1,375-1,975kg, depending on engine and bodystyle.
Infotainment
The most common reliability gripe among 508 owners concerns the infotainment system, which can fail completely in the worst cases.
Common faults
Ensure recall work has been carried out, check the infotainment (as detailed above left) and, if you must have an automatic, go for the 2.0 TDI torque converter rather than a robotised manual; there's a reason these transmissions are rarely fitted today.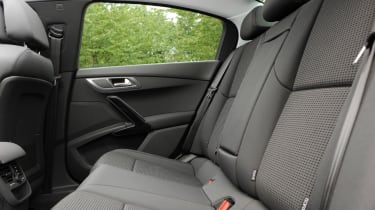 Interior
The 508's cabin initially appears to be very well made, with sturdy materials used throughout, but the build quality actually can't match that of some of its key rivals such as the Mazda 6 and Volkswagen Passat.
The seats are very comfortable and the ride is perfectly smooth, though, plus there's plenty of space for five adults. However, the cubby space around the cabin is disappointing for a car of this size and class, while some of the switchgear and multimedia controls aren't as intuitive as they should be for daily use.
Boot space is pretty good, though, at 473 litres for the saloon and 512 litres for the estate with the rear seats up – or a cavernous 1,598 litres with them folded down flat.
Running costs
If you purchase a Peugeot 508 with a 1.6-litre diesel engine, you should have it serviced every 12 months or 16,000 miles – whichever of those comes first. Opt for any of the other powerplants in the range (1.6 petrol or 2.0 diesel), and you can go for up to 12 months or 20,000 miles between visits to the garage.
Services alternate between minor and major, which are priced the same regardless of which engine is being maintained – £179 and £299 respectively. On top of these costs you'll also have to pay £399 for a new cambelt, which in the case of the 1.6 HDi is due every 10 years or 112,000 miles. The other engines (1.6 petrol or 2.0 diesel) cut this down to 100,000 miles or 10 years.
Recalls
The 508 Mk1 has been recalled nine times so far – the first two occasions (October 2013 and December 2015) due to fuel leaks. Airbags caused the third recall, in March 2017, a month before the fourth, for faulty gearbox actuators that hindered correct ratio selection.
Faulty starter motors that could short circuit, overheat and potentially catch fire led to the next campaign, in April 2017; three months later another recall came for the same issue. Defective engine components leading to a lack of performance or even failure caused a recall in December 2017; the 508 1.6 HDi was affected.
Engine overheating led to a recall in February 2018; a software update solved this. The most recent action was in June 2019, because of excessive exhaust emissions; once again, a software update was the fix.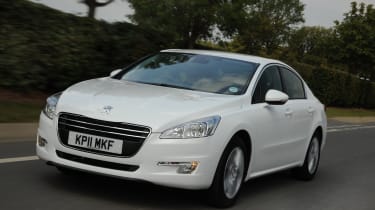 Driver power owner satisfaction
The 508 has never figured in a Driver Power used-car survey, and the last time it appeared in the new-car poll was in 2016, at 83rd out of 150 entries. Peugeot came eighth in our 2020 brands survey, way ahead of companies such as Ford (24th), BMW (27th), Audi (21st) and Volkswagen (19th). Owner reviews on carbuyer.co.uk are generally positive, with the saloon averaging four stars out of five and the estate 3.8.
Alan Culceth from Marlborough, Wiltshire, has owned his 2013 508 2.0 HDi 140 since 2015. He says: "I've taken the car from 36,000 to 90,000 miles. It's proven a very capable long-distance cruiser with its comfortable seats and excellent economy – achieving 55mpg is easy – while the diesel engine has plenty of muscle. However, it's suffered from several reliability and build-quality problems."
Source: Read Full Article