Used Kia Sorento review
A full used buyer's guide on the Kia Sorento covering the Sorento Mk2 (2010-2014) and the Sorento Mk3 (2014-2020)

1

Used Kia Sorento Mk3 review

– currently reading

2

Used Kia Sorento Mk2 review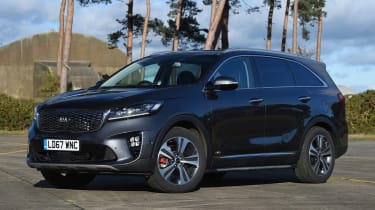 This year Kia celebrates 30 years since it first arrived in the UK. And for more than half of that time, the full-size Sorento SUV has been a staple of the product range.
Introduced in 2003, the Sorento is a top-value option for anybody wanting to tow a horsebox, pull a caravan, or simply transport their family in safety and comfort. The sophistication of Kia's products has come on in leaps and bounds since the nineties, too, so the Sorento Mk2 of 2010 was much more impressive than the original, while the Mk3 covered here is even more desirable.
Now available from £15,000, this model was recently replaced, but there are still plenty of good reasons to buy one.
Models covered
Kia Sorento Mk2 (2010-2014) – Second-generation SUV stands out with its simplicity, and is a tempting used buy. 
Kia Sorento Mk3 (2014-2020) – Mk3 seven-seat SUV ticks all the boxes as spacious, dependable family transport.
Kia Sorento Mk3
History
The third-generation Sorento went on sale in March 2015. Priced between £28,795 and £40,995, all Sorentos had a 2.2-litre diesel engine and there was a choice of four trim levels, all of which came with four-wheel drive and seven seats, plus a choice of six-speed manual or automatic gearboxes.
More reviews for Sorento
Car group tests
Kia Sorento vs Skoda Kodiaq
Volkswagen Tiguan Allspace vs Kia Sorento vs Skoda Kodiaq
Mitsubishi Outlander vs Hyundai Santa Fe vs Kia Sorento
Skoda Kodiaq vs Land Rover Discovery Sport vs Kia Sorento
In-depth reviews
Long-term tests
Long-term test review: Kia Sorento
Road tests
New Kia Sorento HEV 2020 review
New Kia Sorento 2020 review
A facelifted Sorento went on sale in September 2017 with the same 197bhp engine as before, but an eight-speed auto was added, while GT-Line and high-spec GT-Line S trims replaced the KX-4. A raft of new driver-assistance systems, such as lane-keep assist, was also offered, while auto-dipping, high-beam assist LED headlights were fitted as standard to the GT-Line S.
Which one should I buy?
The only decisions to make when buying a Sorento are which transmission and trim level to choose. The automatic gearbox suits the Sorento, but the manual is decent, too.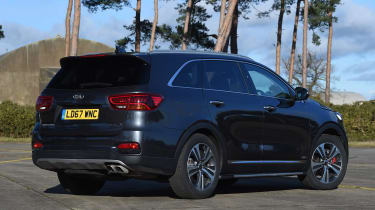 As far as trims are concerned, even the KX-1 has a DAB radio, Bluetooth, air-con, rear parking sensors, privacy glass and cruise control. KX-2 adds leather trim, heated second-row seats and steering wheel, dual-zone climate control, sat-nav, automatic lights and wipers plus heated door mirrors.
The KX-3 comes with xenon headlights, a panoramic sunroof, electric driver's seat adjustment, an upgraded stereo and an electric tailgate. The KX-4 also has a self-parking system, bird's-eye view camera, heated and ventilated front seats, plus power adjustment for the passenger seat.
Alternatives to the Kia Sorento Mk3
The Hyundai Santa Fe is closely related to the Sorento but was a bit cheaper, not quite so well equipped and came with a shorter warranty. The interior design is fussier than the Kia's, but it's a great alternative.
So too is the Land Rover Discovery Sport, which feels very premium, but it's more costly than the Kia, and some models are fitted with just five seats instead of seven. You also can't take seven seats for granted with the Nissan X-Trail, but this does have a well designed and spacious interior, plus it's reasonable value.
The VW Group trio of the Tiguan Allspace, Skoda Kodiaq and SEAT Tarraco are great all-rounders, while the Peugeot 5008 is another impressive seven-seater that's decent value.
What to look for
Spare wheel
Unlike many of its rivals, the Sorento comes with a full-size spare alloy wheel, rather than a repair kit or space-saver.
Suspension
If you're buying a Sorento to use as a tow car, buy at least a KX-2 model because this comes with self-levelling suspension as standard.
Navigation
The sat-nav in earlier cars is poor and has outdated maps; later cars are equipped with Android Auto and Apple CarPlay.
Towing
Whereas the Sorento manual is rated at 2,500kg for towing, the automatic can pull just 2,000kg, so the former is a more suitable tow car.
Interior
The Sorento's dash impresses with its clarity, while the cabin's high-quality materials make it clear that this is no bargain-basement off-roader. With plenty of seat and steering wheel adjustment it's easy to get comfy and row two is spacious, although the third row is too cramped for adults to sit in for any length of time. Carrying capacity is excellent with 142, 605 or 1,662 litres available.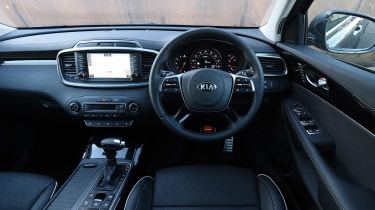 Prices
Check out the latest used prices for the Kia Sorento on our sister site Buyacar.
Running costs
All Sorentos need a service every 12 months or 20,000 miles, alternating between minor and major at £59-£69 and £289-£369 respectively. Brake fluid needs to be replaced every two years, regardless of mileage, for £39.
Coolant should be renewed every 10 years or 120,000 miles, costing around £80, while the engine is chain-driven, so there's no cambelt to replace. All Sorentos came with a seven-year/100,000-mile warranty, which is transferable between owners, so check the balance of this warranty on any car you're considering, and that the vehicle has been serviced according to requirements.
Recalls
The third-generation Sorento has been recalled just once. Only the range-topping Sorento GT-Line S model was involved, and it was because the auto emergency braking function could fail to detect pedestrians. There were 579 Sorentos affected, built between January and November 2019, and the remedy was a software update.
Driver Power owner satisfaction
The fact that the Sorento Mk3 came top in this year's Driver Power new car survey is impressive when you consider that its successor had already been unveiled. The victory came on the heels of third and fourth place in the 2019 Driver Power new and used surveys. So-so gearboxes and fuel economy are the biggest bugbears with owners, but they seem to love everything else.
Verdict
In 2018 we nominated Kia as the most impressive car maker of the past three decades as part of our 30th birthday celebrations. This tied in with the Sorento coming top of its class in our Driver Power new car survey that year; this year, the large SUV came top in the survey overall, so it seems that our enthusiasm for the Sorento is matched by its owners. However, read the owners' reviews on Carbuyer.co.uk and there are a few who aren't so impressed by their cars, especially when it comes to electronic glitches. Some are also unimpressed by the Kia's poor refinement and so-so driving experience. But such views seem to be in a minority, so if you're looking for a full-sized SUV, the Sorento should be on your shortlist.
Next Steps
In this review
1

Used Kia Sorento Mk3 review

– currently reading

A full used buyer's guide on the Kia Sorento covering the Sorento Mk2 (2010-2014) and the Sorento Mk3 (2014-2020)

2

Used Kia Sorento Mk2 review

A full used buyer's guide on the Kia Sorento covering the Sorento Mk2 (2010-2014)
Source: Read Full Article