Twisted launches electric Land Rover Defender conversion kit
Twisted's pure-electric conversion package gives the old Defender up to 320bhp and a maximum claimed range of 200 miles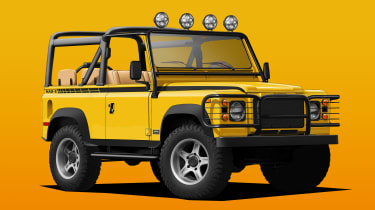 Twisted, the Yorkshire-based Land Rover specialist, has launched an all-electric conversion kit for the classic Land Rover Defender. The system is compatible with the previous-generation Defender 90, 110 and 130 – and it's available to order in the UK now, with prices starting at £69,950.
Buyers have their choice of two electric powertrains, both of which use a single large electric motor mounted under the bonnet. The motor sends drive through the Defender's original transfer case and locking differentials – and it's powered by a 60kWh battery pack mounted under the off-roader's floor, which Twisted says will offer a range of "more than 200 miles."
Mercedes G-Class vs Twisted Defender
The entry-level motor produces 214bhp and 380Nm of torque, which provides a 0–62mph time of 10 seconds flat. Twisted's range-topping powertrain bumps the motor's output to 320bhp and 460Nm of torque, while lowering its 0–62mph time to 8.2 seconds. More importantly, though, both powertrains retain the original Defender's 3,500kg towing capacity.
Twisted's most potent electric powertrain more than doubles the Defender Td5's power output – and it's only 80bhp shy of the barnstorming Defender Works V8. So, to control all that extra grunt, the firm offers a host of chassis upgrades including uprated Bilstein suspension, larger diameter disc brakes, improved calipers and wider alloy wheels with fatter tyres.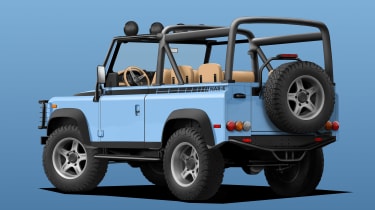 The chassis revisions are fitted as standard to the range-topping 320bhp electric conversion kit, but they're an optional extra for the 214bhp entry-level model. However, both systems will be fitted with an EV management system, allowing owners to switch between a range of drive modes, including Sport, Eco and Off-road.
Using a 22kW charging station, the Twisted EV's battery pack will take around three hours to fully recharge. The system is also compatible with less powerful 11kW domestic charging points, although charge times will be doubled when using this system.
Twisted Defender EV: specs and options
Twisted's American subsidiary has released a spec-list for the Defender EV line-up, but it's still to be confirmed whether UK models will receive the same equipment. The US line-up is split into two variants – an entry-level NAS-E model and a flagship NAS-E Plus.
The base-model NAS-E is priced from an eye-watering $185,000 (around £145,000) – but we're guessing that figure includes the cost of the car. It features the less powerful 214bhp electric motor, along with leather and Alcantara upholstery, unique alloy wheels, three abreast seating up front and air conditioning. Buyers also get a roll cage, a collapsible fabric roof and – just in case of a freak shower – waterproof flooring.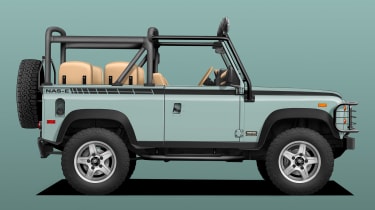 Twisted's range-topping NAS-E Plus model starts at $210,000 (roughly £165,000). It adds the company's more powerful 320bhp electric motor, stronger drivetrain components and a host of cosmetic upgrades, including side steps, front fog lamps, spot lamps for the roll bar and an "NAS-E" branded decal.
Both models also come as standard with a touchscreen infotainment system, a vastly improved eight-channel stereo and a reversing camera. To deter potential thieves, both versions are also fitted with an immobiliser system and a GPS tracker, which can be paired with a smartphone app to monitor the car's location in real time.
The EV package can be optioned with a further range of cosmetic upgrades, including the firm's custom bumpers, mesh radiator grille, bonnet vents and sump guard. Buyers can also opt for Recaro sports seats, a wooden Moto Lita steering wheel, improved sound deadening and a new leather-trimmed crash panel for the dashboard.
Twisted says its electric drivetrain package is compatible with all Land Rover Defenders – and that its fitment will take around two weeks to complete at the firm's facility in Bristol. Existing Twisted Defender owners can also choose to upgrade their car, which should make the process quicker, as it will already feature the brand's chassis and cosmetic tweaks.
What do you make of Twisted's all-electric Defender? Let us know in the comments section…
Source: Read Full Article