Top 10 best SUVs to buy 2022
We name the top 10 best SUVs and 4x4s you can buy on the new car market today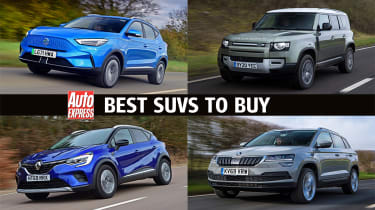 ​If you're among the many buyers considering an SUV then you're spoilt for choice. Almost every manufacturer makes at least one SUV, with a huge variety of models on offer. While having lots of options is a luxury, it does make finding the best SUV to meet your needs more difficult.
They all follow a similar formula when it comes to style, with higher ground clearance than a normal car and rugged-looking body trim. But it's not just a case of picking which manufacturer or dealership you like. Even if you opt for one of the UK's best SUVs, it might not meet your needs as well as another model, because different SUVs are designed for different purposes.
Even if we limit the search to SUVs big enough to serve as family cars, with space for at least four adults and large boots for luggage or dogs, you've still got to consider whether to choose a mainstream or premium SUV, decide if you need five or seven seats and decide between petrol, diesel, hybrid or electric powertrains. That's before all the different SUV manufacturers, models and trim levels even come into it.
Best 4x4s and off-road cars to buy 2021
Thanks to the growing popularity of this class of car, the SUV segment can be hugely lucrative if manufacturers get it right. Many SUVs come in standard or 'coupe SUV' body styles, in economy-focused, luxury or sporty guises and you'll need to think about what level of off-road ability you want. Are you looking for a hardcore mud-plugging 4×4 vehicle or do you just want to traverse the occasional speed bump or park by a raised kerb without scraping your alloy wheels?
We've focused on the best (and best value) family-sized models here but if you're after something smaller, our top 10 best small SUVs list has those more compact models covered. We also have specific guides to the best large SUVs, best luxury SUVs, the most economical SUVs and many more.
Top 10 best SUVs on sale
Land Rover Defender
SEAT Tarraco
BMW X5
Renault Captur
Skoda Enyaq
Mercedes GLA
Hyundai Tucson
Skoda Karoq
Land Rover Discovery
MG ZS EV
Scroll down to find out more about the 10 best SUVs on sale at the moment…
1. Land Rover Defender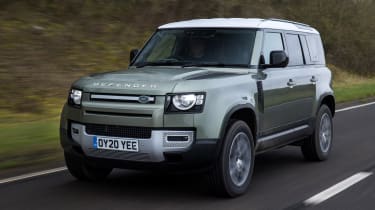 Land Rover has really aced the task of reinventing the iconic Defender for the modern age. It's every bit as capable off-road as its predecessor, while introducing a level of luxury that underlines the brand's premium credentials. Crucially, for 99% of customers, the Defender is now great to drive on the road, delivering a surprising amount of fun and dynamic ability on smoother tarmac. We've named it our Mid-size Premium SUV of the Year for 2021.
The Defender is as versatile as ever, and in 110 specification it offers five, six or seven-seat options, while the engine options are equally flexible with mild-hybrid petrol and diesel units, a plug-in hybrid variant and a storming 5.0-litre V8 model with 518bhp.
Practicality is still a priority for the Defender, with lots of cubbies and storage areas located around the cabin, as well as useful tech features like a standard 3D surround camera. The air suspension can raise and lower the car to make hitching-up a trailer much easier, while the ClearSight Ground View gives you a virtual view of the ground beneath and just in front of the vehicle – great for keen off-roaders.
Click here for our in-depth review of the Land Rover Defender…
2. SEAT Tarraco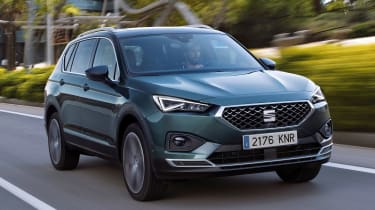 The SUV segment is fiercely fought because it's such a popular class. More than a third of SEAT's sales are now SUVs, highlighting the importance of getting the formula right for cars such as the Tarraco.
Practicality is the most important factor and this is where the Tarraco impresses. With seven seats, the Tarraco will happily ferry kids around (just make sure it will be kids in the third row because legroom is tight) and the boot comes in at 700 litres with the third row folded.
We found the Tarraco to be the best equipped when compared with the similarly priced Skoda Kodiaq and Peugeot 5008. The interior is a simple design, but it's a clean look and the infotainment will be familiar to those coming from other VW-group models.
The Tarraco has a surprising amount of composure in the bends, keeping body roll to a minimum. The 148bhp 2.0-litre diesel engine is the one to go for; it returned an impressive 44.7mpg on our test run, not bad for a car of this size. It's a punchy motor and although it's the same unit found in the Kodiaq, the Tarraco is marginally quicker.
The Tarraco's ride comfort is among the best in its class, coping with bumps and holes in the road with ease. Engine, road and wind noise are also well suppressed within the cabin.
All the factors combined made the SEAT Tarraco a worthy winner of our 2021 Large SUV of the Year. It's the third time that SEAT's family hauler has scooped this prize.
Click here for our in-depth review of the SEAT Tarraco…
3. BMW X5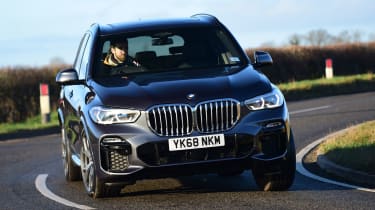 BMW launched the first X5 in 1999, when its blend of style, practicality, and quality engineering immediately set it apart from the SUV competition. Originally, BMW marketed the X5 as a Sports Activity Vehicle (SAV), but it has evolved to deliver luxury levels of comfort and refinement.
The X5 won our Large Premium SUV of the Year in 2020 and 2021, and while it has always demonstrated great flexibility in both five and seven-seat forms, it was the introduction of the supremely capable xDrive45e plug-in hybrid version which helped the X5 take the gong.
Capable of covering around 50 miles on battery power alone, the xDrive45e is able to reduce the usual running costs of a typical large SUV, while CO2 emissions starting from 27g/km mean the X5 will be more attractive to business users.
Once inside, you'll benefit from BMW's Live Cockpit Professional infotainment set-up which includes a 12.3-inch digital instrument display and a further touchscreen of the same size for controlling the media functions and sat nav – it's a brilliantly intuitive system.
Click here for our in-depth review of the BMW X5…
4. Renault Captur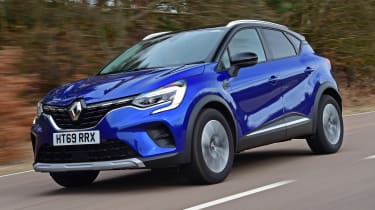 To be a competitor in the small SUV class means offering plenty of style and versatility, as well as being good value for money. There are so many different models available, so a car of this size has to stand out to be in with a chance of winning our Small SUV of the Year award.
The Renault Captur, which is based on the underpinnings of the best-selling Clio, delivers handsome good looks and a practical high-set driving position, along with generous levels of standard equipment and attractive pricing. What's not to like?
At the core of the Captur's appeal is its practicality, and with increased dimensions over the previous model, it offers improved passenger space along with clever touches such as a sliding rear bench which allows you to prioritise room for extra occupants or luggage.
With a host of on-board driver assistance systems and a full five-star safety rating from Euro NCAP, the Captur is a fantastically appealing small SUV.
Click here for our in-depth review of the Renault Captur…
5. Skoda Enyaq iV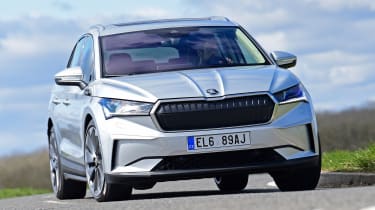 The Skoda Enyaq iV is the first fully electric car to come from the Czech brand, and it has already set a strong standard for electric Skodas of the future.
The Enyaq iV shares a number of parts with the Volkswagen ID.4, such as the batteries and motors, but in a package that's very typical of Skoda – it's a straightforward, practical and robust car that comes with plenty of essential features.
To keep things simple, two variants are available with differing battery sizes (the 58kWh iV 60 and 77kWh iV 80), which offer strong ranges of up to 255 and 330 miles respectively. Equipment isn't as extravagant as with some rivals but all the essentials are there, with LED headlights, a Virtual Cockpit digital instrument display, climate control, cruise control and rear parking sensors coming as standard on the base model.
Along with the impressive battery ranges, the Enyaq iV should prove highly capable in most everyday scenarios, including family use, thanks to a large 585-litre boot and plenty of head and leg space for all passengers in both the front and rear.
Click here for our in-depth review of the Skoda Enyaq iV…
6. Mercedes GLA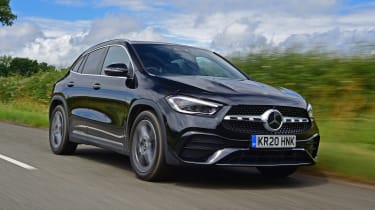 Mercedes has really moved the game on with its latest GLA model. The manufacturer has improved the small premium SUV in all the right areas with extra interior space, enhanced practicality and, crucially in this mini-luxury class, high levels of comfort and refinement.
With smart good looks and a real air of quality to the cabin, the second-generation GLA has lots of kerb appeal. It benefits from a decent range of powerful, frugal and refined engines, while the 250 e plug-in hybrid version offers up to 37 miles of all-electric driving, which helps to cut running costs.
Useful standard features such as an electrically operated tailgate, a reversing camera and child-friendly Artico man-made leather just add to the overall appeal, and the GLA deservedly took our Small Premium SUV of the Year title in 2020. The GLA bolstered its trophy cabinet by winning our award in 2021, too.
Click here for our in-depth review of the Mercedes GLA…
7. Hyundai Tucson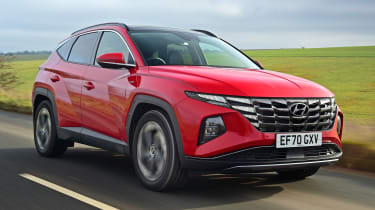 Visually, the latest Tucson is a huge departure from the tame looks of the previous generations and the bold design is like nothing else on the road. Whether you like the looks or not, Hyundai should at least be commended for not playing it safe and by trying to make its family SUV stand out.
To really succeed in the family car market, a focus on practicality is a must and the Tucson's 620-litre boot dwarfs the Nissan Qashqai's load area and comfortably beats the SEAT Ateca's 510 litres. The amount of legroom on offer will be a blessing for those sitting in the back and there's plenty of headroom. Up front there's a curved dash to give a premium feel for the driver and front-seat passenger.
Hyundai has chosen a screen instead of traditional dials behind the wheel, allowing you to change the layout of dials and sat-nav. The infotainment is one of the best systems in its class, being sharp and easy to use and having Apple CarPlay and Android Auto compatibility.
Click here for our in-depth review of the Hyundai Tucson…
8. Skoda Karoq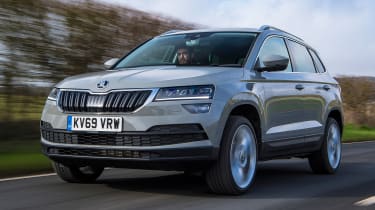 Skoda's Karoq is identical to the SEAT Ateca underneath, but it's the Czech car that is slightly better balanced as a medium-size SUV.
The small SUV sector was a relatively niche market 20 years ago, but the success of cars such as the Skoda Karoq shows us how tastes have changed. The Nissan Qashqai usually gets a customary mention as to why family SUVs are now so popular, yet the Skoda Karoq is our current favourite within this competitive crop.
In standard guise the Karoq offers a 521-litre boot, or 1,810 litres when the rear seats are folded. This should be more than enough space for most families, and headroom in the rear seats is even slightly better than the larger Skoda Kodiaq.
The Karoq's interior is a nice place to spend an extended period of time if a long journey is on the cards. The cabin space is cleverly packaged with lots of cubby-holes and pockets and there's an air of quality you'd associate with more expensive VW Group products. The infotainment is among the best in the business and there's Apple CarPlay and Android Auto connectivity, too.
To really stand out in the small SUV sector, performance and general driving dynamics are also important. The Karoq's ride is more compliant and refined than you'll find in the SEAT Ateca, but there's responsiveness to the steering and body roll is kept at bay. Avoid speccing the 19-inch alloys however as these can upset the ride quality and add unwanted road noise.
Click here for our in-depth review of the Skoda Karoq…
9. Land Rover Discovery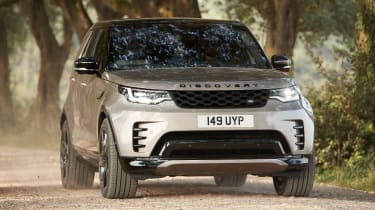 The Land Rover Discovery has made a name for itself as one of the best family cars you can buy, and it's even better in its latest guise. With a smoother look and just as much upmarket appeal as its more expensive Range Rover cousins, the Discovery delivers the kind of upmarket motoring that you'd expect from an executive saloon, combined with the seven-seat practicality of an MPV and the off-road ability of a dedicated 4×4.
There's plenty of space inside, and the rearmost seats are roomy enough for adults to use, while the quality and fit and finish of the cabin gives it a classy feel. There's plenty of tech on board, from the latest infotainment to advanced electronics that keep the Discovery on the straight and narrow, whether on tarmac or in the rough.
Aluminium construction means that while the Discovery is big, it's not as heavy as you would expect, so running costs are reasonable, helped by mild-hybrid technology for both petrol and diesel-engined versions.
Click here for our in-depth review of the Land Rover Discovery…
10. MG ZS EV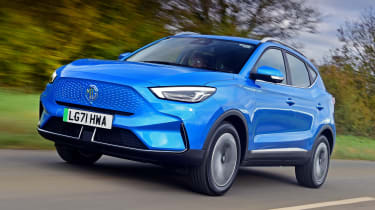 When the MG ZS EV was first introduced in 2019, it was not only one of the cheapest electric cars, but it was also far more practical than similarly priced rivals, the vast majority of which being city cars.
MG facelifted the ZS range just two years later in 2021, with a new look, new interior technology and improved battery ranges on the electric models. Even with these upgrades, though, the ZS isn't intended to make any radical breakthroughs. Instead, its aim is to simply provide a usable electric car that's suitable for the family and costs a far more reasonable price than a huge proportion of its competition – something that it does very well.
The ZS EV comes with 17-inch alloy wheels, LED headlights, rear parking sensors, climate control, adaptive cruise control and integrated sat-nav with Android Auto and Apple CarPlay connectivity all fitted as standard. MG's Pilot system also brings an array of active safety systems, too.
The facelifted car's new 72.6kWh long-range battery boosts the ZS EV's range to up to 273 miles, around 110 miles more than the older car. Another model with a smaller 51kWh battery is due to arrive in 2022, which will be less expensive but will still offer a decent 198 mile range.
Click here for our in-depth review of the MG ZS EV…
How to choose the best SUV for you
The good news for SUV buyers is that because there are so many options, irrespective of whether you want to buy or lease your SUV, you need not settle for anything less than ideal. The growth in this sector has largely been fuelled by motorists desiring a commanding driving position, chunky looks and extra grip from 4×4 systems. But there's more to the SUV package.
The large body of a 4×4 means there's potential for great practicality, so much so that some SUVs can rival MPVs for family-friendly space and versatility. If you're looking for a 7-seater car then a large SUV could be a perfect fit, they tend to be more desirable than MPVs as well as matching them for space. With their huge boot space, roof racks and towing capacity they make great cars for going on holiday, too.
Top 10 best mid-size SUVs on sale 2021
Towing a caravan or trailer is a common use for these cars – and if that's your plan, the high torque of a large diesel engine is the best choice for load-lugging. Check out our top 10 best tow cars to find out more.
As more and more people are opting for an SUV, carmakers have become embroiled in a fierce competition to offer the best ride, refinement, and comfort. What is perhaps most impressive, is that a select few of these new SUVs even exceed the performance and driving dynamics of the more conventional family cars with a genuinely engaging experience.
Some will have concerns about the ethics of driving a big and potentially inefficient SUV of course, but even those concerns can often be put to rest as many of the models on offer are not much thirstier or more polluting than similarly-sized saloons or family hatchbacks. Efficient hybrid models are becoming increasingly popular too, with great mpg figures from their high-tech drivetrains. Just be warned that you may struggle to replicate official figures in the real world.
Best small 4x4s to buy 2021
Despite being known as 4x4s, many SUV cars are only two-wheel-drive. So, while in the past choosing an SUV probably meant you needed an off-road capable workhorse or wanted to go trail bashing for fun, the picture is very different now.
Four-wheel drive boosts their capability when the weather turns, too, although models with 2WD will deliver the kind of running costs you'd get with a conventional car if you're looking at the financial bottom line. At the other end of the spectrum, the latest range of powerful performance models mean you can get an SUV that can put a smile on your face on twisty roads.
Style is an important factor with many new SUVs and 4x4s, and plenty of models are available with a range of personalisation options to make the car you choose stand out. And at the top end of the SUV spectrum, the most luxurious SUVs have the quality and refinement to match the best limousines for comfort.
Tell us your favourite current SUV in the comments section below…
Source: Read Full Article