The complete Ford Fiesta review: every generation tested
The Ford Fiesta is being axed in 2023! We see how every generation of this beloved supermini compares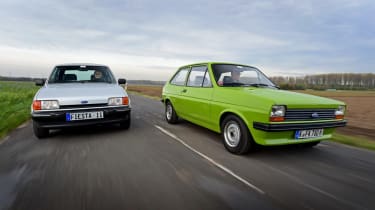 The Fiesta has been Ford's most popular car in Britain, with total sales approaching an incredible five million units. Unveiled in 1976, the iconic supermini's reign has spanned six decades, with the model becoming a common sight on British roads in the process.
But even with its rich history of success, the Fiesta won't have a future. Ford hasn't been scared of taking bold steps in removing popular cars from its lineup, such as the death of the Escort in the year 2000 and more recently the Mondeo. Sadly the Fiesta will also be no more, with Ford confirming it's set to be taken off sale in 2023.
So, let's take a look back at each and every generation of Fiesta and remind ourselves how this little supermini conquered Britain by providing transport for every taste and budget –  from a frugal family runaround to a hairy-chested hot hatch. 
The complete Ford Fiesta review
Mk1 (1976-1983)
Mk2 (1983-1989)
Mk3 (1989-1997)
Mk4 (1995-2002)
Mk5 (2002-2008)
Mk6 (2008-2016)
Mk7 (2016-2023)
Fast Fiestas: a race through time
Ford first toyed with the idea of a faster Fiesta in the late seventies, when it entered a pair of Group 2 Fiesta rally cars into selected events for future world champion Ari Vatanen and British legend Roger Clark. 
More reviews
Car group tests
Ford Fiesta ST vs Volkswagen Polo GTI vs Hyundai i20 N: 2022 group test review
Ford Fiesta vs Skoda Fabia vs Toyota Yaris: 2022 group test review
In-depth reviews
Ford Fiesta review
Ford Fiesta ST review
Ford Fiesta Van review
Road tests
New Ford Fiesta 2022 review
Used car tests
Used Ford Fiesta (Mk7, 2008-2017) review
This led to 1980's 1.3-litre Supersport, which was followed a year later by the XR2 – and the latter became an instant hit with its distinctive round headlamps, racy bodykit, 'pepperpot' alloys, stiffened suspension and 84bhp 1.6-litre engine.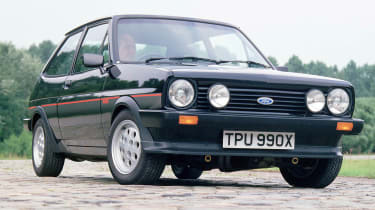 As a result, Ford didn't mess with the winning formula for the Mk2. The original engine was replaced by a more powerful 96bhp 1.6-litre CVH unit and the interior got a more upmarket look, but in all other respects the XR2 ignored sophistication and outright performance for fun and value.
The brand was more ambitious with the third-generation model. The addition of fuel injection meant a healthy 110bhp output – and a name change to XR2i – while a fresh front bumper with extra lights, plus blue piped trim, set the car apart. Ford also offered the hot RS Turbo, with 132bhp and 0-62mph in 8.2 seconds. Late in the Mk3's life, both cars got the new 1.8-litre 16-valve twin-cam Zeta units, giving 104bhp in the XR2i and 128bhp in the renamed RS1800.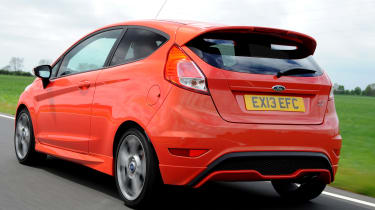 Thefts and rising insurance premiums meant that the hottest Mk4 Fiesta was the 101bhp Zetec-S, although suspension and steering tweaks from the Puma coupé made it great fun to drive. The 148bhp ST arrived with the Mk5 in 2004 and was a step in the right direction, but not until 2013's current ST did Ford get its fast Fiesta mojo back. 
The Fiesta ST is viewed by many company insiders to be the best fast Ford since the legendary nineties Escort RS Cosworth, and combines thrills with value.
Next Steps
In this review
1

Introduction

– currently reading

The Ford Fiesta is being axed in 2023! We see how every generation of this beloved supermini compares

2

Ford Fiesta Mk1 (1976-1983)

Decades on, the original Ford Fiesta supermini is still lots of fun

3

Ford Fiesta Mk2 (1983-1989)

Second-generation Ford Fiesta topped sales charts for six years

4

Ford Fiesta Mk3 (1989-1997)

The Fiesta Mk3 grew up as it headed into the Nineties, and it brought us the excellent XR2i

5

Ford Fiesta Mk4 (1995-2002)

Mondeo-inspired Mk4 Ford Fiesta is a blast to drive, but now shows its age

6

Ford Fiesta Mk5 (2002-2008)

The Ford Fiesta Mk5's 2002 revamp added refinement to the driving thrills

7

Ford Fiesta Mk6 (2008-2016)

Bold looks and hi-tech kit on the Fiesta Mk6 raised the bar even higher in 2008

8

Ford Fiesta Mk7 (2016-2023)

The Mk7 Fiesta marked a real return to form for Ford
Source: Read Full Article