The Budget was a missed opportunity for the UK to take the lead on electric cars'
Consumer editor Chris Rosamund feels that the Autumn Budget failed to address the issue of electric car affordability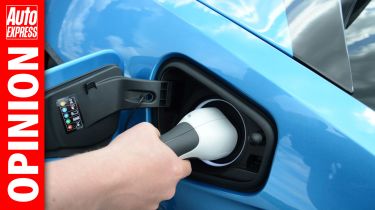 On the eve of the COP26 gathering in Glasgow, we can't have been the only ones listening to Rishi Sunak's Autumn Budget with rising disappointment.
There's a fundamental shift under way in personal transport, with drivers eager to embrace zero-emission technology and electric vehicles, yet the current taxes and incentives are firmly tilted in favour of the wealthy.
Autumn Budget 2021: fuel duty frozen
How many people do you know who would love to join the EV revolution, but can't afford to? Meanwhile, incentives in the form of plug-in grants support the production of high-end, high-priced EVs, reducing the cost by a few grand for owners who can already afford them. Similarly, high-salaried employees are enjoying huge tax perks on expensive EVs and tax-free electricity to run them, while most drivers are meant to celebrate another freeze on fuel duty. Give over, Rishi, the whole country knows that pip was squeezed dry long ago.
The new Ora Cat 01 is an "affordable" EV – a £25,000+ supermini from China – but there's a bigger lesson to be learned from our friends over there. EV incentives in China are targeted at a true mass switchover, and rather than sustaining the manufacture of improbably expensive luxury EVs, government policies have contributed to the rapid growth of an affordable EV market built around simple, basically equipped cars costing as little as £5,000.
Our fuel duty system used to be proportionate, as drivers of luxury vehicles enjoyed bigger engines, and thus paid more tax at the pumps. Today, drivers of expensive EVs are laughing all the way to the bank.
The tax system looks broken, and we anticipate rising resentment over policies that bake in sweeteners for the already well off. It's time for the Government to talk about scrapping fuel duty in favour of road pricing, and other fairer measures, to accelerate a more sustainable future. The week before COP26 would have been a great time to start.
Click here for our list of the cheapest electric cars on sale in the UK…
Source: Read Full Article