Test Drive Unlimited: Solar Crown Revives The Franchise a Decade On
After years of rumors and speculation, Test Drive Unlimited is officially making a comeback. Publisher Nacon confirmed the game, and its title — Test Drive Unlimited Solar Crown — during a Nacon Connect livestream.
https://youtube.com/watch?v=SyzEkJKx3zY%3Ffeature%3Doembed
With the third game in the open-world series coming under Nacon's umbrella, developer KT Racing will be taking charge. The very brief teaser trailer for Solar Crown does not show any gameplay or planned features. In fact there's not much of anything in the clip, other than a bundle of exotic performance cars. If you're particularly talented at identifying cars from small parts, you might spot a Bugatti Chiron, Porsche 918 Spyder, and a Lamborghini Diablo.
Since the initial teaser, a Steam page listing has appeared with a few more clues. Koenigsegg and Dodge are both mentioned, as are the Porsche 911 and Cayenne.
Previous versions of Test Drive Unlimited have taken place on exclusive islands, with TDU set in Oahu, Hawaii, and TDU2 initially in Ibiza, Spain, and also Oahu later in the game. As yet, KT hasn't revealed where TDUSC will take place, but studio creative director Alain Jarniou has confirmed that it will again be a 1:1 scale island game world. In addition, Solar Crown will use the physics engine from the WRC games.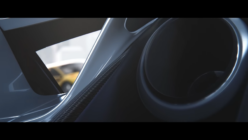 The new title for Test Drive Unlimited suggests rather firmly that the Solar Crown series might return from Test Drive Unlimited 2. This was an in-game international racing series that served as the justification for racing high value supercars around the resorts.
That Steam listing also refers to a "life of luxury" that was tied into the culture of the Solar Crown event, and the natty cufflinks and heels in the trailer are also subtle nods to this. Jarniou has confirmed players will be able to choose a variety of luxury clothes and accessories, as part of an extensive avatar customization program.
At present, the only platform confirmed for release is PC via the Steam store. The timing of this announcement means it's unclear if TDUSC will launch on current and/or next generation consoles, and there's no confirmation of a release date either.
Be sure to stay tuned for more news when it's announced. You can catch the official Nacon stream below to see the official announcement.
https://youtube.com/watch?v=IL8k55zQ924%3Fstart%3D1543%26%23038%3Bfeature%3Doembed
Source: Read Full Article