'Tesla will have to work harder to stay at the top'
Steve Fowler points out how quickly the electric car industry is changing and what Tesla is doing to keep up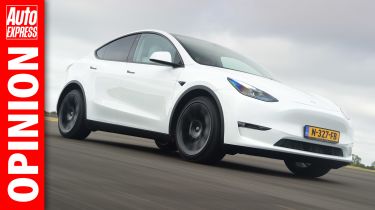 It doesn't seem that long ago that if you wanted an electric car in the UK, you could choose either a Nissan Leaf or a Tesla. The speed of acceleration (sorry!) in the EV market, particularly over the past 12 to 18 months, has been nothing short of incredible. 
Now, the current Nissan Leaf is no longer a standout model, although the forthcoming Ariya could reverse the brand's EV fortunes. But Tesla is still at the top of its game, as recent sales figures show, with the Model 3 often one of the UK's biggest-selling cars.
Tesla Model Y vs Audi Q4 e-tron: 2021 group test review
This week we've put Tesla to the test, as the Model Y faces the brilliant Audi Q4 e-tron. This coincides with Tesla opening the order books for the Model Y in the UK, although in true Tesla fashion, there's still no confirmation on when the first cars will actually be with British customers. What is certain is that our twin test is a close one.
Tesla has always done things differently, which is one of the reasons we rate the brand and its cars so highly. And Elon Musk has always said that he welcomes competition; the more EVs the merrier, he reckons.
But that's going to make things tough for Tesla in the future. Never have a car company and its models been so closely scrutinised by rivals (or so polarised the opinions of car fans). Rival car companies are pivoting their businesses to become software-first organisations, just like Tesla, while start-ups such as Fisker have been taking Musk's clean-sheet-of-paper approach.
So can Tesla stay ahead? It seems the firm's tech story just keeps on rolling on, with news of a new platform that integrates the batteries into the structure of the car, meaning fewer parts, less weight and greater range. So when Model Ys roll out of the new German factory, they may look like they do now, but the tech could be very different. And that's how Tesla's rivals are starting to think, too.
Find out the latest on Tesla's Cybertruck here…
Source: Read Full Article