Tesla Roadster production delayed again until 2023
Tesla CEO Elon Musk cited parts supply issues as the main inhibitor for the Roadster's launch, but he says production is back on track for 2023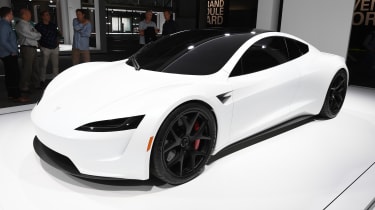 Production of the second-generation Tesla Roadster has been pushed back again to 2023, adding yet another year to the wait between the electric sports car's initial reveal and its on-sale date.
Tesla's CEO, Elon Musk, made the announcement in his usual roundabout fashion during the company's annual shareholder meeting, citing supply chain difficulties as the main obstruction to getting both the Roadster and the upcoming Cybertruck on the road.
Musk explained: "This year has just been a constant struggle with parts supply. Just to be clear, if we had five extra products, we would not change our vehicle output at all, because we were just basically limited by multiple supply chain shortages.
Elon Musk's SpaceX launches Tesla Roadster into space
"Like, so many supply chain shortages, so many times. And not just chips; there were lots of supply chain shortages," Musk said. "So it really wouldn't matter if we had the Semi or the Cybertruck or anything, as we'd just not be able to make it.
"So I think what we'll see is for Cybertruck to start production at the end of next year and then reach volume production at the end of 2023. Hopefully we can also be producing the Semi and the new Roadster in 2023 as well."
Musk also gave a few brief words of insight on the subject of farming out his company's autonomous driving technology to other manufacturers, saying: "Over time, you'll see all manufacturers will make electric vehicles – and, eventually, all manufacturers will make autonomous vehicles.
"Tesla's open to licensing autonomy, because I think autonomy will be such a significant life saver and preventer of injuries that it's not a technology that we want to keep to ourselves, so I think it will be morally right to license it to other manufacturers if they'd like to use it."
New 2023 Tesla Roadster: platform and powertrain
When the Roadster finally reaches production, Musk promises that it'll set new benchmarks for electric car range and performance. The firm has already shown the potential of its latest battery and powertrain technology with the new Model S Plaid, which has a maximum output of 1,006bhp and an impressive claimed range of more than 520 miles.
In the Model S Plaid, the new tri-motor powertrain has enough grunt for a 0–60mph time of 1.9 seconds and a top speed of 200mph. However, Tesla will push the powertrain even further once it's been shoehorned into the Roadster.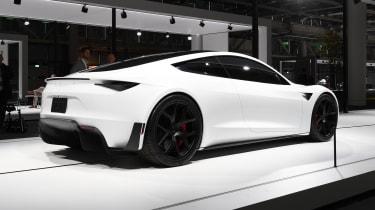 Naturally, there'll be some parts sharing between the Model S Plaid and the Roadster, which should speed production along. However, unlike its predecessor, the Mk2 Roadster no longer occupies a class of its own – it will wade into an increasingly populated marketplace of pure-electric sports cars, including the Lotus Evija, Pininfarina Battista and APEX AP-0.
Musk is confident about the car's ability, though, saying that the Roadster was designed to "give a hardcore smackdown to gasoline cars." Tesla's own website also makes the rather bold claim that the Roadster is the "quickest car in the world."
Elon Musk has already said the Roadster will have the same 1.9-second 0–60mph time as the Model S Plaid, although the sports car's top speed will climb to 250mph. What's more, the Roadster's 0-100mph time could be as little as 4.2 seconds, which is faster than the Porsche Cayman GTS can accelerate from 0–62mph.
Like the Model S Plaid, the Roadster's chassis will feature two electric motors on the rear axle and one on the front axle – and Elon says they'll have a combined torque figure of 10,000Nm. Tesla also claims that its new flagship EV will cover the standing quarter mile in 8.8 seconds, making it the first production car to crack the nine-second barrier.
​​However, the Roadster has been designed with more than outright speed in mind. The motors will be powered by a 200kWh battery pack, which is almost twice the size of any other electric car battery currently on the market. Tesla says the unit will provide a maximum range of 620 miles.
Exactly how Tesla will screw 620 miles out a battery pack is yet to be properly explained, although the company did hold a conference last year in which it outlined a planned shift from traditional cylindrical cells to a more energy-dense "shingle-lattice" design.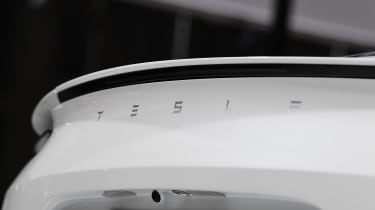 Tesla says the new batteries can store more electricity, while retaining the same dimensions as the outgoing system – and, thanks to new silicon anodes rather than traditional graphite anodes, the cells should also be cheaper to produce.
Despite this focus on performance and range, though, Tesla remains adamant that the Roadster will be a practical means of transport. It'll have a 2+2 seating layout – and, while Musk has conceded that "giant people" will struggle to fit in the rear, he has boasted that there'll be plenty of storage space in the car's nose and tail.
As suggested by its name, the Roadster features a convertible roof. However, rather than getting an electrically retractable hardtop, buyers are offered a manually removable glass panel for the middle of the supercar's roof, which is stowed in the car's boot. Tesla is yet to officially reveal the car's interior.
New 2023 Tesla Roadster: pricing and line-up
Despite a barrage of setbacks, Tesla has already started taking reservations for the Roadster. Prices for the entry-level model are expected to start from around £151,000, with customers being asked to place a £34,000 deposit.
Tesla will also launch a special edition Founders Series model, which will be limited to just 1,000 examples. A final price is yet to be confirmed – but the company has confirmed that buyers will need to place a £185,000 deposit just to secure their build slot.
Musk also hinted at a version "beyond the base model," which could deliver even more performance. In addition, the Tesla chief has confirmed that a Space X option package will be available on the Roadster. The upgrade pack celebrates a recent successful rocket launch by Musk's aerospace company, although its specs are yet to be confirmed.
What do you make of the Tesla Roadster's claimed performance figures? Let us know in the comments section below…
Source: Read Full Article