Side Curtain Airbags Help Save Lives, So Why Don't Jeep Wranglers Have Them?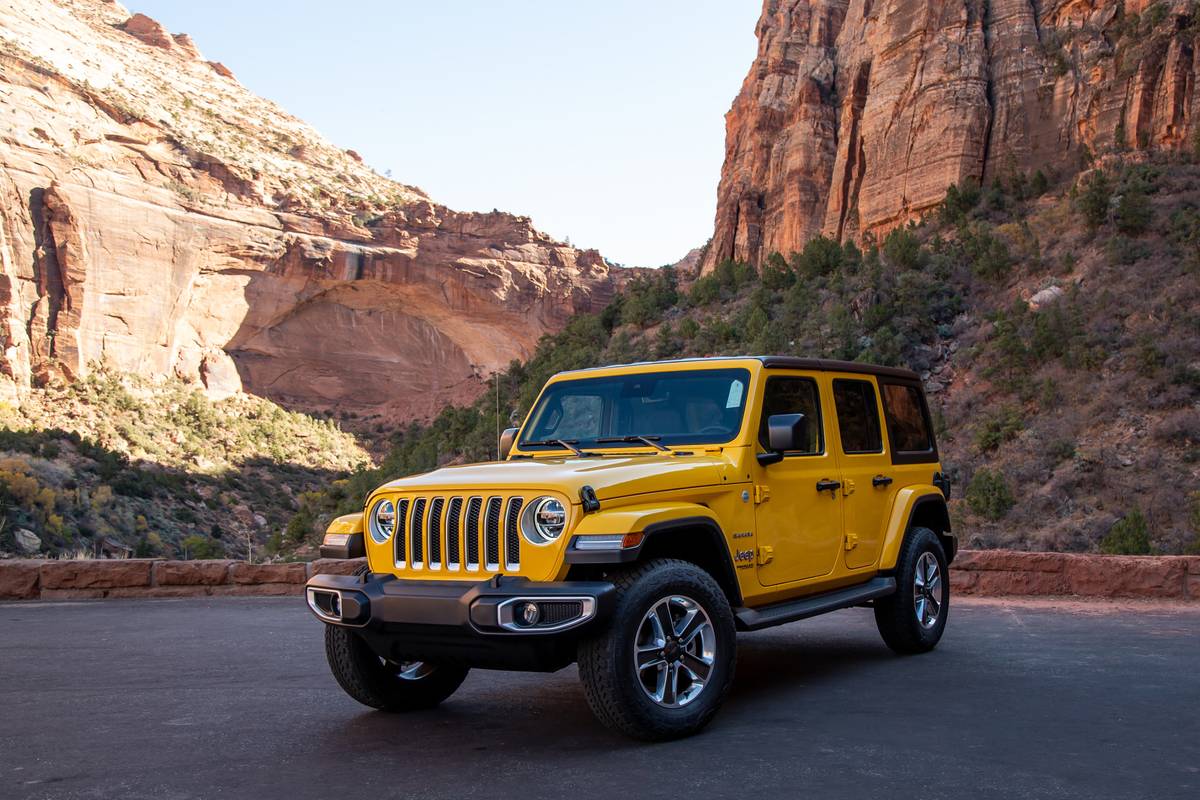 Back-to-school season in 2020 promises to be like none in recent memory, but that won't stop freshly minted license-holders from wanting a shiny new ride to roll up to campus in (even if virtual learning consigns it mostly to the driveway). A choice that surfaces from time to time is the Jeep Wrangler, an iconic nameplate with pop-culture appeal for teens past and present. Should parents oblige? An absent safety feature might give them pause.
Related: 2020 Jeep Wrangler: Everything You Need to Know
The Jeep Wrangler is among a handful of vehicles that still lack side curtain airbags in 2020 — and thanks to an exclusion from a federal safety standard that might prompt their inclusion, Jeep faces no directive to add the feature, which has been associated with reductions in crash fatalities. The SUV comes in two-door and four-door versions (the latter called the Wrangler Unlimited), both of which offer removable doors and roof panels. It's a design that might present challenges to the installation of such airbags, though it doesn't ensure their absence — look no further than the Ford Bronco, an all-new SUV with a similar open-air design that has side curtain airbags.
Ford planned curtain airbags from the start of the off-road SUV's development, said Eric Loeffler, Bronco chief program engineer. For now, the effectiveness of the Bronco's curtains remains unknown. The SUV doesn't hit dealerships until the spring of 2021, and neither the Insurance Institute for Highway Safety nor the National Highway Traffic Safety Administration has published crash-test results as of this writing.
Asked why the Wrangler is excluded from key safety standards, regulators didn't confirm a reason. Neither did Jeep's parent automaker, Fiat Chrysler Automobiles, which only reiterated the Wrangler's compliance with all applicable safety standards.
The Wrangler has standard front and seat-mounted side airbags, the latter extending upward to protect occupants' heads. Crash tests have shown their effectiveness at protecting front-seat occupants even during side impacts — but side impact protection for backseat occupants, and protection against occupant ejection during a rollover, remain question marks.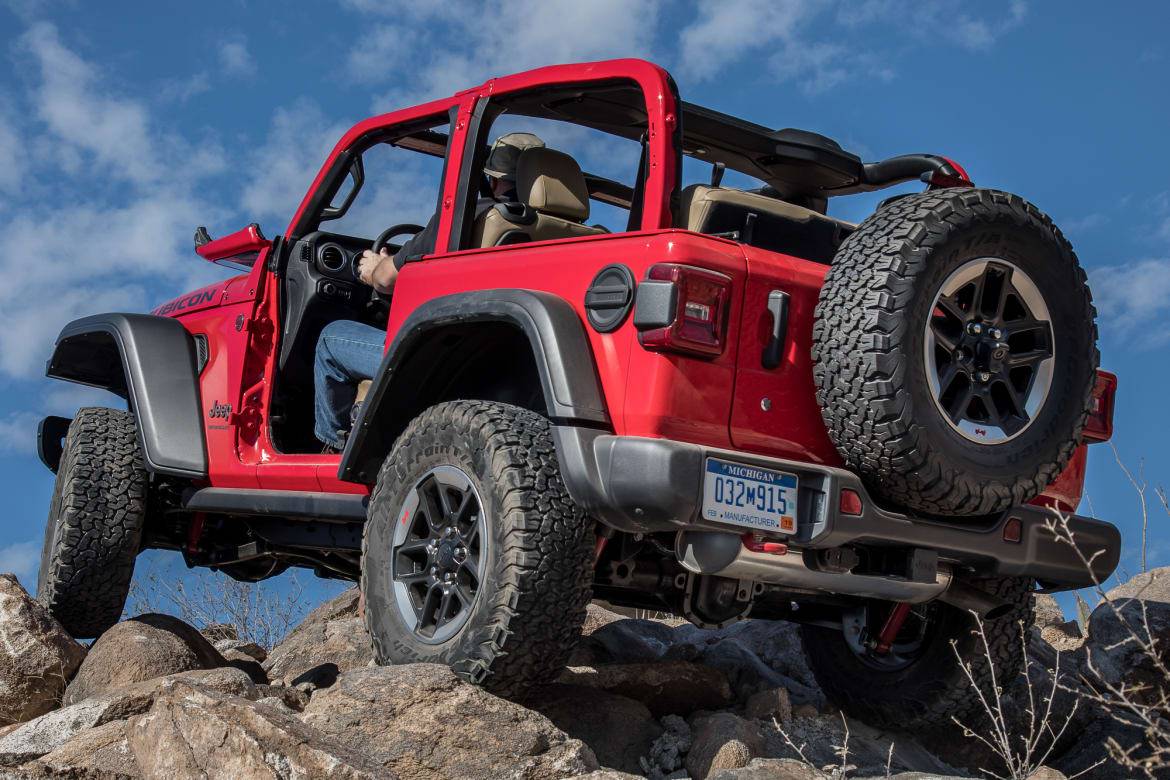 Curtain Airbags Explained
During a collision or rollover, side curtain airbags can deploy a curtain with inflated sections just inside the windows to help lessen head injuries and prevent occupant ejection. Introduced in the late 1990s, such airbags typically augment seat-mounted airbags that protect occupants' torsos. But their presence alone hasn't always guaranteed crashworthiness credentials: In the early days of curtain airbags, some models thus equipped still fared poorly in side-impact crash tests by IIHS. Other cars, meanwhile, did just fine without them.
Still, the effectiveness of curtain airbags when combined with side torso airbags bears out in the aggregate. An analysis of government fatality data published in 2014 by NHTSA estimated a 31.3% reduction in fatalities for vehicles with curtain and torso airbags for front-seat occupants during impacts to the side where they sat. That's more than the 24.8% reduction in fatalities for seat-mounted side airbags with head protection but no curtains.
In any case, curtain airbags have proliferated. NHTSA said 85% of new cars and light trucks had curtains for model-year 2011, and a Cars.com analysis of automaker and Automotive News data estimates that's now the case for nearly 98% of cars and trucks sold in the first half of 2020.
It's easy to see why. Although no law explicitly requires curtains — unlike frontal airbags, which regulators have required in passenger vehicles since 1999 — they're all but necessary to comply with a 2011 safety regulation to help protect against side window ejections, which NHTSA said at the time were responsible for 62% of fatal occupant ejections in all crashes. In the final rule, regulators anticipated automakers would pass the requirement by modifying existing side-impact airbag curtains, and possibly supplementing them with advanced glazing to reinforce windows.
Federal Motor Vehicle Safety Standard 226 required automakers to comply fleetwide by 2017. Asked if it was aware of any vehicles that satisfied the rule without curtain airbags, NHTSA told Cars.com in an emailed statement that automakers "typically certify their vehicles to FMVSS 226 using ejection mitigation side-curtain airbags."
Excluded From Two Rules
Vehicles excluded from FMVSS 226 include those with a gross vehicle weight rating of more than 10,000 pounds — equivalent to a typical three-quarter-ton pickup truck, such as a Ford Super Duty F-250 or Ram 2500 — as well as convertibles, walk-in vans, vehicles with partitions between the front and rear seats, those with modified roofs and a few other minor classifications.
NHTSA's final ruling on the standard also excludes cars with easily removable doors, but that exclusion doesn't appear in the law itself. That's an omission the Advocates for Auto and Highway Safety, a coalition that lobbies for auto-safety legislation, points out.
"In the final rule, when you look at the application of the FMVSS, the [removable] doors exemption actually did not make it into the final rule," Shaun Kildare, senior director of research, told Cars.com.
We asked NHTSA why the exclusion for vehicles with removable doors did not make the final law. The agency released a statement to Cars.com saying that "the rule's meaning is clear," but it "is considering whether measures to address any inadvertent confusion are necessary and appropriate."
In any case, the exclusion seems to be common knowledge.
"FCA has reported that the 2018 to 2021 Jeep Wrangler is 'exempt,'" NHTSA told Cars.com in an emailed statement. The agency notes that the standard "excludes vehicles that have no doors or doors that are designed to be easily attached or removed so that the vehicle can be operated without doors" — a description that characterizes the Wrangler — but said FCA didn't report the specific rationale behind its exemption claim.
That isn't the only standard that may not apply to the Wrangler. The SUV is also excluded from FMVSS 214, a side impact standard that regulators tightened in 2007 to require that cars protect occupants from a simulated 20 mph side impact with a pole. NHTSA noted in 2014 that vehicles would need "curtain bags if possible; [or] combination bags or door-mounted head-impact bags in convertibles without a roof rail" to meet the pole test. It's one of three tests to which FMVSS 214 subjects most passenger vehicles — but the standard excludes vehicles with easily removable doors from all three.
The related Jeep Gladiator pickup truck, which also lacks curtain airbags, follows the same path: "FCA reported that FMVSS Nos. 214 and 226 do not apply to the 2020-21 Jeep Gladiator," NHTSA said.
Crash Performance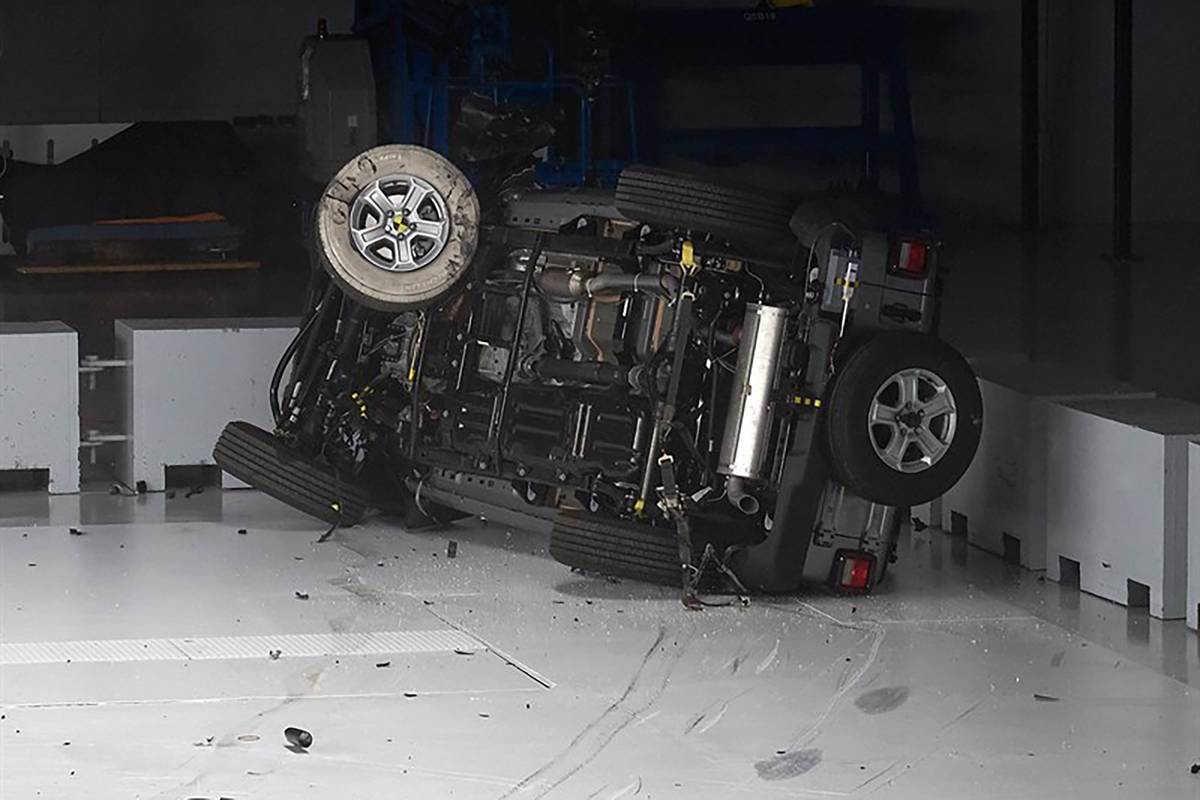 Exclusions to federal safety standards are just "a byproduct of people looking at the rules," Kildare said. FCA "could also have made the vehicle bigger, and as soon as they could make it be 10,000 pounds [GVWR], they could also be exempt."
Still, such exclusions don't preclude crash tests, particularly by third parties like IIHS. The four-door Wrangler underwent such evaluations, rolling onto its side during the agency's small overlap frontal test. Although the SUV's safety structure maintained good integrity, IIHS downgraded its small overlap rating to marginal (out of good, acceptable, marginal and poor) because it tipped over.
"This result would be troubling in any vehicle, but it's especially so with the Wrangler due to the lack of ejection mitigating side airbags," Joe Young, a spokesman for the agency, said. "While the thorax airbag did deploy, it doesn't provide the full coverage needed to prevent an occupant — especially an unbelted one — from being ejected. Thorax airbags are also not designed to hold air for as long as side airbags, so it was essentially deflated by the time the vehicle landed on its side."
The Wrangler's lack of curtains left an asterisk in IIHS' side impact tests, too. Overall protection rated well, but with no side airbags for the rear seats — curtain or otherwise — the agency noted insufficient head protection for backseat occupants.
"Though the Wrangler did score an overall rating of good in the side test, it's relatively rare to see a downgrade like that in a modern vehicle in our side test," Young said.
Indeed, another car IIHS deemed insufficient for backseat head protection in side impact tests was the Ford Mustang convertible. It, too, lacks curtain airbags.
In response to the test, FCA issued a statement that it was "unaware of any incidents that correlate with the vehicle dynamic portion of the IIHS test result" amid some 500,000 vehicles produced and 6.7 billion miles of on-road driving.
"No single test determines vehicle safety," the automaker said. "FCA routinely monitors third-party evaluations and factors such findings into our product-development process. We design our vehicles for real-world performance. And real-world data, along with continuing demand, indicate the Jeep Wrangler Unlimited meets or exceeds customer expectations."
Government crash tests, meanwhile, lack full results. Certain variants of the 2019-21 model earned four out of five stars in NHTSA's frontal crash tests, but the agency had published no results for side-impact tests as of this writing. (The current-generation two-door Wrangler lacks any published crash tests from IIHS.)
FCA: Wrangler 'Meets or Exceeds' Standards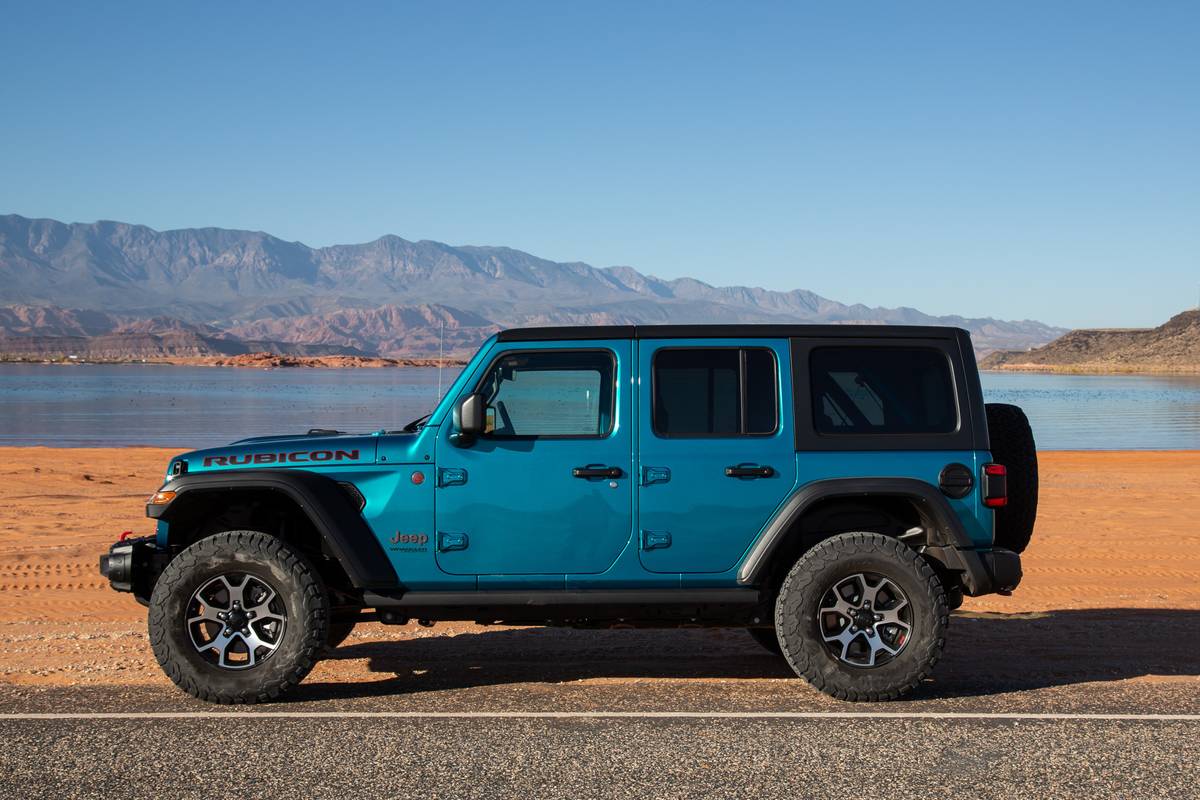 Thirty-two passenger vehicles for the 2020 model year lack side-curtain airbags. Almost all of them are low-slung convertibles or high-performance exotic cars. The Wrangler and Gladiator stand out: Amid a slew of sports cars, they're the sole SUV and pickup truck, respectively. They're also by far the most popular, accounting for some 130,000-plus sales through the first six months of 2020. That's more than four times Cars.com's estimate of combined sales for the other 30 models that lack curtain airbags.
Asked why the Wrangler is excluded from FMVSS 214 and 226, FCA issued a statement to Cars.com that every Wrangler "meets or exceeds all applicable safety standards. Overarching exclusions for unique vehicles are well established."
Regarding both the Wrangler and Gladiator, FCA continued in a separate statement: "These vehicles are equipped with seat-mounted side head/thorax airbags. They meet or exceed all federal safety standards and continue to win acclaim from news organizations and consumer groups. Among these are awards for highest customer loyalty, a clear indication that these vehicles also meet or exceed customer expectations."
In IIHS' published database of the most recent model years for which it has data — 2016-18 — the current-generation Wrangler, introduced for 2018, has significantly lower insurance losses than all passenger vehicles within those years in four out of six coverage types. Young noted that "the redesigned Wrangler only contains one model year worth of data and therefore a relatively low exposure, but [it] can be compared with others as losses are broken down by insured vehicle years." Jeep introduced the Gladiator for the 2020 model year, a timeframe for which IIHS has yet to publish insurance losses.
More From Cars.com:
9 Ways the New 2021 Ford Bronco Is Not a Jeep Wrangler

2020 Jeep Wrangler EcoDiesel Is Officially the Most Fuel-Efficient Wrangler

2020 Jeep Wrangler Gets Special Editions New and Old

2021 Ford Bronco 2-Door and 4-Door: Jeep Has Some Homework to Do

2021 Ford Bronco: What's Each Trim Level of the Bronco Bringin'?
'Bags in the Bronco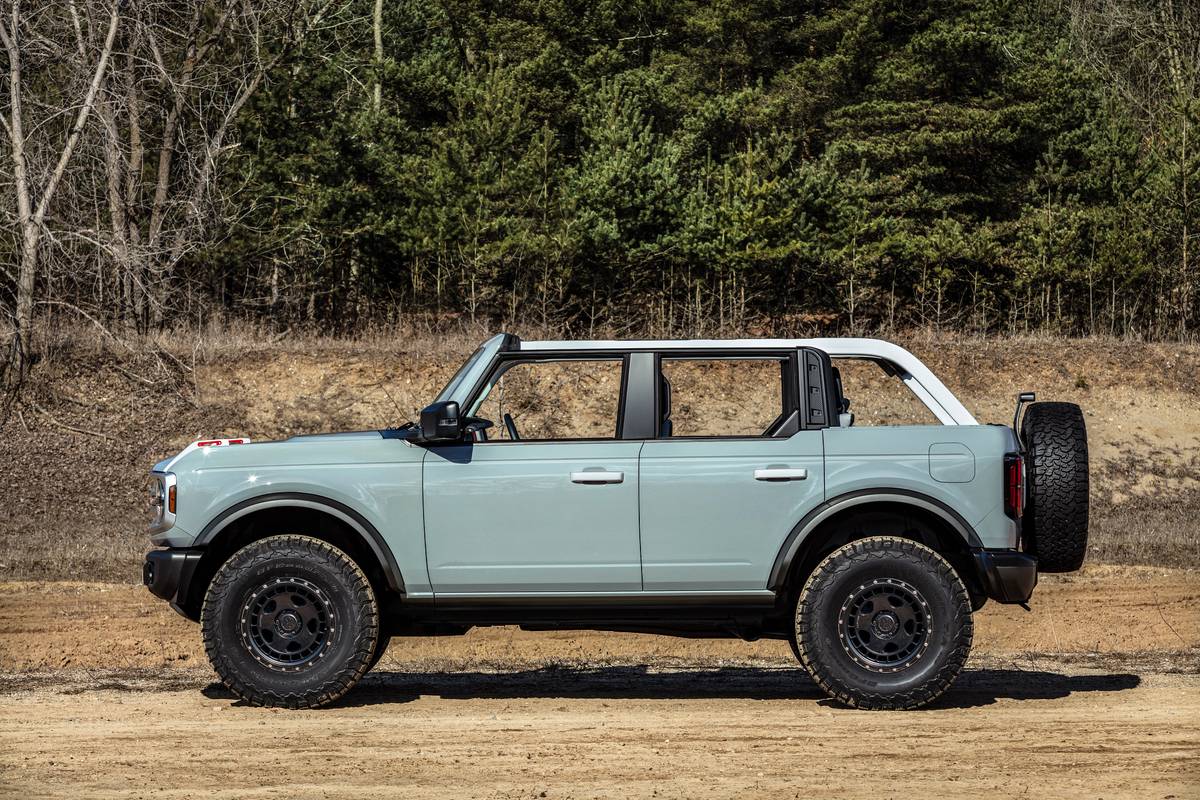 Automakers generally stow curtain airbags and associated hardware in the headliner and adjacent roof pillars. That's a tricky proposition for the folding roof in a convertible or the open-air design in the Wrangler, which can be deconstructed to just the safety cage. Both types lack roof enclosures in the conventional sense. For Jeep, Kildare said, it may have come down to vehicle packaging, including space in the roof rails to store an airbag and its associated hardware.
"A lot of that packaging goes into that analysis and that design," Kildare said.
Still, a handful of convertibles through the years have incorporated curtain airbags despite design challenges — and so, now, has at least one open-air SUV: the 2021 Ford Bronco.
Ford integrated curtain airbags into the upper structure of the Bronco's roll cage. Asked about FMVSS 226, the automaker told us it's "committed to providing a level of safety that is consistent with our customers' expectations and our values" despite no such requirement from the regulation.
The same could be said for many heavy-duty trucks, including FCA's own Ram 3500, which have curtain airbags despite significantly exceeding the 10,000-pound GVWR threshold. FMVSSes "are minimum standards," NHTSA noted. "If any company chooses to exceed FMVSS requirements, the agency welcomes it."
Ford equipped the two- and four-door Bronco models "with curtain airbags to supplement the protection provided to occupants by seat belts, even though FMVSS 226 is not applicable to vehicles with removable doors," said Ford's Loeffler. "The curtain airbags are designed to deploy in side-impact and rollover crashes to supplement the protection provided to occupants by seat belts."
Asked if Ford had done any testing to see if the SUV would meet the explicit requirements of the standard, Loeffler didn't immediately respond.
Asked about the Bronco's status for FMVSS 226, NHTSA said it "does not provide pre-market approval of motor vehicles or motor vehicle equipment, and we do not determine compliance of a vehicle or item of motor vehicle equipment outside the context of an enforcement test."
Automakers self-certify compliance to safety standards, NHTSA added.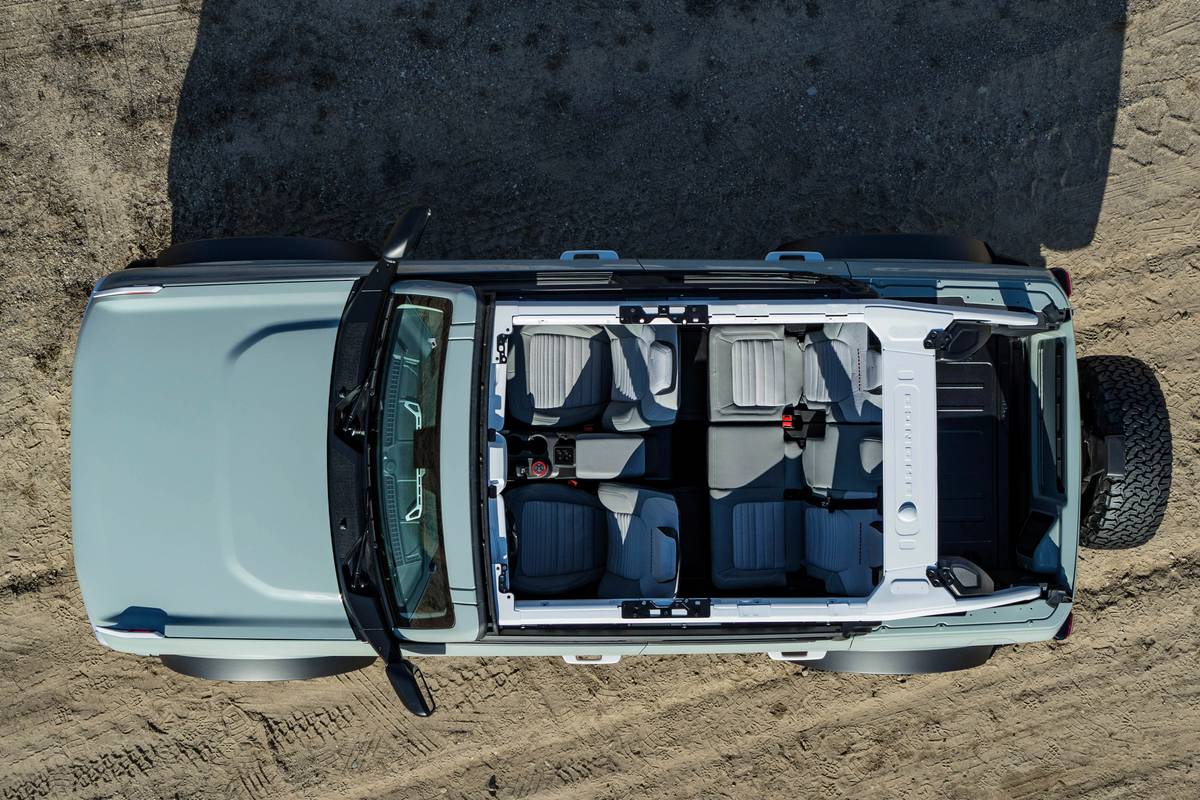 Cars.com's Editorial department is your source for automotive news and reviews. In line with Cars.com's long-standing ethics policy, editors and reviewers don't accept gifts or free trips from automakers. The Editorial department is independent of Cars.com's advertising, sales and sponsored content departments.
Source: Read Full Article