Peugeot 508 Hybrid vs Skoda Superb iV
The new Peugeot 508 Hybrid and Skoda Superb iV do battle in the hybrid family car segment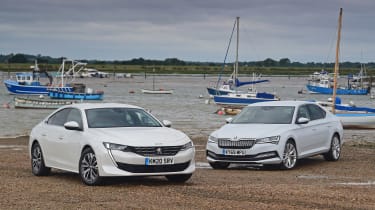 Not that long ago, big family hatchbacks such as the two tested here were bought with diesel engines. This type of car offered superb economy, strong performance, with plenty of low-down torque, relatively impressive refinement and excellent affordability, thanks to their mainstream placing.
Since Dieselgate changed the automotive playing field, the default choice is rapidly moving towards plug-in hybrid power – which is why we've put the Peugeot 508 Hybrid 225 and Skoda Superb iV together. They're both clever cars that offer similar all-electric potential and therefore comparable efficiency and running costs. There's a level of interior tech to match their powertrains, while practicality is another ground on which these two will do battle.
Future electric cars: new EVs and plug-in hybrids due in 2020 and beyond
This will be a test fought on fine margins, but any PHEV has to deliver plenty of ability in every area we've mentioned, plus a few more. So let's see how the new Peugeot 508 plug-in fares against the current king of the class, the Skoda Superb iV.
Peugeot 508 Hybrid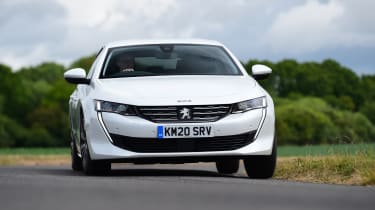 | | |
| --- | --- |
| Model: | Peugeot 508 Hybrid 225 e-EAT8 Allure |
| Price: | £34,945 |
| Engine: | 1.6-litre 4cyl turbo/e.motor, 222bhp |
| 0-62mph: | 8.3 seconds |
| Test economy: | 45.8mpg/10.1mpl |
| CO2: | 29g/km |
| Annual road tax: | £140 |
Peugeot has added plug-in technology to the 508 with this Hybrid 225 model. Allure trim is the entry point to the PHEV range and costs £34,945.
Design & engineering
It's easy to see why some people view plug-in hybrids as a compromise. They take the tech of an electric vehicle, albeit not to quite the same extent when it comes to electric-only power and range, then combine it with a combustion engine, often turbocharged, to add a big slice of complexity to the mix. That's the case in both cars here. However, if you're not quite ready for a full EV, then a PHEV could be a perfect halfway house as your needs align more with electrification.
The Peugeot uses an 11.8kWh battery that supplies a 108bhp electric motor for a claimed electric range of 39 miles. This is a decent distance for a PHEV and one mile further than the Skoda's, even though the Peugeot's battery is smaller.
It works in conjunction with a 1.6-litre four-cylinder turbo petrol engine; this is a familiar PSA Groupe unit that makes 179bhp, and paired with the electric motor, means the 508 pumps out a healthy 222bhp. This tech is contained within Peugeot's EMP2 chassis, which was designed to take PHEV powertrains, so there's not much compromise when it comes to practicality.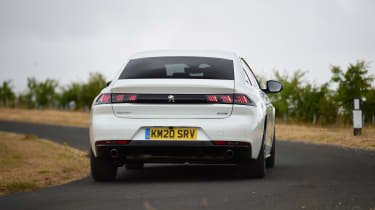 The platform is modular and uses MacPherson strut front suspension, but unlike the petrol and diesel versions of the 508, this hybrid uses a torsion beam axle, presumably to help packaging. You can add active suspension for an extra £1,000.
The 508 always set out to rival more premium vehicles, with its sleek coupé-like styling and smart interior. While electrification pushes the cost up, in places the interior now looks at the limit of what's acceptable for the money. The design is good, but some materials aren't up to the Superb's standards.
Driving
The 508 offers the kind of flexibility that PHEVs have become known for. Driving on electric power alone is rewarding. In this mode the Peugeot is refined, because there's not much motor whine. Even when the petrol engine kicks in, the electric motor takes a significant portion of the load most of the time, so the powertrain is relatively smooth.
The e-motor helps blend gearchanges, because the extra torque carries the car along when the box is changing ratios. In combustion-engined cars with this EAT8 unit, the shifts are generally jerkier.
However, the powertrain sometimes misbehaves when the battery is depleted and the petrol unit kicks in, because the car seems to surge forward and accelerate slightly, even on a constant throttle.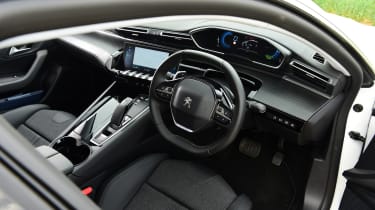 Most of the time, the ride matches the refinement of the powertrain. The 508 is a comfortable car, and the PHEV's extra 300kg over the conventionally powered model helps to reduce some of the more aggressive body movements over bumps. Factor in 17-inch wheels with chunky tyre sidewalls, and the chassis feels relatively absorbent.
The i-Cockpit cabin features a small wheel, and with relatively fast steering, the 508 turns quickly. However, while there's enough grip to keep it feeling stable and secure, the PHEV's extra mass and soft set-up mean it's not exactly dynamic.
The 508 is surprisingly quick, though. That instant hit of electric torque not only improves refinement but also helps performance. 0-62mph takes 8.3 seconds, which is 0.6 seconds slower than the Skoda, but still more than enough.
Practicality
The EMP2 platform was built with PHEVs in the plan, so the 508's 487 litres of boot space is unchanged in Hybrid guise. This is actually two litres more than the Skoda.
Room in the rear isn't quite as generous, though. The sacrifice for that sleek roofline and the styling is significantly less headroom than in the Superb, while there's much less legroom, too.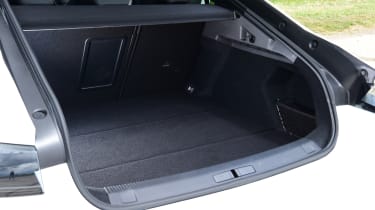 The i-Cockpit dashboard design means there's not quite as much room in the front, either. But it does provide a sporty wraparound feel. There's enough storage, with a tray and some cup-holders, as well as a big bin between the seats. But the USB points are located underneath on a hidden ledge and are awkward to get to. You do at least get space for the car's standard charging cables to be stored under the boot floor.
Ownership
Skoda usually performs strongly with owners in our satisfaction survey, and this year's Driver Power study was no different, because the brand finished fifth out of 30 makers. However, Peugeot scored an eighth-place finish, which was a great result.
Safety tech is just as strong. Lane-keep and blind-spot assist with autonomous braking, traffic-sign recognition, and high-beam assist are all standard on this Allure-spec model for a full five-star Euro NCAP crash safety rating.
Running costs
People buy PHEVs to try and lower fuel bills, as well as company car tax for business users. On that first count, the 508 Hybrid is efficient. With one full charge of the battery, leaving the car to manage the power sources itself, over a few hundred miles we achieved 45.8mpg, which is a very respectable figure. Based on this, the 508 will cost £1,317 a year to fuel over 12,000 miles.
The Superb iV, which achieved 44.5mpg with one full charge but covered slightly more miles, will cost £1,356 a year in fuel.
These figures are an indication of just how closely these two cars are matched. If you plug them in every night, then economy should be much stronger, and with similar EV range, both will be fairly evenly matched.
Testers' notes
"Combined petrol and electric drive means PHEVs are more complex to service than combustion-engined cars. Two years servicing on the Peugeot costs £468; the Skoda's two-year package costs £342."
Skoda Superb iV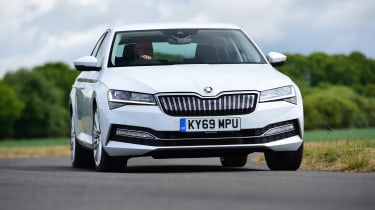 | | |
| --- | --- |
| Model: | Skoda Superb iV 1.4 TSI SE L |
| Price: | £36,090 |
| Engine: | 1.4-litre 4cyl turbo/e.motor, 215bhp |
| 0-62mph: | 7.7 seconds |
| Test economy: | 44.5mpg/9.8mpl |
| CO2: | 30g/km |
| Annual road tax: | £140 |
Priced from £36,090 in SE L trim, the Skoda Superb iV plug-in is slightly more expensive than the Peugeot. Is it worth the extra, given that they share a similar technical approach?
Design & engineering
We'll start with the subject of price, because the Skoda is £1,145 more expensive than the Peugeot, but you get a similar level of standard equipment. It's also not quite as affordable on finance.
Quality nudges ahead of the Peugeot's, though, and this partly helps to justify that extra cost. Plenty of the cabin materials are plusher; there are still some hard, cheap-feeling plastics in the 508 that, in comparable places in the Superb, are of higher quality.
As with the Peugeot, the Skoda uses a scalable chassis architecture, called MQB, which has been stretched to pretty much its largest possible size here. It uses MacPherson struts at the front, like the Peugeot, but at the rear the Skoda is suspended by a more sophisticated multi-link axle layout.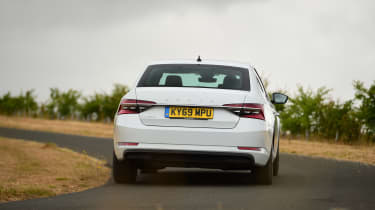 There's a 1.4-litre turbocharged petrol engine – an older unit from Skoda that produces 154bhp – and a 114bhp electric motor. This set-up has a combined output of 215bhp, which drives the front wheels through a six-speed dual-clutch automatic gearbox. There's 7bhp less than you get from the Peugeot, and the Superb also weighs 10kg more.
The electric motor is supplied by a 13kWh lithium-ion battery, so has just a little more energy density than the Peugeot's, but the claimed range is similar, at 38 miles. And, as we'll see shortly, there are some drawbacks in practicality here.
Driving
Like the 508, the plug-in iV is subject to a weight penalty when compared with the regular models in the Superb line-up. It's also 10kg heavier than the Peugeot, but this isn't much, and despite that slim 7bhp deficit, the Superb iV is actually faster over the 0-62mph sprint, taking 7.7 seconds.
This is partly down to its sharper-shifting DSG gearbox and a stronger electric motor, which is 6bhp up on the 508's unit. Yet the power difference is hardly noticeable on the road, because the Superb offers a similar level of throttle response and punch to the 508, brought by that electric motor.
It's similarly refined in electric mode, but when the petrol engine kicks in, the 1.4 TSI unit drones a little more if it's revved hard. However, most of the time there's little in it when it comes to refinement.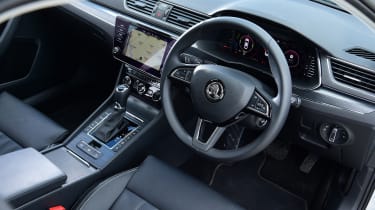 While the electric motor helps get rid of some of the DSG's jerkier engagement when manoeuvring, it's still not perfect. It changes more quickly than the Peugeot's EAT8 transmission, so overall the powertrain feels more responsive and punchier, even if the 508 offers more than enough go.
The Superb iV can't match the 508's ride, however, partly because our car was fitted with optional 19-inch alloy wheels and partly because the set-up feels firmer. It gets upset a little more by bumps, and body movement is more significant than in the softer 508. At least the Skoda's steering is more precise; there's less roll, which helps this, but the Skoda also feels grippier and more agile. However, comfort is probably more important to many prospective buyers in this segment.
Practicality
Due to the Superb iV's battery location at the rear, boot space drops from the regular car's 625 litres to 485 litres – but this is comparable with the Peugeot. Fold the rear seats down, and there's 1,610 litres, which is 73 litres more than in the 508. Both cars are incredibly easy to load, thanks to their large hatchbacks. The Skoda features a powered tailgate as standard, while it's a £400 option on the Peugeot.
The longer wheelbase is where the Superb's extra legroom comes from, and there's clearly a lot more than in the more cramped-feeling 508. The Skoda's more pragmatic styling means headroom is also better, so this is the more spacious car. If you're strapping children in, then the Skoda's taller, squarer roofline will also help make this a better family car.
Then you've got all of Skoda's Simply Clever touches, such as umbrellas in the front doors, which help to make the Superb incredibly easy to live with. It'll fit into your life without issue.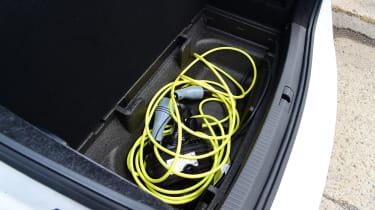 The car's charging port is located on the nose, in the new aerodynamic grille, whereas the Peugeot's charging socket is on the rear wing on the opposite side to the fuel filler. Bear this in mind, even if both cars come with charging cables that have enough length.
Ownership
Skoda's reputation with customers is strong. Alongside its solid performance as a brand in our Driver Power survey, its dealer network beat Peugeot's by six places, finishing in 10th spot overall.
Safety kit is good enough and a match for the Peugeot's, with similar tech that nets the Superb a five-star Euro NCAP rating. You'll have to pay extra for lane-keep assist though (£525 as part of a pack), but AEB with pedestrian detection and collision warning is included.
Running costs
Company car tax rules were relaxed in favour of PHEVs back in April, so both cars attract a 10 per cent Benefit-in-Kind tax rate. It means the Peugeot will be the slightly cheaper car for business users, due to its lower list price, at £1,396 a year for higher rate earners. This compares with £1,441 for the Skoda, so there's only £45 between them.
If you're a cash buyer, then the tables are turned, because the Superb is expected to hold on to 42.2 per cent of its value after three years. This means a residual value of £15,226 compared with 40.6 per cent/£14,174 for the 508.
Testers' notes
"While sales in this sector have slipped as the popularity of SUVs has risen, updates and tech tweaks have kept the Superb feeling fresh, so it's still a great family car – especially so in PHEV form."
Verdict
First place: Skoda Superb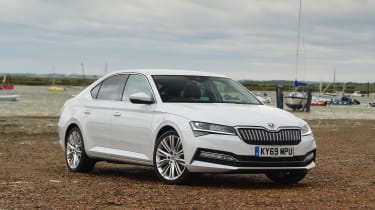 The Superb just edges victory, thanks to its superior practicality, more impressive in-car tech and a balance of comfort, handling and performance that means it's just a little better rounded than the Peugeot. SE L spec is pricier, but quality feels slightly higher than the Peugeot's, while there's very little to separate them on running costs and electric range, which is key to any PHEV.
Second place: Peugeot 508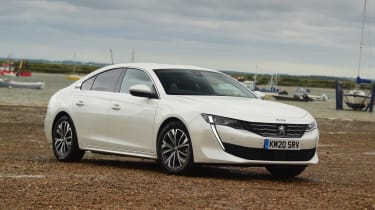 This plug-in Peugeot is the most convincing 508 model. When it comes to the engineering and integration of its hybrid system, it's a match for the Skoda, but while it looks great and is decent value, there's basically nothing between them when it comes to running costs. Yet the Skoda is the more practical and advanced-feeling machine, thanks to its superior infotainment and quality.
Also consider…
Ford Kuga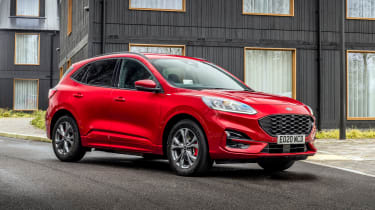 New: Ford Kuga 2.5 PHEV 225 Titanium
Price: £33,585 
Engine: 2.5-litre 4cyl, 222bhp
BMW 5 Series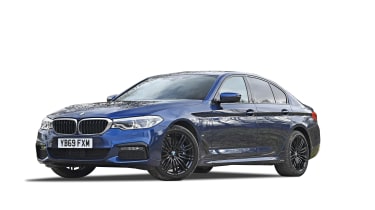 If you like the idea of a plug-in, but want an SUV, the new Ford Kuga is worth considering. With an identical power output to the Peugeot at a similar price in Titanium trim, it offers 35 miles of range and a recharge time of three and a half hours.
Used: BMW 530e xDrive M Sport
Price: £34,995 
Engine: 2.0-litre 4cyl, 249bhp
Buy used and you could pick up a BMW 5 Series PHEV. It offers 36 miles of electric range, plenty of practicality, great driving dynamics and a much more premium-feeling cabin with superb tech. The car we found had four-wheel drive, too.
Figures
| | | |
| --- | --- | --- |
| | Skoda Superb iV 1.4 TSI SE L | Peugeot 508 Hybrid 225 e-EAT8 Allure |
| On the road price/total as tested | £36,090/£39,420 | £34,945/£37,820 |
| Residual value (after 3yrs/36,000) | £15,226/42.2% | £14,174/40.6% |
| Depreciation | £20,864 | £20,771 |
| Annual tax liability std/higher rate | £721/£1,441 | £698/£1,396 |
| Annual fuel cost (12k/20k miles) | £1,356/£2,260 | £1,317/£2,196 |
| Ins. group/quote/VED | 26/£448/£140 | 31/£492/£140 |
| Cost of 1st/2nd/3rd service | £342 (2yrs) | £199/£269/£199 |
| Length/wheelbase | 4,869/2,841mm | 4,750/2,793mm |
| Height/width | 1,468/1,864mm | 1,403/1,859mm |
| Engine | 4cyl in-line/1,395cc | 4cyl in-line/1,598cc |
| Battery capacity/charge cost | 13 kWh/£1.87 | 11.8 kWh/£1.70 |
| Electric motor peak power/revs | 114/N/A bhp/rpm | 108/2,500 bhp/rpm |
| Combustion engine peak power/revs | 154/5,000 bhp/rpm | 179/6,000 bhp/rpm |
| Peak combined power/revs | 215/5,000 bhp/rpm | 222/6,000 bhp/rpm |
| Peak combined torque/revs | 400/1,550 Nm/rpm | TBC |
| Transmission | 6-spd DSG/fwd | 8-spd auto/fwd |
| Fuel tank capacity/spare wheel | 50 litres/£155 | 62 litres/space saver |
| Boot capacity (seats up/down) | 485/1,610 litres | 487/1,537 litres |
| Kerbweight/payload/towing weight | 1,730/521/1,900kg | 1,720/550/1,330kg |
| Turning circle/drag coefficient | 11.1 metres/0.27Cd | 10.8 metres/N/A |
| Basic warranty/recovery | 3yrs (60,000)/3yrs | 3yrs (unlimited)/1yr |
| Driver Power manufacturer/dealer pos | 5th/10th | 8th/16th |
| NCAP: Adult/child/ped./assist/stars | 86/86/71/76/5 | 98/86/71/79/5 |
| 0-62mph/top speed | 7.7 secs/138mph | 8.3 secs/155mph |
| Auto Express econ (mpg/mpl)/range | 44.5/9.8/489 miles | 45.8/10.1/625 miles |
| WLTP combined fuel economy | 148.7-217.3mpg | 166.2-235.4mpg |
| WLTP electric range | 38 miles | 39 miles |
| Charging power/time | 3.6kW/3h 30 min | 7.4kW/1h 45 min |
| Actual/claimed CO2/tax bracket | 147/30g/km/10% | 142/29g/km/10% |
| Airbags/Isofix/park sensors/camera | Seven/yes/yes/£385 | Six/yes/yes/yes |
| Auto box/lane keep/blindspot/AEB | Yes/£525*/yes/yes | Yes/yes/yes/yes |
| Climate/cruise/leather/heated seats | Yes/yes^/yes/yes | Yes/yes/£1,250*/yes |
| Met paint/LEDs/keyless/pwr tailgate | £595/yes/yes/yes | £575/£850/yes/£400 |
| Sat-nav/digi dash/DAB/connectivity | Yes/£475/yes/yes | Yes/yes/yes/yes |
| Wireless charge/CarPlay/Android Auto | £320/yes/yes | £120/yes/yes |
Source: Read Full Article