Peugeot 3008 and 5008 receive upgraded trim levels for 2022
Broader range of powertrains for Peugeot 3008 and 5008 SUV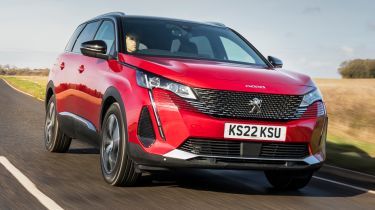 Peugeot is in the midst of updating its line-up with new Active Premium+ and Allure Premium+ trim levels, and now it's the turn of the 3008 and 5008. Like the 208 and 2008 (and their electrified variants), the new specifications bring exterior and/or interior upgrades, but with the 3008 and 5008 we can see more powertrain options than before. Both variants are available to buy now.
The basic Active Premium 3008 and 5008 are now called Active Premium+ and both models get the 'Aluminium Pack' with aluminium front door sills and pedals, 18-inch 'Detroit' Storm Grey diamond-cut alloy wheels (for the 3008 models only) and aluminium roof rails. The rear window and rear side windows are now tinted. The Active Premium+ 3008 starts from £31,035 with the 5008 starting from £33,500.
Top 10 best large SUVs on sale 2022
As for the Allure Premium+ models, they both receive the 'Aluminium Pack' and the roof is now changed to a contrasting 'Black Diamond' finish. The Allure Premium+ 3008 costs from £33,335 and the 5008 in the same trim level starts at £35,900.
Peugeot has also expanded the range of powertrains available to its 3008 mid-sized SUV as the Hybrid 225 is now available on the entry-level Active Premium+. Features available as standard on the hybrid variant over the petrol and diesel models include a 10-inch touchscreen with sat-nav and voice recognition, 'Half Mistral' leather effect trim, driver's seat lumber adjustment and an emergency braking system with video and radar assistance.
Active Premium+ 3008s and 5008s also get the eight-speed automatic transmission across the 1.2-litre petrol and 1.5-litre diesel powertrains. Peugeot says the decision to expand its automatic gearbox availability is due to "growing customer demand for automatic transmissions over manual gearboxes, with the majority of 3008 and 5008 customers in 2022 opting for automatic versions."
Looking for a small SUV on a budget? Check out our list of the best used small SUVs to buy now…
Source: Read Full Article