New Volkswagen Tiguan eHybrid 2022 review
The new Volkswagen Tiguan eHybrid is a capable plug-in hybrid but it's far from a class leader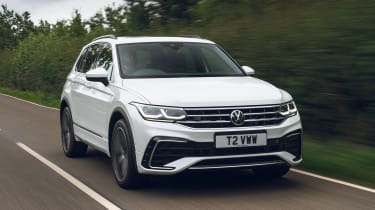 3.5 out of 5
Buy used for less at Buyacar
Verdict
The Volkswagen Tiguan is a hugely popular family SUV, and this plug-in hybrid variant will hold plenty of appeal for company car drivers who are able to make the most of the low running costs. However, the powertrain isn't as accomplished as some rivals', and prices are relatively high; the standard petrol Tiguan still makes a lot of sense, while the pure-electric ID.4 SUV should prove tempting for those confident enough to make the switch to a full EV.
Believe it or not, Volkswagen sold more Tiguan SUVs than it did any other model in 2020. Figures for 2021 haven't yet been confirmed, but it shows the car's popularity, VW shifting more of these family-friendly models than it did the cheaper Golf or T-Roc. Globally, the Tiguan even out-sold the brand's Polo supermini.
Its popularity could, in part, be put down to the Tiguan being treated to a mid-life update, with buyers holding off to bag a new model when it hit the showrooms. The revisions brought new lights and bumpers, as well as fresh tech and new derivatives, including a performance-focused Tiguan R, and this, the plug-in Tiguan eHybrid.
New Volkswagen Tiguan Allspace 2022 review

Cars such as these are becoming increasingly important for manufacturers like Volkswagen. While the ID.3 and ID.4 EVs are among the best in their class, many people aren't quite ready to make the switch to pure electric yet, and models like the Tiguan eHybrid represent the perfect stepping stone to pure-EV. They're a halfway house that allows buyers to experience the many benefits of electrification, without worrying about issues like range and charging – even if these are being improved at an incredible rate with the latest EVs.

More reviews

Car group tests

Renault Kadjar vs Volkswagen Tiguan

In-depth reviews

Road tests

New Volkswagen Tiguan Allspace 2022 review
New Volkswagen Tiguan R 2021 review
New Volkswagen Tiguan Life 2020 review
New Volkswagen Tiguan 2020 review

Used car tests

Used Volkswagen Tiguan (Mk1, 2008-2016) review
Used Volkswagen Tiguan (Mk2, 2016-date) review

The Tiguan eHybrid is available in Life, Elegance and R-Line trims, and prices start from a little over £36,000. Each model, VW claims, will do around 30 miles on a charge, though in colder weather our car showed 25 miles on a full battery. Overall fuel economy will vary wildly depending on your usage and how often you charge, but 35mpg is a realistic combined figure once the electric range has been depleted. Topping up is easy, and even a household three-pin plug will do the job in five hours.

The car itself looks and feels very familiar; the only tell-tale signs that this is the eHybrid version are the charge port on the front wing and the relatively subtle badges on the bodywork. The cabin is nicely made and full of technology, and almost indistinguishable from the normal Tiguan's, save for a few bespoke menus and a "GTE" button beside the gear lever.

Except this isn't a GTE at all. Unlike the flagship Golf hybrid, this Tiguan is designed to sit alongside the standard versions rather than as a standalone model in its own right.

The biggest disappointment isn't the Tiguan's outright pace, or even the way it switches between electric and petrol power, as it is in many plug-in hybrids.

On the contrary, it handles the transition quite smoothly. Instead, it's the lethargic automatic gearbox, which can take an age to kick down when overtaking, or to engage when pulling away.

Where the instant power from the electric motor can often disguise a turbocharged engine's flat spots, this hesitancy can make the car feel quite ponderous. It pays to be careful with your throttle inputs, then; do so and the Tiguan takes on a much more amenable character and is more in keeping with its efficiency-focused approach.

Gentle driving is the name of the game, which is a shame, because the Tiguan still handles relatively well. True, a Ford Kuga is more fun, but the VW's steering is direct and its body control is good. There's a B mode for the gearbox, which gently feeds energy back into the battery through the motor's regenerative braking when you lift off the throttle.

The ride is a little harsh on this R-Line model's 20-inch wheels, but we expect the smaller rims on the entry-level Life version will improve things. Even on big wheels, though, the refinement proves impressive for a car in this class.

Otherwise, near enough everything we like about the standard Tiguan remains present in this plug-in model. The cabin is a little dull, but the list of standard equipment is generous. Life models are anything but basic, with LED lights, digital dials and a central touchscreen with navigation, plus Apple CarPlay and Android Auto.

Higher up the range, there's not much to separate the Elegance and R-Line trims in terms of price, so your pick may well depend on whether you prefer a more subdued look or sportier styling for your SUV.

Both models come with heated seats, 30-colour ambient lighting, and keyless entry, but R-Line swaps the Elegance's chrome trim for body-coloured cladding.

One thing you will have to compromise on, however, is luggage space. The eHybrid's boot is smaller than the standard car's; the 615-litre capacity shrinks to 476 litres, largely due to the placement of the plug-in hybrid's battery. Nevertheless, the load bay is still a decent shape and size, and there's enough room in the back seats for adults to get comfortable.

| | |
| --- | --- |
| Model: | Volkswagen Tiguan eHybrid R-Line |
| Price: | £38,395 |
| Engine: | 1.4-litre 4cyl petrol-electric |
| Power/torque: | 242bhp/400Nm |
| Transmission: | Six-speed dual-clutch, auto, front-wheel drive |
| 0-62mph: | 7.5 seconds |
| Top speed: | 127mph |
| Economy/CO2: | 156.9mpg/41g/km |
| On sale: | Now |

Next Steps

Source: Read Full Article