New Tesla Roadster: prices, specs and launch date
The upcoming, all-electric Tesla Roadster will go up against the Lotus Evija with a targeted 0–62mph time of around two seconds

Tesla's upcoming successor to its original Roadster sports car is nearing the end of its development cycle. Tesla most recently displayed a near-production prototype in Switzerland – and when the finished product is unveiled, the brand's CEO, Elon Musk, says it'll set new benchmarks for electric car range and performance.
An official launch date is yet to be confirmed but, when the Roadster does eventually reach the global stage, it'll rival a growing marketplace of all-electric supercars, including the Lotus Evija, Pininfarina Battista and the forthcoming APEX AP-0.
• Tesla's electric Semi Truck revealed
New Tesla Roadster: chassis and powertrain
Musk says the Tesla Roadster was designed to "give a hardcore smack down to gasoline cars" – and he claims the electric supercar will have a 0–60mph time of 1.9 seconds and a top speed of 250mph. What's more, the Roadster's 0–100mph time could take as little as 4.2 seconds, which is faster than the Porsche Cayman GTS will accelerate from 0–62mph.
The Roadster will be powered by three electric motors – one for the front axle and two for the rear – which Elon Musk says will have a combined output of 10,000Nm of torque. Tesla also claims that its latest EV will dispatch the standing quarter mile in 8.8 seconds, making it the first production car to crack the nine-second barrier.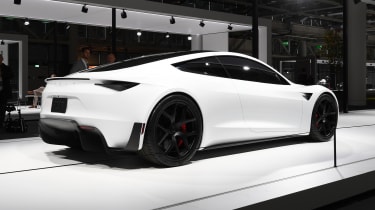 However, the Roadster has been designed with more than outright speed in mind. The motors will be powered by a 200kWh battery pack, which is almost twice the size of any other electric car battery currently on the market. Tesla says the unit will provide a maximum range of 620 miles.
Despite its focus on performance and range, though, Tesla remains adamant that the Roadster will be a practical means of transport. It features a 2+2 seating layout – and while Musk has conceded that "giant people" will struggle to fit in the rear, he has boasted about the plentiful amount of storage space in the car's nose and tail.
As suggested by its name, the Roadster features a convertible roof. However, rather than getting an electrically retractable hardtop, buyers are offered a manually removable glass panel for the middle of the supercar's roof, which is stowed in the car's boot. Tesla also is yet to officially reveal the car's interior.
New Tesla Roadster: pricing and line-up
The second-generation Roadster is expected to enter production later this year – and Tesla is taking reservations now. Prices for the entry-level model will start from around £151,000, with customers being asked to place a £38,000 deposit.
Tesla's new low-cost, long-life battery set for 2021 launch
Tesla will also launch a special edition Founders Series model, which is limited to just 1,000 examples. A final price is yet to be confirmed – but the company has confirmed that buyers will be expected to place a £189,000 deposit just to secure a build slot.
Musk also hinted at a version "beyond the base model," which could deliver even more performance. In addition, the Tesla chief has confirmed that a Space X option package will be available on the Roadster. The upgrade pack celebrates a recent successful rocket launch by Musk's aerospace company, although its specs are yet to be confirmed.
What do you make of the Tesla Roadster's claimed performance figures? Let us know in the comments section below…
Source: Read Full Article