New Tesla Model 3 Standard Range Plus 2020 review
The updated Standard Range Plus version of Tesla's Model 3 is the most accessible in the line-up but still shows that star quality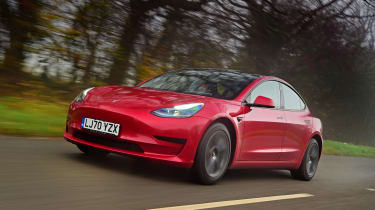 4.5 out of 5
Verdict
None of the changes to the latest Model 3 transform the car in any way, but nonetheless they're all welcome. It still remains Tesla's best car and a brilliant package overall, and this entry level point in the range should be considered as a hugely tempting alternative to traditional compact execs like the BMW 3 Series – especially for company car drivers.
This is the Tesla Model 3 Standard Range Plus. Newly revised for 2021, it's the entry point to both the Model 3 lineup and the Tesla family as a whole in the UK, with prices starting from £40,490 – tantalisingly close to the BMW 330e plug-in hybrid. So is it worth ditching the traditional compact exec of choice to go fully electric?
There's quite a few changes introduced in this round of updates, but from the outside they're rather tricky to spot. A new black pack replaces some of the chromed exterior details like the door handles, door mirror stalks and window trims, and the wheel choices are refreshed with more aero-efficient 18- and 19-inch designs, plus new optional 20 inch items. Otherwise, those vanilla looks mean that the styling isn't the reason to go for a Model 3.
Best electric cars to buy 2020/2021

The interior just might be however. Whether you think it's a triumph of minimalism or just a bit too plain compared to alternatives, it's hard to argue that the cabin is unique. It's got better in the most recent round of changes, too, particularly around the centre console. 

More reviews for Model 3 Saloon

Car group tests

Polestar 2 vs Tesla Model 3
Tesla Model 3 vs BMW 3 Series: electric car vs diesel showdown

In-depth reviews

Road tests

New Tesla Model 3 Long Range UK review
New Tesla Model 3 Dual Motor Performance review

Previously, the Model 3 had an odd and needlessly overcomplicated flip lid beneath which it was possible to store a smartphone. This has been replaced with a simple pad, which has a couple of grooves which not only keep two devices in place, but can charge them wirelessly.

Further along, a huge deep cubby space remains, but now it's accessed through a much more straightforward sliding lid. The easily scratched piano black surface is gone, too – a more subtle and more durable grey finish takes its place.

The steering wheel looks similar to before, but the two scroll wheels have been tweaked for a more expensive feel. Depending on which menu is selected on the huge 15-inch central touchscreen, each of the wheels adjusts one of a multitude of functions: the door mirror adjustment, the steering column position and the media functions among them. Assuming you do all of the prep before you set off, they work really well, though condensing so many functions down into two controls is not particularly intuitive on the move. 

That huge display is brilliant, though. Whether judged on its graphics, processing power or user interface, it's among the best infotainment systems available in any car. Of course, there's no traditional instrument panel either, so it also displays all of the vital driving functions like speed and remaining battery charge.

The boot lid is now electrically operated. While the volume is on a par with manu rivals, the opening is small – though the Model 3 looks like a hatchback, it isn't. The front boot, meanwhile, has shrunken slightly. This is because some of the space has now been occupied by a new feature to the Model 3: a heat pump. 

First used by Tesla on its Model Y, a heat pump takes the place of the previous resistive heater. Put simply, the new system works a little like a fridge, compressing a fluid which generates heat. This heat can then be used to warm the cabin or, by reducing the fluid's pressure further along the system, produce a colder flow of air instead. The main plus point of a heat pump is that it's more efficient than the resistive heater to warm the cabin, which reduces the range impact when trying to keep toasty in colder climates.

Along with some subtle software tweaks, the new heating system means that range has improved slightly across all of the Model 3 variants. In the case of this entry level SR +, the resulting 267 mile figure is 13 more than before. In our experience the real-world figures came close, if not completely matching that number, even on a day when temperatures barely made it above freezing.

Unlike the top end Performance versions, the Standard Range Plus makes do with just one electric motor driving the rear wheels. While the drop in acceleration is noticeable compared to the twin motor setup, the Model 3 is still, put simply, a fast executive saloon. 

A 0-62mph time of 5.2 seconds really doesn't do the Model 3 justice. At any speed, the lightning fast throttle response and instantaneous torque gives proper hyper hatch eagerness. It easily has the legs over the BMW 330e. 

It's also wonderfully easy to drive at low speeds. The Model 3 has possibly the smoothest integration of a one pedal driving system of any EV on sale: while some rivals decelerate quite harshly and then creep at low speeds, with the correct mode selected, the Tesla will trim of speed gently and come to type of gentle halt that would make a chauffeur proud.

Could you live with an electric car? The pros and cons of owning an EV today

When it comes to fun, it's closer to the BMW than you might think, too. It's certainly not as sophisticated, for the most part due to damping that feels a little loose compared to the 3 Series. However, this translates into a chassis that can be quite playful if provoked and, thanks to a kerb weight that dips 219kg below that of twin motor Model 3s, it's fairly agile, too. That weight is low down, so stability is a strong point in everyday driving.

The steering is a weak point though. Even in its lightest "comfort" setting, the heavy feel and gloopy feedback isn't pleasant, and it only gets worse in the sportier settings. The chunky steering wheel rim doesn't help its case either – robbing what little information that could be transferred from the front wheels. 

The lack of any combustion engine highlights another area where the Model 3 needs work. On the move, there's plenty of road noise transferred into the cabin, and despite the addition of acoustic glass in the latest round of updates, it's one of few aspects of the Model 3 where Tesla still has room for improvement.

For company car users, the Model 3 will prove to be a bit of a bargain. In the current tax year, Model 3 drivers will not have to pay any Benefit in Kind rates at all, and though costs will increase slightly over the next couple of years, the zero-emission Tesla will still only demand annual costs of a few hundred pounds. Even the BMW 330e, whose plug-in hybrid powertrain makes it significantly cheaper than conventional petrol and diesel options, will cost upwards of £1,600 each year for a 40 percent earner.

Then there's the greatest Tesla benefit of all: the Supercharger network. An abundance of chargers are available all over the country, and it's so incredibly simple: turn up, plug in and drive away once you have the range you need. Users are billed by the kilowatt-hour, with a 26 pence per unit figure very competitive with other charge companies suppliers. It means a full charge of the SR+'s battery costs £14.04. That's not only cheap by the standards of other charge suppliers, but much cheaper than similarly sized combustion-engined cars.

| | |
| --- | --- |
| Model: | Tesla Model 3 Standard Range Plus |
| Price: | £40,490 |
| Drivetrain: | Single electric motor |
| Power/torque: | 292bhp/376Nm |
| Transmission: | Single speed, rear-wheel drive |
| 0-62mph: | 5.3 seconds |
| Top speed: | 140 mph |
| Range: | 267 miles |
| On sale: | Now |

Source: Read Full Article