New Renault Master ZE: prices, specs and review
The new all-electric Renault Master ZE van has arrived, with a starting price of around £45,000 and a 75-mile range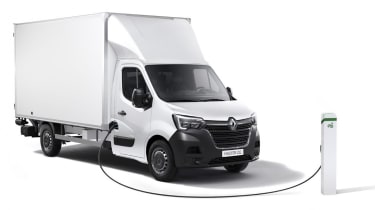 Renault has released further details on its upcoming large electric van, the Master ZE, confirming its body style line-up of three different versions and maximum carrying capacity.
The all-electric Ford Transit rival will be available to order from October this year, with prices starting from £45,700 excluding VAT, but including the Government's £3,000 plug-in vehicle grant.
Best big panel vans 2020
Renault says the Master ZE will have a "real-world" driving range of 75 miles – and the firm has designed the van with zero-emissions urban deliveries in mind. It has also arrived at a convenient time, with many European local authorities now starting to roll out diesel "no-go" zones in their major cities.
New Renault Master ZE: equipment and specs
The new all-electric Renault Master ZE will be available in a choice of three body styles, three lengths and two heights, and every version is based on the Business spec version of the diesel powered Master.
In addition, the Master ZE gets some EV-specific kit, such as a pre-heating function and "ZE Voice," which is a sound generator designed that warns pedestrians of the van's presence at low speeds. Renault is also introducing a host of telematics and connectivity options with the Master ZE to keep fleet managers up to date with the status of their vans.
Renault's panel van variant boasts a cargo volume of between nine and 13 cubic metres, as well as a maximum payload of 1,490kg. Buyers have their choice of three wheelbase options and either a low or high body style.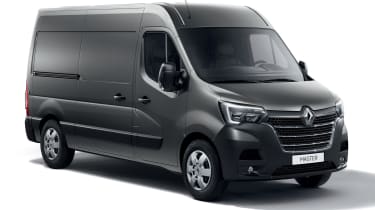 Buyers also have their choice of either a chassis cab or platform cab variants, both of which are designed with specialised conversions in mind. The former offers support for tipper truck, dropside pick-up or Luton box van conversions and has a maximum payload of 1,620kg.
The latter model allows for larger conversions, such as a Luton low loader. It's maximum payload increases to 1,740kg, while the amount of available cargo space increases to 20 cubic metres – with the added benefit of a lower loading sill.
New Renault Master ZE: powertrain and performance
The Master is powered by a 33kWh lithium-ion battery pack, which is mounted in the same location as the diesel-engined van's gearbox. As such, the Master ZE has the same access height as the standard model, while the load volume is unchanged.
It's powered by Renault's R75 electric motor. The 75bhp unit is offered in the ZOE in some European markets, so it should prove to be reliable for fleet users. It gives the Master ZE a top speed of 62mph, underlining Renault's belief that this is a delivery van for the city rather than long distance work.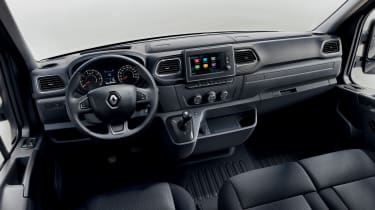 The powertrain is also fitted with a unique Eco mode, which limits the van's top speed to 50mph to help conserve energy – helping to deliver Renault's claimed range of 75 miles. However, that figure will very much depend on the payload, weather and driving style.
As well as offering zero-emissions deliveries, the Master ZE introduces Renault's next generation fleet management software. On-board telematics will allow fleet managers to monitor all vehicles via Renault's EasyConnect software and check on vehicle location, mileage, range and nearby charging points.
Any technical issues that arise, such as flat tyres or repairs, can also be relayed back to the fleet manager. Finally, in an effort to streamline fleet maintenance, the system can send direct messages to a Renault Pro+ dealer if a van is due a service.
New Renault Master ZE driven
Like the smaller Kangoo ZE, the Master ZE fires up with a chime from the dashboard and a green 'GO' light in the middle of the speedometer. Put the van into drive from neutral (there's no Park mode) press the accelerator, and the Master ZE creeps forward with the same ghostly hum as the Kangoo.
This artificial noise can be turned off, although it shuts off automatically at speeds over 30mph because, by then, the sound is drowned out by wind and road noise. However, you'd hardly call the Master ZE loud when on the move.
We tried the Master ZE van with a 400kg payload strapped into the back on a route that was representative of urban stop-start driving, which is the kind of driving the Master ZE is designed for. Unlike the smaller, lighter Kangoo, the Master ZE doesn't have the instant kick of acceleration you normally get from an electric vehicle.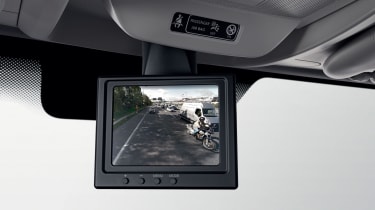 It accelerates as quickly as the diesel Master, easily managing to keep up with traffic. Rolling acceleration is decent, too, with a meaty amount of torque helping the Master accelerate from 30–50mph without too much drama. In Eco mode, though, acceleration is significantly blunted, but the van doesn't feel hindered when climbing steep hills.
Unlike the Kangoo, the Master ZE is fairly refined on the move. You can hear stones and debris ping into the front wheel arches, but overall it's pretty quiet, helped no end by the standard steel bulkhead that divides the cabin from the load area, which is where most of the Kangoo's cabin noise comes from.
Our test route covered 43 miles in around two hours, and at the end of it there was still 50% charge left in the battery, so Renault's claim of an everyday usable range of 74 miles seems entirely feasible.
A full charge of the battery takes six hours when using a 32 Amp/7.4kW wallbox (it's a whopping 17 hours from flat via a standard mains plug), so it's feasible for fleet users to have a fully charged fleet of vans ready to go overnight. It's even possible to have vans on charge during the day while others are out on delivery.
Check out the best large panel vans you can buy today…
Source: Read Full Article