New Maserati MC20 supercar: engine specs revealed
Maserati has confirmed new details on the new MC20's powertrain, ahead of the car's official launch in September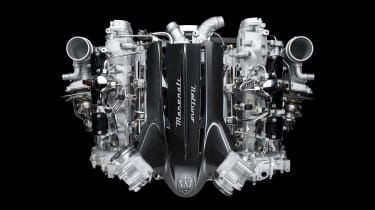 Maserati has released some technical information on the MC20's engine, ahead of the car's scheduled launch later this year. The new supercar will be unveiled on the 9 September, following a slew of setbacks brought on by the coronavirus pandemic.
The Maserati MC20 will be powered by a twin-turbocharged 3.0-litre V6, which produces 621bhp and 730Nm of torque. Peak power arrives at 7,500rpm and the engine's redline is set at 8,000rpm.
• Best sports cars on sale now
To prevent ignition breakdown at high rpm, Maserati has fitted the engine with Twin Spark ignition, which is similar to the system found on the old 2.0-litre Alfa Romeo 156. The engine also features double overhead cams, variable valve timing and a few motorsport inspired upgrades, such as a dry sump with an external oil tank.
The engine's compression ratio is 11:1 – which is quite high for a twin-turbocharged engine – and it was designed with 90-degree V-angle, much like the V6 engine fitted to the Alfa Romeo Giulia Quadrofoglio or the V8 found in the new Ferrari Roma.
Set to be the first car since the MC12 supercar of 2004 to carry the Maserati Corse badge, the MC20 is claimed to be a "natural evolution" of the Enzo Ferrari-based V12 supercar.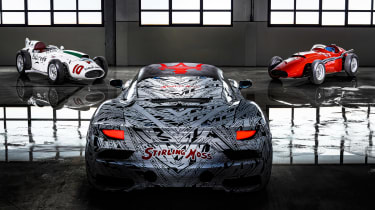 Following the launch of the V6-powered MC20, Maserati is also expected to unveil an all-electric version, which will go head-to-head with the Pininfarina Battista, Lotus Evija and the upcoming Tesla Roadster. However, Maserati is yet to make any official confirmation. 
New Maserati MC20: design and manufacture
Maserati recently released a few teaser images of its forthcoming supercar, which paid tribute to the late Sir Stirling Moss. The British racing legend drove a Maserati 250F in the 1956 Formula 1 season and for a number of races in the 1957 championship, which was won by Juan Manuel Fangio in his 250F.
The MC20 prototype in these recent images wore a unique livery, which was inspired by a different Maserati racer piloted by Moss. The white, black and red colour scheme is an homage to the 420M/58 "Eldorado" car, which Moss raced at the 1958 Race of Two Worlds championship at Monza – shown at the rear of the shot.
Few details can be gleaned from the official images, as the wrap camouflages most of the MC20's design features. However, the car's dramatic mid-engined profile and elements of the car's aero package – such as the deep rear diffuser, aggressive front splitter and engine intakes – are clearly visible.
Maserati has also confirmed that the MC20 will be manufactured at its Viale Ciro Menotti plant in Modena, which has recently been modernised to prepare it for electrified vehicles. The supercar's combustion engine will also be built in the same facility.
Are you looking forward to Maserati returning to the supercar world stage? Let us know your thoughts in the comments below…
Source: Read Full Article