New Lexus UX 300e 2021 review
Can the new all-electric Lexus UX 300e stand out from the electric SUV crowd?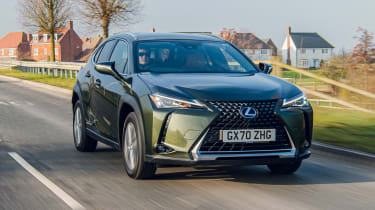 3.5 out of 5
Buy used for less at Buyacar
Verdict
The UX300e is a car that does many things well: it's built superbly, looks great and Lexus will look after you like no other brand can. It's quick, too, rides okay on 17-inch wheels, and has a decent-sized boot. But for all that, it's a pricey car that can't get near a 200-mile range, and one that adults will struggle to get into the back of. It's not so roomy when they're there either. Think of it as a comfy, quality, stylish two-plus-two that's great to pootle around in locally and this is another appealing Lexus.
If anyone has had a head start when it comes to full electrification, you'd think it would be Lexus. The Japanese luxury brand has sold the best part of two million electrified hybrid models since 2005 (self-charging hybrids, in Lexus-speak), with over 130,000 of them in the UK.
So we have high hopes for this, it's first ever fully-electric model based on its smallest SUV, the UX.
Best electric SUVs to buy now

There's always a lot to like about a Lexus, and that's true of the UX. Build quality is impeccable, inside and out, there's more of a focus on comfort than with some rivals and Lexus consistently tops our Driver Power owner satisfaction survey – your Lexus is highly unlikely to go wrong, but if it does Lexus dealers will look after you like nobody else.

More reviews

Car group tests

Audi Q3 Sportback vs Lexus UX
Lexus UX vs BMW X2

In-depth reviews

Road tests

New Lexus UX 250h 2020 review
New Lexus UX 2018 review

This UX300e adds a 54kWh battery sitting under the floor and rear seats, while a 201bhp electric motor sits low in the engine bay. Lexus claims a range of 196 miles for a car like ours on 17-inch wheels, although – even in warm weather – a full charge showed us just 165 miles, which turned out to be a pretty accurate forecast. With the right 50kW charger, you can get back up to 80% charged in 52 minutes.

Unique aerodynamic alloys and some electric badging are all that mark the UX300e out from the rest of the range that was first launched a couple of years ago. It's a smart, sharp looking compact SUV, only 4,495mm long but with a front end dominated by the typical large Lexus spindle grille flanked by slim headlights. Crisp lines are slashed into the side of the bodywork, while the roofline tapers away, coupé-like, towards a striking rear end with its full-width light bar. It's a smart looking thing, not least in the perfect paintwork of our test car.

The cabin design is very Lexus, too, although not quite as successful. The driving position is good with a small, sporty wheel that's nice to hold. Beyond it is a small instrument binnacle that packs a bit too much information onto a small digital screen, with circular knobs protruding from each side, one to select from Normal, Eco or Sport modes (that do little other than affect throttle response), the other that controls the traction control. We can't help but think of fictional superhero Hellboy when we see those two rather pointless horns sticking out either side of the instrument hood.

Although there's a wide panel in the centre of the dash reserved for the infotainment screen and analogue clock, you only get a seven- inch display unless you opt for the Takumi pack (an extra £9,600), which among other goodies gives you a 10.3-inch display with in-car navigation, a head-up display and a Mark Levinson audio system.

Although our car came with the Premium Plus Pack (costing £3,500) you have to rely on Apple CarPlay or Android Auto for guidance. You do get rather lovely smooth leather seats that are heated or cooled, though, while everything you look at and touch is finely finished.

Lexus continues to insist you operate the infotainment system via its infuriating touch pad. At least the designers have given you a nice rest for your left hand with handily placed controls for the audio system.

While life is rosy up front, the rear seats – or at least getting into them – is not so good. The door aperture is so small that one of our testers – a five-foot six-inch tall female – couldn't get in without banging her head. That maybe something to do with the reprofiled rear seats with the battery beneath, but once inside there's nowhere under the front seats to slide your feet. This is certainly a compact SUV.

Believe it or not, the boot is actually bigger in the all-electric UX by 47 litres as there's no hybrid gubbins under the boot floor. Instead, there's a handy storage area for charging cables, of which you get two as standard.

Fun was on the agenda for the UX300e development team, and the car certainly feels quick; quicker than the 0-62mph time of 7.5 seconds suggests. The combination of instant torque and eco-focused Dunlop tyres can see the front wheels scrabbling for traction if you try a quick exit from a junction, while the steering is accurate but not especially communicative, other than to wriggle around in your hands when the grip does eventually arrive. Remember torque steer? You will in a UX300e.

For the most part, the ride is really good. It smooths out smaller undulations well, while bigger bumps are felt, but such is the quality of the whole structure of the car, it's almost challenging potholes to make it rattle. It won't.

And as Bjork once said, it's oh so quiet. A Lexus is quiet at the best of times, but the combination of an EV's silent running and some of the best refinement on the road, make for enjoyably quiet progress.

| | |
| --- | --- |
| Model: | Lexus UX300e |
| Price: | £43,900 |
| Battery/drive: | 50kWh/single electric motor |
| Power/torque: | 201bhp/300Nm |
| Transmission: | Single-speed automatic, front-wheel drive |
| Top speed: | 100mph |
| 0-62mph: | 7.5 seconds |
| Range: | 196 miles |
| Max charging time: | 52mins (0-80%) |
| On sale: | Now |

Next Steps

Source: Read Full Article