New Lamborghini Urus facelift could arrive in weeks
Lamborghini says two announcements for the Urus will be made this year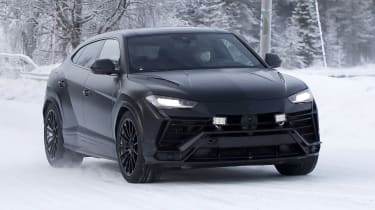 We've been spotting the revised Lamborghini Urus undergoing testing for a while, but now the Italian firm has given us expectation that the super-SUV's mid-life refresh will happen this year. Lamborghini hinted at this during the product announcements in its latest financial results presentation.
The Lamborghini Urus SUV was unveiled in 2017 and it's now the brand's best-selling model, raking in 61% of total sales. Our spy shots suggest development is near completion and the latest imagery we have shows a prototype virtually undisguised, giving a much clearer look at Lamborghini's styling revisions.
End of an era: driving the last of the petrol Lamborghinis
The Aston Martin DBX rival has gained a new front bumper containing several moderate revisions. The fork-shaped intakes are gone, and Lamborghini has switched the old egg-crate radiator grille for a simpler design. The outer air ducts have been reworked too, forming a pair of triangles that point inwards.
Below, there's a fresh splitter, and above, a pair of new bonnet vents can be seen. At the other end of the car, there's another new bumper that features vents behind the rear wheel arches.
We're yet to see the updated SUV's interior, but we expect it'll get some retrimmed seats, a tweaked sports steering wheel and an updated infotainment system. All of the upgrades should also bring an increase over the current car's £160,000 starting price.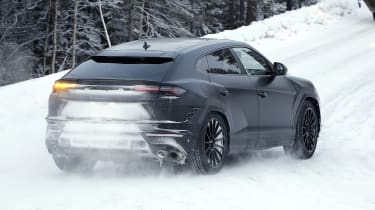 Lamborghini hinted that a plug-in hybrid version was in the pipeline when the Urus was first revealed. A plug-in hybrid Urus will almost certainly borrow technology from the Cayenne Turbo S E-Hybrid, which shares the same platform and is also set to be facelifted this year. Currently, the hybrid Cayenne produces 671bhp and 770Nm from a 4.0-litre, twin-turbocharged V8, but we expect both the plug-in hybrid Urus and Cayenne to use the upgraded version of this powertrain already fitted to the Panamera Turbo S E-Hybrid, seeing power rise to 690bhp.
According to Lamborghini's new electrification plan, the brand's first plug-in hybrid vehicle won't arrive until 2023, so we would expect to see the Urus PHEV arrive a little after the imminent mid-life update.
The current car's 650bhp twin-turbocharged 4.0-litre V8 will live on – although it remains to be seen whether Lamborghini's engineers will tap even more performance from the unit, in the same way they did with the facelifted Huracan supercar.
Click here for our list of the fastest SUVs in the world…
Source: Read Full Article