New Lamborghini Sian Roadster sets faces to stunned with open top and 808bhp V12
Lamborghini's hybrid Sian hypercar goes roofless with sub three-second dash to 62mph promised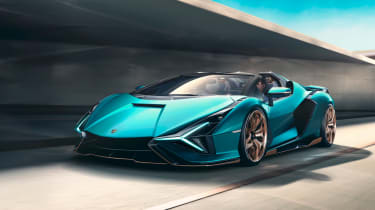 Lamborghini has pulled the covers off a Roadster variant of the hyper-exclusive Sian hypercar – Lamborghini's first hybrid vehicle – of which just 19 examples will be made.
All 19 build slots have already been sold for the Sian Roadster, which like its hard-top coupe stablemate, uses a supercapacitor powered, 48-volt hybrid assisted 6.5-litre V12 engine developing 808bhp.
Fastest electric cars in the world
The visual transformation from coupe to Roadster extends beyond just a change of roof design. In fact, the roof has been deleted entirely, with no retractable fabric hood part of the Sian Roadster package.
Behind each seat the bodywork creases upwards to form rollover hoops, while the rear decking and ventilation hiding the 6.5-litre engine sits flat on the car, and gets a new design too.
Unlike the Sian coupe revealed at the Frankfurt Motor Show last September, the Sian Roadster is presented in a blue shade of paint called Blu Uranus, while the wheels remain the same "Oro Electrum" copper shade, which Lamborghini says is the colour it has chosen to reflect the electrified aspect of the Sian's drivetrain. However, every customer can choose a completely personalised colour finish.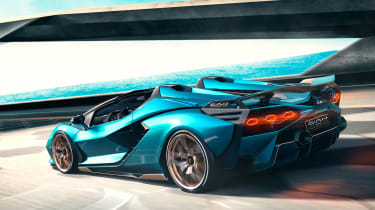 Elsewhere, it retains the coupe's extremely low front end with Y-shaped LED headlights and extensive carbon-fibre aero work. The sides of the car are sculpted with enormous side vents, periscope style vents on the top of the rear wheel arches are a nod to the Countach, while around the back, hexagonal LED taillights match up with a pop-up rear wing and a rear diffuser with enormous venturi tunnels.
The interior goes unchanged save for trim and finish. The Sian Roadster features white and grey upholstery with blue detailing alongside aluminium elements, while the 3D printed air vents can be personalised with initials.
The hybrid drivetrain of the Sian uses supercapacitor technology. The V12 engine develops 774bhp at a heady 8,500rpm, while the 48-volt motor system backed by the supercapacitor develops 34bhp, while weighing just 34kg.
Best supercars 2020
The e-motor assists acceleration at speeds up to 81mph, and provides torque fill during gearshifts, to eliminate the brief loss of power between gears and jerking upshifts. The e-motor also kicks in at low speeds, for reversing manoeuvres and parking on electric power only.
Like the Sian coupe, Lamborghini has not revealed how much the Sian Roadster will set back prospective buyers. However, a seven-figure price tag in pounds is extremely likely, and Roadster buyers get a dollop of added exclusivity too, given 63 examples of the hard top have been sold compared with the Roadster's production run of 19 cars.
Do you like the looks of the Sian Roadster? Let us know below…
Source: Read Full Article