New Lamborghini Sian 2021 review
Wild Lamborghini Sian supercar combines hybrid assistance with legendary V12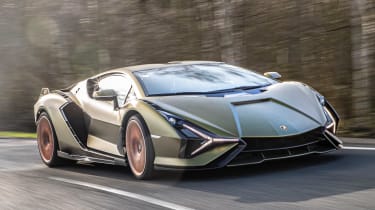 4.0 out of 5
Verdict
The Sian's mild-hybrid system works well in practice, but this is still a big, scary V12 Lamborghini at heart. It's one that goes every bit as good as it looks, and in the flesh it looks very special indeed. The price is crazy at £2.6million before taxes, but then all 63 Sians have sold out. However, the key here is that Lamborghini is embracing electrification so it can carry on delivering cars we love in the future.
You can't buy a Lamborghini Sian FKP 37, because all 63 examples sold out the minute they went on sale at the Frankfurt Motor Show (remember those?) back in 2019. The price? A mere £2.6million plus local taxes, so let's call it a cool £3million and be done with it.
No matter, because the Sian is one of those cars that the rest of us will only ever aspire to in photographs or, occasionally, get a glimpse of at a car festival. Its name comes from a flash of lightning that appears in the skies above northern Italy, while the FKP 37 refers to the late Ferdinand Karl Piëch, master engineer and former boss of Volkswagen when it took control of Lamborghini, who was born in 1937.
New Lamborghini Aventador SVJ 2019 review

Beneath its dramatic new carbon-fibre skin, which has been styled internally by Lamborghini's own designers, the Sian is almost exactly the same as an Aventador SVJ. That means it's powered by the same earth-shattering 6.5-litre V12 engine, uses the same seven-speed paddleshift gearbox, the same four-wheel-drive chassis and suspension, the same four-wheel-steering system and carbon-ceramic brakes, even the same interior, give or take a flurry of bespoke design touches to make it look and feel more special inside. More like one that costs half a million, rather than £3million? We'll leave that to the Sian's 63 buyers to decide.

There is one key difference, though; within the Sian's otherwise unchanged seven-speed single-clutch robotised manual gearbox sits a new small electric motor that's fed by a supercapacitor. This provides the car with an additional 33bhp, so there's 808bhp in total compared with 759bhp for the non-hybrid SVJ. Torque is rated the same as the SVJ, at 720Nm.

The system recharges itself on the move via regenerative braking, so there's no plug-in element to the Lambo's electrification. The extra power generated by the supercapacitor is deployed by the e-motor and sent to all four wheels, while Lamborghini has designed the system primarily to fill the gaps between upshifts and to help smooth out the gearchanges in the process.

On the move, the Sian drives a lot like how it looks, which is to say dramatically in the extreme. The ride is firm but surprisingly composed, the steering light but crisp, the throttle response immense and instant if you select either Sport or Corsa within the drive mode programme, but actually a bit lethargic if you don't.

The gearchanges are also quite slow if you keep the Sian in its default start-up mode of Strada (Street in English), which leaves the transmission in auto, too. Although all this changes if you select Sport or, better still, Corsa and opt for manual shifts with the gearbox, at which point the wild animal that lurks within this car very quickly reveals its true self. Then, and only then mind, does the Sian begin to feel like it might just be worth the outrageous amount of money that it costs.

The combination of noise and pure acceleration that this car is capable of producing between 3,000rpm and its 8,500rpm limit is not something you will ever forget in a hurry.

In the first three gears it feels so quick, and is so loud, that it makes you feel physically uncomfortable when experienced within the confines of a UK B-road such as the one we tested the car on. Even in sixth gear it goes very hard indeed at anything above 2,500rpm.

Subjectively, the e-motor fills the gaps nicely between the ratios, smoothing out full-bore upshifts where lesser Aventadors deliver an unwanted thump to the back of the head under the same loads in Corsa. The gearbox, so long as it's in flat-out mode, does work beautifully.

The chassis, brakes, steering and suspension are all cohesively in line with what the engine and its mild-hybrid system are capable of producing, too, which is perhaps the biggest and best surprise of all.

The Sian is a slightly cynical car in that it has made Lamborghini a small fortune in the process, despite not costing that much more than an Aventador to make, but in reality it's far from just a marketing exercise. It's actually a sensational car to drive, one that contains tech that will help keep the big, characterful and unhinged V12 Lamborghinis going for a good few years to come. As enthusiasts, we can't help but love it for that.

| | |
| --- | --- |
| Model: | Lamborghini Sian FKP 37 |
| Price: | £2.6m (plus taxes) |
| Engine: | 6.5-litre V12 mild hybrid |
| Power/torque: | 808bhp/720Nm |
| Transmission: | Seven-speed single-clutch auto, four-wheel drive  |
| 0-62mph: | 2.8 seconds |
| Top speed: | >217mph |
| Economy: | 14.7mpg |
| CO2: | 447g/km |
| On sale: | Sold out |

Source: Read Full Article