New Lamborghini Huracan STO 2021 review
We find out if the new hardcore Huracan STO is the pinnacle of Lamborghini's V10 supercar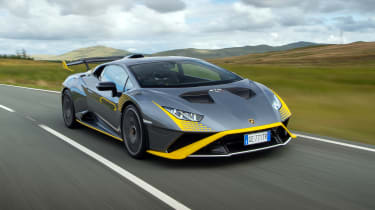 4.5 out of 5
Buy used for less at Buyacar
Verdict
It costs over quarter of a million pounds and it does less than 17mpg. It can't even do 200mph. But as a reminder of what we'll be missing when the petrol-engined supercar is no more, the Lamborghini Huracan STO is, in its way, a masterpiece of timing and design. More focused than a regular Huracan (much more focused) and louder than a modern Formula One car, the STO is a fantastic driver's car, arguably one of the best there's ever been. There will almost certainly be nothing else like it. Ever.
Trust Lamborghini to take the bull by the horns and deliver one of the most extrovert and exciting supercars in history just moments before the breed, as we know, is about to die. But whichever way you cut it, the Huracan STO can't be ignored. It's that kind of car; loud, unashamedly proud of what it is and what it stands for, extremely focused for a production car that's road legal, and – in the right circumstances, i.e. on the right road – utterly magnificent to drive.
It's quite different to a regular Huracan – you can work that out for yourself the moment you set eyes upon it. At the rear there's an enormous new wing. Along the sides and at the front there are much deeper side skirts and spoilers that deliver a much more dramatic presence generally. And beneath its wild new carbon-fibre skin the STO (that's Super Trofeo Omologato) backs up its apparent machismo with a set of underpinnings that have been honed and pared back to deliver a genuinely focused driving experience, one that might well be too strong for most tastes.
New Ferrari SF90 Spider arrives: 986bhp hybrid good for 211mph

As such, the ride of the lowered and modified adaptive suspension will probably seem ridiculously stiff to most people, on most UK roads. And even though the uprated V10 engine (now with a soul stirring 631bhp) has a new wet weather setting within its repertoire, it still delivers a colossal hit of performance in any of its modes, one that's backed up by an epic soundtrack that most folks would consider unacceptably loud. Possibly even a bit scary in the extreme.

More reviews

In-depth reviews

Lamborghini Huracan review

Road tests

New Lamborghini Huracán EVO RWD 2020 review
New Lamborghini Huracan Evo Spyder 2020 review
New Lamborghini Huracan Evo 2019 review
Lamborghini Huracan Performante 2017 review
Lamborghini Huracan Spyder review
New Lamborghini Huracan LP 580-2 2016 review
New Lamborghini Huracan review

The STO also weighs a fair bit less than a normal Huracan, and just for extra excitement/fear-factor it's rear – not four – wheel-drive. Essentially it's a street legal version of Lamborghini's highly successful GT3 racer but with a touch less downforce (although it still generates a whopping 420kg of the stuff at 174mph, says Lamborghini) but more power thanks to the fact that its 5.2-litre V10 doesn't have to breathe through a restrictor, unlike the racing car.

Think of the STO as Lamborghini's answer to the 911 GT3 and you'll get a good idea of what sort of car we're talking about. Except if anything the Lambo is even more uncompromising in its approach, hence the reason it feels either stiff, very stiff or insane in its three different drive modes.

Forget fuel consumption and emissions, the STO is dreadful at all of the above. Forget, too, any bragging rights you might require about top speed or even 0-62mph times. With its lowered, closer gearing and that vast rear wing creating serious drag above 150mph, the STO can do "just" 193mph flat out, and being rear wheel-drive it can't even crack the three second barrier when it comes to the 0-62mph sprint.

Yet on the right road – preferably a quiet one that's fast and undulating on which there's no one else around to spoil your fun, or to be offended by this most audacious of cars – the Huracan STO can take you to places that very few other road cars can. Its throttle response is genuinely magnificent while the snap from its re-engineered seven-speed dual clutch gearbox is similarly breath-taking. But if anything, and just for once, it's the steering, chassis and brakes that arguably take centre stage, which is some realisation when you consider there's a howling V10 engine, just a couple of inches behind your head, accompanying your every move.

The brakes are especially superb, with not just huge power but also extraordinary pedal response once you get the big carbon ceramic rotors nice and warm. True, they take a few milliseconds longer to respond quite so cleanly in the wet, and when it's cold, but in the dry they deliver the kind of stopping power that only a 911 GT3 driver would recognise. And the same thing goes for the chassis and, to a lesser extent but only by a touch, to the steering, both of which are extraordinary.

The steering is heavy, yes, but super-precise and fizzes with feel over every inch of every road. The chassis has almost no ride quality whatsoever to it on the worst UK roads and makes the STO a tiring and, sometimes, rather tiresome car to drive if you're not in the mood for it. But on the right road and with your heart and head in the right place, this car can deliver thrills in a way that few other road cars ever have. As a last hurrah for Lamborghini's V10-engined supercar it's everything you'd want it to be, and then some.

| | |
| --- | --- |
| Model: | Lamborghini Huracan STO |
| Price: | £260,012 |
| Engine: | 5.2-litre V10, petrol |
| Power: | 631bhp/565Nm |
| Transmission: | 7-speed dual-clutch auto |
| 0-62mph: | 3.0sec |
| Top speed: | 193mph |
| Economy/CO2: | 16.9mpg/331g/km |
| On sale: | Now |

Next Steps

Source: Read Full Article