New Kia Ray review
The Kia Ray is a Korean city car that shows UK motorists what they're missing in terms of small, affordable urban transport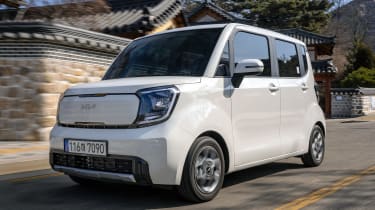 4.0 out of 5
Verdict
The Ray is a fine example of a do-it-all vehicle for city dwellers. It's easy to drive and remarkably practical, given its compact size. The mix of 1.0-litre power and an auto gearbox means it isn't thrilling to drive, but it'll be interesting to see if Kia can put this sort of nous into a baby EV at some point in the next few years. Even if it does, though, it's unlikely to be anywhere near as affordable as the Ray.
UK car buyers are finding it harder than ever to access cheap, small vehicles, with many of the established names leaving the market. But Korean brands like Kia remain committed to affordable, compact cars – and the domestic-market Ray is a shining example of this.
The Ray is a pint-sized people carrier. It measures just 3,595mm long – so it's smaller than even Kia's current UK city-car offering, the Picanto. It's only 1,595mm wide, too, but its roofline is 1.7 metres tall. Throw in a very short bonnet – all that's required to house the Kappa 1.0-litre three-cylinder engine – and you end up with a car that has to be one of the closest things possible to a box on wheels. Readers of a certain age may remember the Daihatsu Materia, a Kei-car once offered to British buyers; the profile is very similar here.
New Hyundai Casper 2022 review

This is a car designed for mega-cities like Korean capital Seoul, where we're trying it. And with the streets clogged with traffic, the Ray's performance figures look as sensible as they are humble. The motor produces just 75bhp at a heady 6,200rpm, and 95Nm of torque at 3,750rpm; Kia hasn't actually issued an official 0-62mph time, and we can understand that – though the car's pace is not helped, it must be said, by the standard transmission being a four-speed automatic.

The first thing you notice as you climb into the Ray is how efficient its design is for interior packaging. There's oodles of space – room for two fully grown adults up front, and bags of legroom for rear-seat passengers. The second row is accessed via sliding rear doors that make getting in and out a doddle, and there's a completely flat floor, so it's easy to slide across into your seat if you want to get in from the pavement. The boot looks tiny – but the back seats can move fore and aft, allowing you to prioritise the loadbay over the rear accommodation.

Kia clearly thinks the cabin's flexibility is a key strength of the model, because the official accessories include blackout blinds, an inflatable mattress, a drop-down projector screen, and camping chairs and tables.

Up front, there's excellent visibility out of the near-vertical windscreen, and front quarterlights help to give you an even better view – ideal for tight urban manoeuvres. There's a footbrake instead of a handbrake, freeing up additional space between the seats. The cabin finish is functional more than luxurious, with plenty of tough finishes and no real flashes of colour or texture on the dashboard to break up the sea of black and dark-grey plastic. There is, at least, an infotainment screen – mounted high up where it's easy to access on the move.

You may well find yourself having more time to interact with it than normal, too, because performance is as modest as it sounds. The three-cylinder engine is one of the smoother examples of its type, and it bumbles discreetly in the background at idle. But keeping up with traffic on faster-moving roads will send revs rising, at which point you'll be in no doubt that you're working the engine hard.

That said, you can quickly pick up the gearbox software's patterns, and before long you'll be second-guessing when kickdowns are required, resulting in smooth progress – around town, at least. The car itself weighs less than a tonne, so it's probably fair to say that there's enough performance for the Ray's urban brief.

The steering is light and a little vague around the straight ahead but once it loads up, it's accurate enough. The turning circle is predictably small and the Ray is just an easy thing to drive around town. Body control is decent too; the overall set-up feels a little firm, even on modest rubber (the Ray comes with either 14 or 15-inch wheels). The overall goal, it would seem, was to make sure the Ray doesn't topple over at the first hairpin, and if the end product ended up a little stiffer than the less slab-sided Picanto, then that was a price worth paying. It probably is.

Sadly, we won't get a chance to put Ray to the test on faster UK roads because Kia has no plans to offer the model here. The Korean brand continues to work on smaller models – you'd be foolish to bet there's not a city car-sized EV1 somewhere in the product pipeline – but for now at least, the focus is on extending the life of the Picanto for as long as possible.

| | |
| --- | --- |
| Model: | Kia Ray |
| Price:  | From 13,900,000 KRW (£8,700) (Korea only) |
| Engine:  | 1.0-litre 3ycl petrol |
| Power/torque:  | 75bhp/95Nm |
| Transmission:  | Four-speed automatic, front-wheel drive |
| 0-62mph: tbc | TBC |
| Top speed: tbc | TBC |
| Economy:  | 36.7mpg |
| CO2:  | 127g/km |
| On sale: | Now (not for UK) |

Source: Read Full Article