New Hyundai i20 prototype review
We try out the all-new Hyundai i20 supermini in prototype form in the UK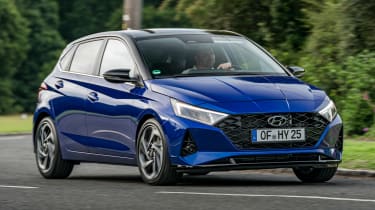 Verdict
The new i20 already feels a world away from its dowdy predecessor. Apart from slight concerns about the ride, there is bags of potential here. The biggest stumbling block could be Hyundai's reluctance to play the same game on PCP finance offers that many of the i20's rivals do on a daily basis.
Amid Hyundai's torrent of fresh models over the past couple of years – i30 N, Kona, updated Ioniq and new Tucson – the company's Ford Fiesta and Renault Clio rival, the i20, has faded into obscurity. But that's about to change with an all-new version due in showrooms this autumn. Now we've had a chance to try a late prototype of the car on UK roads.
The new generation of i20 does actually sit on a very heavily modified version of the old car's platform. But that's pretty much where any connection ends, because the cabin promises to be transformed, and under the bonnet there's a fresh turbo engine with 48-volt mild-hybrid technology.
Best superminis 2020
Indeed, the UK is likely to get just a single motor: a 1.0 turbo with 99bhp and a 48-volt integrated starter/generator (ISG) that harnesses energy that would be lost under braking and gifts it back to help the engine when you need to accelerate. It's not a true hybrid, then, but think of this i20 as a rival to the likes of Renault's Clio E-Tech and Ford's recently updated Fiesta, which has a similar ISG hooked up to its EcoBoost motor.
More reviews for i20
Car group tests
Hyundai i20 vs Citroen C3 vs Nissan Micra
In-depth reviews
Hyundai i20 review
Hyundai i20 Coupe review
Hyundai i20 Active review
Road tests
New Hyundai i20 2018 facelift review
Used car tests
On the move, the i20 feels like a modern supermini. Here we're driving a 118bhp version of the 1.0 equipped with the dual-clutch gearbox (a combination that is under consideration for the UK, although not yet confirmed). But the basic principles should transfer to the lesser-powered unit that'll sit in most models, paired with either this transmission or an 'intelligent' six-speed manual that can facilitate coasting when your foot is off the accelerator.
Hyundai knows how to make a smooth three-pot motor, and while the characteristic thrum is there once you go north of 2,500rpm, it never sounds quite as gravelly as the motors in many of its rivals. The mild-hybrid tech means that this unit makes the car feel more sprightly at low revs, too.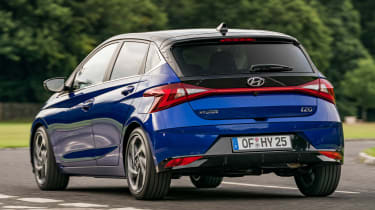 The dual-clutch transmission's shifts are smooth and quick, and it doesn't take long to get tuned in to when it wants to kick down. A steady motorway cruise requires just over 2,000rpm and at that point, the engine is impressively hushed.
The chassis set-up reflects the influence of ex-BMW M division man Albert Biermann. The car resists roll well – maybe even better than it needs to, given the light but relatively inert steering – yet while the set-up is firm, we do wonder if UK roads might require a click or two less on the rebound damping, to dial out the worst thunks over bad potholes.
Our test car's 17-inch wheels (restricted to top-spec and N Line versions) probably didn't help with this, mind; lesser editions on 16-inch rims should be better.
We can't comment on the new i20's interior quality, because the prototype had rough-and-ready plastics everywhere. But we found the dashboard layout logical, clear and easy to use. All UK models are expected to get 10.25-inch digital instruments, while in the middle of the fascia there will be eight or 10.25-inch infotainment systems, depending on trim level. We rate Hyundai's set-up and can see no reason why the i20 won't be near the top of the class on this front.
This car has a slightly longer wheelbase than the outgoing i20, and that's reflected in the rear cabin, which has enough knee and legroom to accommodate a six-footer sitting behind someone of similar height.
Boot capacity is 351 litres, which is a useful gain over the old model. While it's not a match for the latest Clio, it's certainly towards the upper end of the class.
Source: Read Full Article