New Honda Civic 2022 review
The Honda Civic returns for its 11th generation – can we expect it to challenge for hatchback honours when it comes the the UK?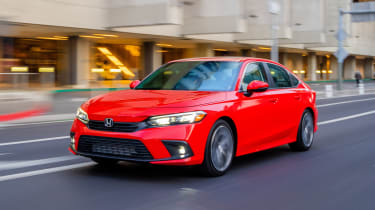 4.0 out of 5
Buy used for less at Buyacar
Verdict
This is one of the biggest improvements we've seen from a new Civic in its near-50-year history. The drive is better than the look, but we like the car's new-found quality, a bit more space and the blend of comfort and fun behind the wheel. It all bodes well for UK cars next year, as long as going hybrid doesn't push prices too far from where the current car is.
Honda's Civic has always had something of a split personality. There has been a string of rather dull, worthy, but popular mainstream models that have never really competed brilliantly against the best Europe has had to offer. And then there are the Type R models, every one of which has been guaranteed to put a smile on your face and has often had the beating of rivals.
However, Honda has obviously been doing something right with the standard Civic – it celebrates its 50th birthday in 2022, when the eleventh-generation model also arrives in the UK. Longevity like that is a rare thing in the car business.
Best used hatchbacks 2021

This newest Civic is already on sale in the US, in four-door form, which is where we managed to get our first drive as part of our annual World Car of the Year judging session. It's up for next year's main award – now that would make a fine 50th birthday present.

More reviews

Car group tests

Skoda Scala vs Ford Focus vs Honda Civic
Renault Megane R.S. vs Honda Civic Type R

In-depth reviews

Road tests

New Honda Civic Type R Sport Line 2021 review
New Honda Civic Type R Limited Edition 2020 review
New Honda Civic Type R 2020 review
New Honda Civic Sport Line 2019 review

Used car tests

But is it a winner? As well as being a four-door model, our test car came with a 1.5-litre turbocharged four-cylinder petrol engine with a CVT automatic gearbox. The same spec sits in the outgoing Civic in the UK, but the new model in Europe is going all-hybrid – part of Honda's drive to electrify its line-up by 2025.

This car can tell us plenty about UK versions, though, not least how the Civic has matured. Seeing the car swing into the World Car car park we were struck by how different it actually looks in the metal, with a hint of VW Passat to it.

The design is far less fussy and arguably more European. The wide LED lights frame a more upright grille, while the sides are far cleaner with a bold crease running along the car's shoulder, starting at the front lights and finishing at the rears.

At the back of the four-door, the window line kicks up towards the boot, as it will in the five-door hatch we'll get. And the rear end is similarly European with a hint of Alfa Giulia about it.

What else strikes you is how much the car has grown – anyone still mourning the passing of the Honda Accord in the UK won't be disappointed by the new Civic. At 4,656mm our car is 138mm longer than the current five-door (and longer than an Alfa Giulia) with a wheelbase that has grown by nearly 40mm, too.

The new-found maturity is also present inside, with a much plusher and more stylish cabin – although the strong 'new-car smell' of our car took us back a decade or two and was anything but premium.

The dash features a slim horizontal panel with a honeycomb design that hides the air vents within it. There are proper heating and ventilation controls underneath, too.

The infotainment touchscreen sits proudly and clearly on top of the dash, with either a seven or nine-inch display, while the 10-inch digital instrument cluster displays clear, traditional depictions of dials. Our top-spec car had wireless connection for Apple CarPlay or Android Auto integration and wireless smartphone charging, too, plus every expected electronic driver assistance and safety system.

Honda says the glass area is bigger on the Mk 11 car than the Mk 10 and there are no complaints about visibility; the over-the-shoulder view is much improved over Civics of old. The same is true of interior quality, which has taken a hike along with the design.

As with all Hondas, the engineers seem to have spent as long making sure the doors open and shut with reassuring clicks and thuds than anything else, while space in the back is more generous than ever, if not quite up to Octavia standards. Boot space is good enough – so that should also be true of the hatch – while there are plenty of decent storage areas around the cabin.

Even on the smart 18-inch alloys of our top-spec US model, the ride was pretty  comfortable on dreadful Californian roads – thanks in no small part to the combination of MacPherson struts up front and a multilink system at the back.

Up into the hills overlooking Los Angeles, our Civic displayed a few Type R traits, with crisp steering and plenty of grip. It won't make you smile as much as a Type R (and, for the record, there is another one coming), but it's surprisingly fun. Even the CVT gearbox does a decent job of disguising its natural instincts by trying to mimic a regular automatic, while the 1.5-litre engine is pokey enough and refined at higher speeds when cruising. There's still more road noise than you'll get with rivals, though – a traditional Civic trait.

How all this translates into the European hybrid models next year remains to be seen, but if Honda's engineers have endowed European cars with the same blend of quality and comfort, plus a little bit of fun, it could start to be a car you can buy with your heart as well as your head.

| | |
| --- | --- |
| Model: | Honda Civic 1.5T four-door Touring |
| Price: | Not available in UK |
| Engine: | 1.5-litre turbocharged four-cylinder |
| Power/torque: | 178bhp/240Nm |
| Transmission: | CVT automatic, front-wheel drive |
| 0-62mph: | n/a |
| Top speed: | n/a |
| MPG:  | n/a |
| CO2:  | n/a |
| On sale: | n/a |

Next Steps

Source: Read Full Article