New Fiat Topolino could be an Italian Citroen Ami
Fiat is in talks with Stellantis partners to build its own version of the Ami quadricycle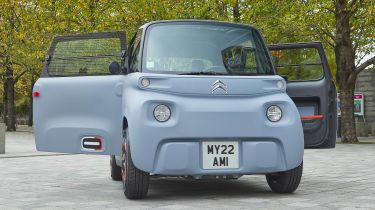 Fiat wants to build its own version of the Ami quadricycle, potentially calling it Topolino – and the company boss has confirmed to Auto Express that his brand is "in active discussions" with Stellantis partners Citroen and Opel about the project.
The tiny electric vehicle – which costs as little as £20 per month in the UK – has been a success in several key markets since it was launched last year. And FIAT boss Olivier François believes that it could help his brand to deliver better urban mobility – one of its key mission briefs within the wider Stellantis group.
New Citroen Ami 2022 review
When asked directly if he has been in talks about the vehicle, François said, "Yes, for sure. I have had discussions. If I jump into that [urban mobility] space – which I want to do, to be honest – then it's clear that I have a very good base with that Citroen/Opel car."
Opel's reworking of the value-focused Ami extended to a new name, Rocks-e, along with a revised front grille and a new wheel design. François says that Fiat would probably aim to take a more radical approach. "These are cubes," he said, "and it's a real design challenge to make a sexy cube. But if any brand can do it, it's Fiat." 
It's believed that FIAT's take on the car could carry the Topolino badge (aping the nickname of the original 500) and offer an opening fabric roof – a feature not available on the Ami or the Opel Rocks-e. Rumours last year suggested that selected Italian dealers have already been shown a prototype.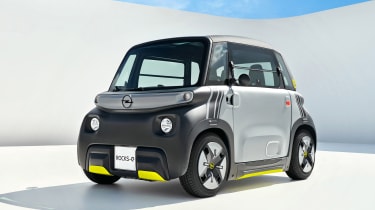 François said that the biggest challenge so far in the talks has been securing the sorts of production volumes required for Fiat to commit to the project. Stellantis recently announced a further €300million (£265m) investment for the Kenitra factory in Morocco where the Ami is produced, potentially lifting capacity there to around 50,000 quadricycles per year.
"If I do it, I want it to become a major hit," François said, "and for a major hit we need to boost our capacity. That's the kind of discussion I've been having with my colleagues at Citroen and Opel."
Now read our list of the best city cars…
Source: Read Full Article