New Ferrari F8 Spider 2020 review
The drop-top Ferrari F8 Spider is a car that can flatter every driver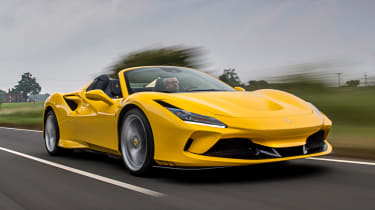 4.5 out of 5
Verdict
The F8 Spider is another sensational supercar from Ferrari. Its V8 engine is the star of the show, followed closely by the stunning shape that still manages to look beautiful while including clever aerodynamics. This is a car that will flatter and entertain in equal measure, incorporating tech seamlessly into the driving experience. The n-car tech is a let down, though.
Advertisement – Article continues below
Some time in the 2030s, you won't be able to buy a new Ferrari (or any other car) in the UK with an internal combustion engine. Incredible, eh? And sad. In fact, this F8 Spider may well be one of the last Ferraris we see without some sort of electrified powertrain.
Not that we should be worried. Many of us decried the arrival of turbo power when it was added to Ferrari's mighty V8, but the engine sitting in the back of the F8 Spider is one of the best the company has ever made – and in the words of Bananarama, that's really saying something.
Best supercars 2020

It's also sitting in the back of one of the prettiest Ferraris to have come out of the Maranello gates for a while. And thankfully for us this one landed in the UK, allowing us to sample the latest Ferrari over here – and what a Ferrari it is. It would be wrong to describe the F8 as an all-new car and unfair to call it a facelift.

More reviews for F8 Tributo

Road tests

New Ferrari F8 Tributo 2019 review

Compared to the 488 it replaces, it's lighter, more powerful and thoroughly reworked, although there are some elements that are carried over. It also features more technology than ever, all designed to improve performance and the overall experience. By and large – in spite of the tech having names dreamt up by the marketing guys rather than the engineering department – it works, improving the experience and making the performance even more accessible.

This is a Ferrari that will flatter your driving; thrilling you without scaring you. And in the Spider it can be done with the roof down to enhance the whole sensation, and get you closer to the glorious sound of the V8 sitting just behind you.

The balletic folding hard-top will disappear in just 14 seconds – like the doors, it's carried over from the 488 Spider – while the rear glass window can also be lowered (even when the roof's up) for added aural pleasure. Other than that, all is very much as is in the F8 Tributo, starting with the reworked twin-turbo 3.9-litre V8.

A prod of the red start button fires it excitedly into life, but that's nothing compared to the excitement of sitting on an open road with its 711bhp and 770Nm of torque under your right foot.

The on-board technology impresses: Adaptive Performance Launch controls the amount of torque delivered depending on grip levels. Ferrari's Variable Torque Management also features, ramping up the torque levels as you fly through the gears.

The quick, slick reactions of the gearbox as it slices through the ratios with just a change in engine note to let you know when it swaps cogs is as impressive as the lack of turbo lag. You can leave the gearbox in auto mode or, for maximum fun, take control via the perfectly positioned paddles behind the steering wheel.

If you dare to put your foot flat to the floor and let the car take care of things, it feels theme park-fast as it charges forward, accompanied by one of the best exhaust notes in a new car today. It's noticeably fruitier than the first iteration of the turbo V8 in the 488 Spider.

Straight-line speed, with 0-62mph disappearing in 2.9 seconds, is astonishing, but so is the F8 Spider's ability to work with you through the corners. There's a huge amount of mechanical grip available, but there's also Ferrari's Dynamic Enhancer System, now in 6.1 form, that works with Side Slip Control to adjust brake pressure at the callipers as you accelerate out of corners. As the name suggests, this allows a very controllable amount of slip. It won't take care of steering corrections – you'll still need your wits about you if the power you apply is too much for the grip available – so it's not going to turn you into a drifting god. But, crucially, the electronics will get you from corner to corner quicker as you floor the throttle, click through the gearbox, dab on the brakes, and turn into the next bend.

The steering wheel has a smaller-diameter rim than the 488's, while the steering itself is full of feel and quick to react, if not quite as delicate as you'll find in a Porsche or McLaren. The brakes, however, are hugely impressive, with nice pedal feel.

It all adds up to offer mere mortals a taste of performance that they just wouldn't have been able to achieve even a few years ago. If the job of a Ferrari engineer is to make ever more performance available to its customers in safety, providing them with more fun per mile, it's job done. Brilliantly.

What also impresses is how content the F8 Spider is to pootle around. It's easy to drive, with excellent forward visibility and slick, slow-speed changes from the gearbox in auto mode. There's even a bumpy road setting, which is supposed to take the edge off the firm ride – especially useful in the UK. But the ride is fairly well honed, and we didn't notice all that much difference when we hit the button to soften the suspension.

The other thing a Ferrari has to do is to look stunning and, although beauty is subjective, in our eyes this is one of Ferrari's prettiest ever V8s. Especially so because that beauty comes hand-in-hand with clever aerodynamics. As with the F8 Tributo, the front end of the Spider ushers in a new look for Ferrari: slimmer LED headlights sit within the S-Duct aerodynamics that use Ferrari's racecar knowledge for maximum efficiency. At the back, the spoiler is bigger and there's a welcome return to twin circular rear lights – a retro look brought bang up-to-date.

If there's one letdown, it's with the interior. There's no faulting the quality, but the dash layout harks back a couple of generations (witness the tiny navigation/Apple CarPlay displays), and the usability of the controls leaves a lot to be desired.

And while F1 drivers might like their steering wheels to be loaded with buttons, having controls for the indicators, lights, wipers, suspension, plus the start button and Manettino, all on there is a bit too much for the rest of us.

| | |
| --- | --- |
| Model: | Ferrari F8 Spider |
| Price: | £225,897 |
| Engine: | 3.9-litre V8, twin-turbo |
| Power/Torque: | 711bhp/770Nm |
| Transmission: | Seven-speed automatic, rear-wheel drive |
| 0-62mph: | 2.9 seconds |
| Top speed: | 211mph |
| Economy: | 21.7mpg |
| CO2: | 296g/km |
| On sale: | Now |

Source: Read Full Article