New Ferrari 812 Competizione 2021 review
We hit the track with the Ferrari 812 Competizione, the extreme version of the 812 Superfast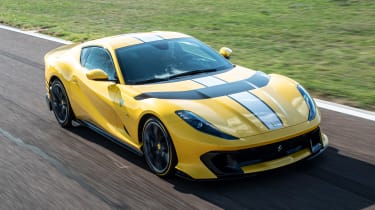 5.0 out of 5
Buy used for less at Buyacar
Verdict
The 812 Competizione is a force of nature. The engine is an event simply in itself, but it's combined here with exploitable handling that makes this ultimate Ferrari immensely enjoyable to drive and surprisingly forgiving too, given the performance on offer. As Ferrari's special series cars go, the Competizione is a wonderful way to celebrate its superb V12.
Even Ferrari isn't immune to the onset of electrification, announcing it will build its first full EV in 2025. But until all of the iconic brand's cars have to go electric, we'll receive some special models as homages to the internal combustion engine that distil Ferrari's knowledge when it comes to building pure-petrol-powered sports cars.
The 812 Competizione is exactly that, a limited-run, tuned and honed version of the already-ballistic 812 Superfast. It's also available as an Aperta convertible and costs an eyewatering £446,970 before options. But even if you can afford one, you're too late. They're all already sold.
Best track day cars 2021

And you will want one, because the spec is mouthwatering. Ferrari's 6.5-litre V12 has been uprated to 819bhp and features new titanium con rods, new pistons, a redesigned crankshaft and a new intake manifold.

The dual-clutch gearbox has been recalibrated for five per cent faster shifts and the independent rear-wheel steering has necessitated a new version of Ferrari's masterful Side Slip Control set-up. The car is 38kg lighter than the standard 812 and its reworked body produces more downforce.

The Competizione is a physically imposing thing, too. Standing next to it is intimidating due to its sheer size, and the knowledge of that extraordinary power under that long bonnet. Once inside, it'll be familiar to anyone who has driven the 812 Superfast, with its multifunction screens and large rev counter, although the gear selector is new. Alcantara seems to cover almost every surface, and where it doesn't, carbon fibre enhances that hardcore vibe.

More reviews

In-depth reviews

Ferrari 812 Superfast review

Road tests

New Ferrari 812 GTS 2021 review
New Ferrari SP3JC ride review
New Ferrari 812 Superfast 2018 review

The engine erupts into life, dominating your thoughts. It's responsive right from the off and pulls with urgency even at low revs, but hold your foot down and the acceleration becomes savage.

Even so, the big V12 has more to give, the note by now a high-pitched scream, and the speed building incredibly rapidly until it feels as though it simply has to burst. But it doesn't, and only when the gearshift lights start blinking away on the top of the steering wheel, as the 9,500rpm rev limiter cuts in, do you grab the right-hand paddle and select the next gear.

Keep going like this and the Ferrari will hit 62mph in just 2.9 seconds; really letting the Competizione have its head is not something to be undertaken lightly.

Once you've grown at least a little used to the level of performance that's on offer here, other aspects of the Competizione begin to come to the fore.

The steering is light, and very fast, but it doesn't seem to make the car at all nervous, and the huge amount of grip available is soon obvious. The nose darts for the inside of a corner, but the rear of the car doesn't feel like it wants to break free – at least, that is, until you put the power down a bit early, and then those previously sticky Michelin tyres are soon sliding.

Doing this isn't as frightening as it sounds, at least at more sensible speeds, because the Competizione communicates so clearly to the driver what is happening, and much of this surprising friendliness must be due to that independent rear-wheel steering, plus the superb electronics.

The brakes also clearly have the power to contain the car, no matter how powerful it is. However, after the abuse they received on track there was some suggestion that they were beginning to struggle.

| | |
| --- | --- |
| Model: | Ferrari 812 Competizione |
| Price: | £446,970 |
| Engine: | 6.5-litre V12 |
| Power/torque: | 819bhp/692Nm |
| Transmission: | Seven-speed dual-clutch auto, rear-wheel drive  |
| 0-62mph: | 2.9 seconds |
| Top speed: | 211mph+ |
| Economy: | TBC |
| CO2: | TBC |
| On sale: | Sold out |

Next Steps

Source: Read Full Article