New Ferrari 296 Spider to make its debut on 19 April
Ferrari teases V6-powered Ferrari 296 Spider ahead of upcoming reveal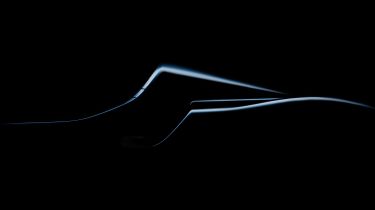 The world of drop-top supercars is getting another member in 2022, in the form of the new Ferrari 296 Spider if the Italian brand's latest social media teaser is anything to go by.
Based on the Ferrari 296 GTB, we expect to see the Spider model – which could be badged GTS – to utilise the same 819bhp 3.0-litre twin-turbocharged V6 plug-in hybrid powertrain as the Berlinetta, mated to an eight-speed dual-clutch transmission.
Best supercars 2022
Ferrari's recent social media post doesn't show much of the car, but we can see the side intake, windowline and rear haunch of the new model – with an obvious lack of a roof.
The upright design of the rear window and the surrounding body panel mimics the legendary 250 LM of the sixties, and judging by this teaser image we could see that design trait continue with the Spider. With this in mind, the 296 Spider will likely be more of a targa than an full open-top convertible.
Like most drop-top supercars, the 296 Spider should receive some strengthening to compensate for the lost roof, resulting in some extra mass added to the coupe's 1,470kg dry weight.
The changes shouldn't disrupt the 296's straight-line performance too much though, although we do expect the fixed-roof car's 2.9-second 0-62mph time to slide slightly for the Spider. Expect a top speed that still exceeds 200mph.
As for pricing, the car hasn't even been officially confirmed yet, but a debut on the 19th April will see specs outlined. It's almost certain the 296 Spider will surpass the GTB's £241,550 starting price tag when it goes on sale later this year.
Check out our review on the new Ferrari 296 GTB here…
Source: Read Full Article