New BYD Seal 2023 review
The new BYD Seal saloon offers innovative tech and a decent drive in a bid to take on the Tesla Model 3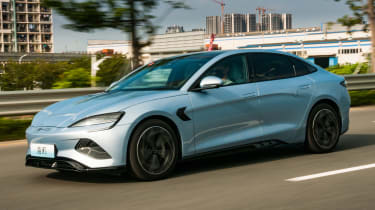 4.0 out of 5
Verdict
For a car with potentially affordable pricing if and when it makes it to the UK, and with this much equipment and impressive driving characteristics, things are looking positive for the BYD Seal. It really raises the bar for electric saloons, with a sporty set-up that creates a surprisingly engaging drive with plenty of range. This combines with proven tech to give it real appeal.
The BYD Seal made its first European appearance in October at the Paris Motor Show, signalling the Chinese company's intention to bring the model to Europe. When it does arrive, expect it to drop the Seal name for the Atto 4 tag, but we'll stick with the former for now, given our drive is of a Chinese model here.
Many manufacturers have outlined that they'll stop building pure-petrol and diesel cars, but BYD actually ceased production of pure ICE cars earlier this year to concentrate on PHEVs and EVs. We got behind the wheel of the long-range Seal to see what to expect.
Best electric cars to buy 2022 / 2023

The Seal is the third car, after the UK-bound Atto 3 and Dolphin, on BYD's new e-Platform 3.0. Not only does the Seal ride on this new EV-only architecture and use BYD's 'Blade' battery, but it's also the first model to feature cell-to-body construction. This incorporates the battery as part of the body, optimising space so as to cram more energy into the pack, as well as aiding structural rigidity and therefore driving dynamics.

And driving dynamics is an area where the Seal excels. Select the Sport setting for its steering and there is ample feedback and good feel. The double-wishbone front suspension and five-link rear set-up, coupled with the rear-wheel-drive layout of the Long Range version, deliver a great level of grip while providing a real element of fun. Compared with some other Chinese cars, the suspension is not overly soft in terms of its damping characteristics, and there seems to be a good balance between ride refinement and enjoyable handling here.

When it comes to the drive modes, there is little difference between Sport and Normal, but there is a noticeable drop in performance if you select Eco.

Brake regeneration is a weak point. Selectable by on-screen settings, the choice is simply between Standard and Larger. Unfortunately, neither mode is particularly strong, which means one-pedal driving is off the cards.

The Long Range Seal gets a 308bhp motor on the rear axle, up from 201bhp on models with the smaller 61.4kWh battery. With the more powerful motor and the 82.5kWh battery pack, this makes the Long Range the pick of the bunch, offering 435 miles of claimed range on the more generous Chinese testing cycle. If you really need a 3.8-second 0-62mph time, then there's a four-wheel-drive model, which adds a 215bhp motor to the front axle.

By cleverly packaging its battery into blades, BYD is able to use a more stable type of battery cell that competes with more advanced and more expensive chemistry in terms of energy density.

When it comes to size, the Seal is a bit bigger than a Tesla Model 3, but this is clearly the car that BYD is aiming to compete with. There's a 53-litre 'frunk', while the rear boot measures 320 litres, so practicality is fair, with passengers given plenty of head and legroom. Compared with the Atto 3 crossover, the interior is considerably pared back. In keeping with a nautical theme – the Seal is part of the Ocean series – the predominant colours are blue and white. Material quality is good, although there is some cost-cutting in areas such as the door handles, which look like they're metal, but are actually plastic.

The central 15.6-inch rotating screen dominates the dashboard, and together with voice activation, it controls most settings. Drive modes, however, are chosen via a scroll wheel near the drive selector, where there are also a few other basic controls for functions such as the heated windscreen and the audio system's volume. English is already stored in the system as a selectable language, which might suggest the car will come to the UK.

Backing all this up is a 10.25-inch digital instrument panel and a head-up display as well. In the front there are twin wireless phone charging pads; in the rear you'll find not only Type A and C USB chargers, but also a 220V outlet. Overall, the Seal scores well when it comes to both how it drives and its kit levels.

| | |
| --- | --- |
| Model: | BYD Seal |
| Price: | £31,850 (equivalent) |
| Powertrain: | 82.5kWh batt./1x e-motor |
| Power/torque: | 308bhp/360Nm |
| Transmission: | Single-speed automatic, rear-wheel drive  |
| 0-62mph: | 5.9 seconds |
| Top speed: | 112mph |
| Range: | 435 miles (CLTC) |
| Charging: | 150kW (10-80% 30mins) |
| On sale: | 2023 |

Source: Read Full Article