New BMW M3 Competition xDrive 2021 review
Has the new M3 Competition xDrive's four-wheel drive tainted BMW's most important M car?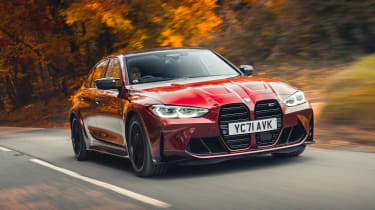 4.5 out of 5
Buy used for less at Buyacar
Verdict
Fitting four-wheel drive hasn't dampened the excitement the M3 offers – in fact, in many ways it has added to it. The performance is just as thrilling than ever, yet even more accessible. When you're not on a track, the extra security of four-wheel drive brings an added layer of reassurance. There are still minor flaws which prevent it being held among the great M cars, but it's an incredibly effective, yet practical, performance saloon.
This is the new BMW M3, but despite appearances it's unlike any M3 before it. For the first time in its 35-year history and at the sixth time of asking, the performance saloon icon is now offered with four-wheel drive.
Driving purists need not worry. For a start, the rear-wheel-drive option will continue to be sold alongside the M3 xDrive – costing £2,765 less than the £78,425 four-wheel-drive car. Second, this is BMW's core M car, so the conversion is slightly more involved than simply slapping an extra couple of driveshafts on the front axle.
BMW M4 Competition vs Porsche Cayman GT4: Track Battle

In introducing the four-wheel drive system, BMW has redesigned and retuned the M3's double-joint spring strut front axle; as before, it's made from aluminium to save weight. The front geometry has been tweaked to suit, while the response of the electromechanical power steering has also received attention so that it doesn't deviate too far from the overall feel of the rear-drive model. 

More reviews

Car group tests

BMW M3 Competition vs Alfa Romeo Giulia Quadrifoglio
BMW 3 Series Touring vs Mercedes C-Class Estate vs Volvo V60

In-depth reviews

BMW 3 Series review
BMW 3 Series Touring review

Long-term tests

BMW 320d M Sport: long-term test review

Road tests

New BMW M3 Competition 2021 review

Used car tests

Used BMW 3 Series (F30, Mk6, 2012-2018) review

Power is split between the two axles via a multi-plate clutch that, BMW says, allows for a fully variable torque split. The active M Differential features software unique to the M3 xDrive, while the transfer case has its own control unit which allows the redistribution of power almost instantly when any slip occurs. There are of course, new drive shafts at the front, but these are unique to both the M3 xDrive, and the mechanically similar M4 Coupe xDrive.

To maintain that BMW M character, the torque split has a distinct rear bias and in every-day driving power will be sent solely to the rear wheels until a loss of traction is detected. You can also select a drive mode which exclusively sends all 503bhp and 650Nm from the twin-turbo 3.0-litre six-cylinder to the back axle. This isn't something we'd recommend for the faint-hearted though; in this mode, the Dynamic Stability Control system is also disabled, so this is very much a drift mode that is reserved for the track. 

Leave it in four-wheel drive (there are parameters to tune within this setting, too) and the extra traction is immediately apparent from the second you launch. A full-bore start now allows the 0-62mph dash to be covered in a claimed 3.5 seconds, a full 0.4 seconds quicker than the hardly tardy rear-drive variant. As before, top speed is limited to 155mph, although an optional M Driver's Package lifts that to 180mph. 

The engine might not be the most tuneful, but it's incredibly effective. Whether it's left to its own devices or you prefer to take control with the steering wheel paddles, the eight-speed gearbox is solid, although we would like snappier shifts in the fastest mode.

But the xDrive system is about more than just the numbers. On the road, the result of that change is a level of traction that, in the dry at least, is almost completely unflappable. Even on bumpy, uneven B-roads it's possible to keep the throttle pinned through second and third gear with barely a hint of slip. 

Hard acceleration on corner exit reveals a balance very similar to the standard M3 in the 4WD Sport setting. The difference here is that, once the rear wheels reach their limit of traction, the fronts help out to deploy even more torque, firing this four-door saloon down the next straight at a phenomenal rate. 

The 50kg weight penalty from the extra drivetrain tech is difficult to notice in a car that's nudging 1,800kg anyway, so in terms of overall balance the xDrive maintains that wonderful feeling of a centre of mass located low down in the middle of the car; the M3 darts into corners far more keenly than a car of this size has any right to, yet it still retains the M3's personality, only now it's even more devastatingly quick.

While it's a very good thing that four-wheel drive hasn't compromised the M3's fun, it does also mean that some of the flaws (albeit minor ones) remain, too. Most significant of these is the ride, which is verging on being too firm. 

On anything other than racetrack-smooth asphalt, the M3's suspension feels busy. Some might enjoy this level of feedback from the road, but it never truly settles down. The M3 pummels the surface into submission on bumpy roads. One of its closest four-door rivals, the Alfa Romeo Giulia Quadrifoglio, features a 'bumpy road' setting for its adaptive dampers, which lets the suspension breathe with the road surface in a way that the BMW's set-up doesn't. 

The Alfa Romeo has nicer steering, too. Both cars' set-ups are quick, but the BMW's rack gives less of an impression of weighting up as load builds in the tyres. It's incredibly precise and effective on a track, but not as fun the rest of the time. 

Of course, four-wheel drive isn't an option on the Alfa, so some of those comparisons won't matter to sports saloon buyers who demand the extra traction. The BMW also benefits from a brilliant infotainment system within a solidly built cabin. Just like the standard M3 Competition, drivers can choose their own preferred drive mode settings and store them within the M1 and M2 buttons on the steering wheel, giving easy access to their ideal set-ups for the braking, steering, throttle response, gearshift speed and stability programmes. 

As the M3 is rear-wheel drive there's no loss of practicality adding a driven front axle, as boot space stands at the same spacious 480-litre volume as the rest of the 3 Series range. However, at 28.2mpg you lose just the slightest amount of efficiency compared with the regular car – 0.6mpg and while an extra 5g/km CO2 is emitted – but it's hardly much and will more likely depend on driving style.

| | |
| --- | --- |
| Price: | £78,425 |
| Engine: | 3.0-litre six-cylinder turbo petrol |
| Power/torque: | 503bhp/650Nm |
| Transmission: | Eight-speed automatic, four-wheel drive |
| 0-62mph:  | 3.5 seconds |
| Top speed:  | 155 mph |
| Economy/CO2:  | 28.2mpg/228g/km |
| On sale:  | Now |

Next Steps

Source: Read Full Article