New BMW iX1 2022 review
The new all-electric BMW iX1 SUV has arrived to take on the Mercedes GLA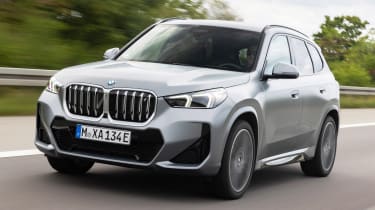 4.0 out of 5
Verdict
BMW's first crack at an all-electric X1 brings compromises dynamically but set apart from its combustion-engined stablemates, this is a rapid and refined small all-electric SUV. It doesn't look cheap compared with the likes of Mercedes' EQA, but the generous kit list, solid practicality and excellent in-car tech could persuade plenty of buyers that it's worth the premium.
Like all brands, BMW is taking a multi-track approach to electrification – and for now at least, that means offering pure-electric versions of some cars alongside the mild-hybrid and plug-in hybrid editions. The most effective example of this could well be the new iX1 – and this is our first chance to see how it stacks up.
From a distance, it's hard to notice any difference between the EV version of BMW's third-generation small SUV and those with combustion engines (and there are plenty of those, including a couple of diesels). But underneath the familiar bodywork is BMW's latest fifth-generation electrical architecture, with a pair of motors – one on each axle – delivering a hefty 308bhp and 494Nm of torque, and a resulting 0-62mph time of just 5.7 seconds. This is, by some way, the fastest of the Mk3 X1s.
Best electric SUVs to buy now

BMW says the 64.7kWh usable battery will mean anywhere between 257 and 272 miles on a single full charge, depending on the trim level and options – and the firm is optimistic that its focus on 'real-world' achievability will mean that most customers will be able to see these figures, most of the time. The car can use charging speeds of up to 130kW DC, allowing a 10-80 per cent refill in just under half an hour.

More reviews

Car group tests

Volvo XC40 vs Audi Q3 vs BMW X1
Infiniti QX30 vs Mercedes GLA vs BMW X1

In-depth reviews

Road tests

New BMW X1 2022 review
New BMW X1 xDrive25e M Sport 2020 review
New BMW X1 2019 review
BMW X1 vs Range Rover Evoque vs Audi Q3

Used car tests

It's being launched with this hefty spec, but it seems inevitable that a front-wheel-drive version of the iX1 – likely to deliver greater range at the expense of some performance – will come along at some point in the next year or so.

For now, though, the thing that strikes you after the first few minutes driving the iX1 is how effective that fifth-gen BMW electric tech is. It's perhaps not quite as refined as it is in the deeply impressive iX but then, even at a list price of just over £50,000, this car is half the price of the flagship SUV. Its ability to deliver prodigious amounts of instant torque with no discernible whine – even from the front-mounted motor sitting just ahead of you – is quite remarkable.

It's fast, too; it feels every bit as quick as that official 0-62mph time suggests. Flick the 'boost' paddle behind the left side of the steering wheel and the system gifts you the full 308bhp for 10 seconds (you get a countdown on the dash and in the head-up display), and the resulting speed is genuinely rapid. The iX1 even makes an interesting attempt at a synthesised straight-six engine noise.

You won't notice much tailing off as you get up to UK motorways speeds. As with the conventional model, it's the extremities like the side mirrors that produce the greatest noise when you're travelling at a rate of knots.

The chassis, on the other hand, feels like a different proposition from combustion-engined X1s. BMW hasn't released an official weight yet but the general consensus is the iX1 will end up somewhere just north of two tonnes, around 350kg more than a regular petrol X1. So, while the steering feels every bit as direct here as it does on the xDrive23i, the suspension – in particular the rebound damping – has been ramped up in a bid to mitigate body roll. In the most part the standard adaptive suspension copes but there's so much going on at each corner that once the road surface deteriorates, the iX1 can't quite manage to make peace with itself. The constant inputs mean it fidgets too often and gets out of phrase, in both pitch and roll, if you have to brake mid-corner.

However, we should add here that pretty much any small, pure-electric SUV will weigh a similar amount – and have a similar dynamic solution to cope with it. Compared with its stablemates, then, the iX1 feels more detached and unsettled in general. Put alongside its peers, it's pretty much par for the course – and with more responsive steering to boot.

Inside, the iX1 does feel very much like the X1, which is a good thing. The fit and finish are probably just respectable for a car at this money, instead of impressive for a vehicle that costs almost £20k less – but then, everyone knows how those battery cells are responsible for the hike in list price. There's still good space on board for four adults, although those in the rear may notice that the slightly raised floor lifts their knees a little higher than on an ICE version.

There are a few compromises on practicality, though; you lose the flexibility of the sliding rear seat that's a standard feature on petrol and diesel models (but not the PHEVs), and the capacity falls to a fixed 490 litres. It's a shame, too, that BMW hasn't been able to use the area under the bonnet for some sort of storage box; that would have been an ideal place for charging cables, instead of the small area beneath the boot floor.

BMW isn't mucking around with standard kit on the iX1, which is likely to be offered with a choice of a couple of trim levels, plus options packs. The baseline xLine editions will get 18-inch alloys, parking sensors with a rear-view camera, rain-sensing wipers and automatic lights, dual-zone climate control and the same dual-screen display (10.25-inch instruments, 10.7-inch infotainment) as the rest of the X1 line-up.

M Sport models are likely to step up the wheel sizes to 19 inches and bring high-gloss exterior trim, along with further tech features like adaptive LED lights and wireless smartphone charging.

| | |
| --- | --- |
| Model: | BMW iX1 xDrive30 |
| Price: | £52,255 |
| Engine/battery: | 2x e-motors, 64.8kWh (usable) |
| Power/torque: | 308bhp/494Nm |
| Transmission: | Single-speed automatic, four-wheel drive |
| 0-62mph: | 5.7 seconds |
| Top speed: | 112mph |
| Range: | 257-272 miles |
| Max charging: | 130kW DC (10-80% in 29min) |
| On sale: | Now |

Next Steps

Source: Read Full Article