New Alfa Romeo Stelvio Quadrifoglio 2020 review
The Alfa Romeo Stelvio Quadrifoglio gets a light refresh, is it now the fast SUV to go for?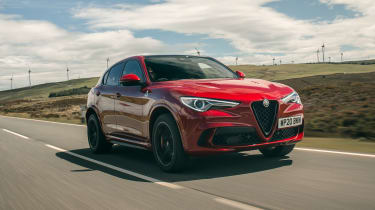 4.0 out of 5
Verdict
Not much has changed with the latest Stelvio Quadrifoglio, but it didn't really need to. Alfa Romeo has addressed criticisms of interior quality and in-car tech to varying degrees of success, but what is clear is that the Stelvio remains one of the most exciting performance SUVs on sale.
There was a time when supercars would be considered seriously rapid if they could crack a sub-four second 0-62mph time. Then, in seemingly no time at all, it became the norm for GT cars, then super saloons, and now performance SUVs.
Advertisement – Article continues below
Whether you think cars like the Alfa Romeo Stelvio Quadrifoglio need to be able to achieve that benchmark in a scarcely believable 3.8 seconds is one thing, but what isn't open for debate is that the hottest Stelvio, updated for 2020 alongside the rest of the range, is a seriously impressive bit of kit.
Fastest SUVs in the world 2020

The revisions for this year are fairly mild, starting with some subtle cosmetic upgrades. The tail lights gain smoked lenses, behind which now sits full-LED tech as standard. Items like the badging and window trim are darkened, and buyers can choose a new 21-inch wheel design. A carbon-fibre roof is optional, and three new paint colours are offered, each inspired by classic models from Alfa's glorious back catalogue: 6C Villa d'Este (a deep metallic red), GT Junior Ocra (yellow), and Montreal Green. The brake calipers can now also be finished in a choice of shades, while inside it's possible to choose from a couple of seat belt colours, too.

More reviews for Stelvio Quadrifoglio

Car group tests

BMW X3 M vs Alfa Romeo Stelvio Quadrifoglio
Alfa Romeo Stelvio vs Jaguar F-Pace

In-depth reviews

Alfa Romeo Stelvio review
Alfa Romeo Stelvio Quadrifoglio review

Road tests

New Alfa Romeo Stelvio 2020 review
New Alfa Romeo Stelvio Nero Edizione 2019 review
New Alfa Romeo Stelvio 280 Q4 2018 review

Inside, Alfa Romeo has listened to criticisms of the pre-facelift Stelvio, and every change has delivered a noticeable improvement. Previously, the trim and switchgear on the centre console felt cheap and nasty. Now, there's a reshaped, leather-trimmed gear selector, and all the switchgear is now inset into a smart piece of carbon fibre trim. It's now a much better match for the rest of the stylish cabin.

Coffee drinkers and thirsty takeaway buyers will be pleased to know that the cupholder has shifted slightly, so you can fit big drinks properly without butting up against the dash. There's also now a smartphone cubby that allows for wireless charging.

The rest of the cabin keeps the same lovely details. The metal gearshift paddles mounted behind the wheel are arguably the nicest to touch in any car this side of a six-figure supercar, while the steering wheel – slightly altered for 2020 – is still lovely to look at and to hold. Whether buyers choose the standard sports seats (now with electrical adjustment as standard) or the upgraded carbon-backed Sparcos, they look great and feel supportive.

The Stelvio's infotainment system is new for 2020 too. Well, new to the Alfa, rather than the more industry-wide sense – while the introduction of touchscreen functionality to the 8.8-inch display, new home screen widgets, and performance menus for the Quadrifoglio mean that it's better than before, this system is still laggy and fiddly compared to the best that rivals from Mercedes and BMW have to offer. At least Apple CarPlay and Android Auto are now standard.

While the Stelvio's infotainment feels a good few years behind the competition, the driving experience is right on the money. Nothing much needed tweaking in this area, so all Alfa has done has made a few alterations, such as laminated glass, to improve interior refinement.

That means, as before, the Stelvio is one of the most exciting SUVs money can buy. Power comes from a 2.9-litre twin turbocharged V6 engine sending 503bhp and 600Nm to all four wheels. The Stelvio is light by SUV standards though – the official 1,830kg makes a BMW X3 M almost 200kg heavier – which means that it's quicker on paper by some margin.

And it translates into the real world. The Stelvio rockets away from a standstill, and the V6 unit snarls and gargles all the way to the red line. You could argue that the Mercedes-AMG GLC 63's V8 has even more character, but the Alfa still makes a fantastic, angry noise. One which can be made even louder in 2020, too, thanks to a new optional Akrapovic exhaust.

It's modest kerb weight helps in the corners, too, where the Stelvio turns in keenly, and with about as little body roll as a hot hatchback. The steering ratio is typically Alfa-quick, but the chassis is more than agile enough to match its response.

Of course such cornering ability can come at the expense of ride comfort, but the Alfa does have a trick up its sleeve. Regardless of the position of the 'DNA' driving mode selector switch, the rate of the adaptive dampers can be controlled independently. In its firmer mode, it feels a little too tense on a British B-Road; switch into the softer setting, and it's as if the whole car exhales gently, relaxing itself into a smooth flow.

That's not to say that the ride is perfect though. Our car rode on the standard 20-inch wheels, and at low speeds it felt a little fidgety, it's still smoother than rivals from BMW and Mercedes for the most part

Prices for the Stelvio Quadrifoglio start from £73,195. That's an increase from before, but it's still some £6,795 cheaper than the BMW X3 M, which may feel more expensive inside, but isn't anywhere near as well-executed as a driver's car.

| | |
| --- | --- |
| Model: | Alfa Romeo Stelvio Quadrifoglio |
| Price: | £73,195 |
| Engine: | 2.9 litre V6 twin-turbo petrol |
| Power/torque: | 503bhp/600Nm |
| Transmission: | Eight-speed auto, four-wheel drive |
| 0-62mph: | 3.8 seconds |
| Top speed: | 176 mph |
| Economy/CO2: | 24.6mpg/261g/km |
| On sale: | Now |

Source: Read Full Article