New 2022 Range Rover arrives with plug-in hybrid power and seven seats
The new Range Rover luxury SUV has been unveiled with two PHEV powertrains and seven-seat capability

In more than 50 years there have only been four generations of Range Rover, so this all-new, fifth-generation car for 2022 is a significant step for Land Rover. Not least because the British brand's iconic luxury SUV will be available as a plug-in hybrid and with seven seats for the first time.
The new Range Rover is on sale now, priced from £94,400, and is the first model on the British brand's new MLA-Flex platform, which allows for pure combustion-engined powertrains, plug-in hybrid tech, and fully electric propulsion – and on that front, a Range Rover EV has been confirmed for 2024.
New 2022 Range Rover: engines, power and performance
However, the big news here is that the 2022 Range Rover will launch with two plug-in hybrid options. The first, badged P440e, combines a 3.0-litre straight-six turbocharged petrol engine with a 38.2kWh battery (31.8kWh usable) and a 141bhp electric motor for a total combined output of 434bhp and 620Nm of torque.
Best luxury SUVs 2021
The second option, badged P510e, offers more power from its 3.0-litre petrol unit but uses the same battery and electric motor, taking the total combined output to 503bhp and 700Nm of torque, delivering a 5.7-second 0-62mph time. A top speed of 87mph in the car's EV driving mode is possible.
The shared electrification across both plug-in choices means hybrid Range Rover variants can travel up to 62 miles on a full charge, with Land Rover claiming a real-world zero-emission range of 50 miles and CO2 emissions of less than 30g/km. Regenerative braking as part of the new car's brake-by-wire tech also features, while full efficiency information is yet to be confirmed.
Rapid charging capability at up to 50kW is included, so an 80 per cent top-up will take less than an hour; a full charge takes five hours using a home wallbox.
Alongside fully electric EV mode, there's a choice of Hybrid mode – the default setting, which combines both power sources and uses predictive energy optimisation tech, as well as geofencing to ensure electric propulsion is available in low emissions zones, for example – and Save mode. This latter setting retains a programmable state of charge for deployment later in the driver's journey.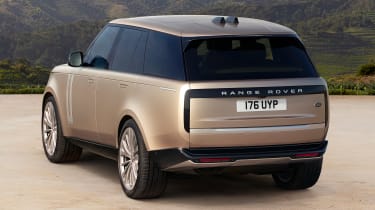 Mild-hybrid tech also features in the engine line-up, with a 394bhp 3.0-litre petrol (0-62mph in 5.8 seconds, 29.7mpg combined and 215g/km of CO2), as well as two diesel options. The 3.0-litre straight-six-engined D300 and D350 model offer 296bhp and 345bhp respectively, with up to 37.2mpg possible and CO2 emissions from 198g/km.
At the top of the engine range sits a new 4.4-litre twin-turbo V8 petrol unit, offering 523bhp and 750Nm of torque. Thanks to a Dynamic Launch system the 0-62mph sprint is dispatched in 4.6 seconds, while top speed is limited to 155mph.
All powertrains are mated to an eight-speed automatic gearbox with low-range capability and Land Rover's four-wheel drive system with Terrain Response 2 tech that tailors the drivetrain to different surfaces, while the new Intelligent All-Wheel Drive system can decouple the front axle on-road between 21mph and 100mph to improve efficiency and reduce CO2 emissions by up to 4g/km.
New 2022 Range Rover: design
These new powertrains are wrapped up in a more modern evolution of the Range Rover's styling. At the front, the grille has been refreshed with a new-look pattern, the standard digital LED headlights are sharper, and most of the car's sensors for its driver assistance systems have been incorporated into a panel lower down in the bumper to give a smoother, cleaner look. This also helps to reduce drag and improve aerodynamic efficiency.
According to Land Rover's Design Director, Massimo Frascella, the new Range Rover's design is all about reductionism, reducing the lines and joints in the body to give a new, more understated take on modern luxury.
With this in mind, no Range Rover will wear an engine or trim level boot badge, while alternatives to leather will be offered in the form of Kvadrat technical Ultrafabric to improve sustainability. However, leather will still be offered as standard.
Land Rover's design reductionism is clear at the rear, where the biggest styling changes for the new car can be seen. The tail-lights and indicators have been incorporated into a solid-looking black panel that is opaque when the lights aren't on.
In profile, the Range Rover is still defined by three clear horizontal lines. The first below the doors that now sweeps upwards towards the rear, the second runs back from the clamshell bonnet and is sharper and tighter than before, while the third separates the model's trademark floating roof.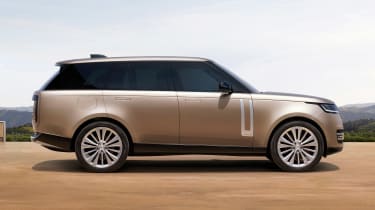 It's not the only design detail that has been retained, as the new Range Rover still boasts a split tailgate, while the door inserts have evolved to a U-shaped design. Alloy wheels between 20 and 23 inches will be available depending on spec.
New 2022 Range Rover: interior, technology and practicality
This fifth-generation Range Rover will be the first that offers seating for seven. The new car comes in five-seat standard wheelbase form, while if you opt for the long wheelbase variant you can specify a third row of seats.
The LWB model adds an extra 200mm between the car's axles, facilitating the new seating configuration. We tried the third row at the car's unveiling and, while there's not as much room as in the brand's larger Discovery, there's still enough space for children and adults on shorter journeys.
Improved torsional rigidity (up to 50 per cent) from the new aluminium-intensive platform means Land Rover's engineers have been able to increase the door aperture size to improve access, which is reasonable.
SWB models can be had with five seats, while if you go for the Executive Class Seating pack, this comes with four seats. The individual chairs in the rear are available on SWB and LWB cars, improving kneeroom by 44mm; there's up to one metre of legroom on four-seat LWB models.
This package also adds an eight-inch touchscreen controller in the back to tune the rear cabin environment, while the rear seats recline by up to 25 degrees to add even more comfort and refinement. If you want the seven-seat layout you're restricted to LWB form, although there are heated seats in all rows, while the rows are also tiered to improve visibility the further back you sit and fold electrically at the touch of a button.
The new Range Rover adopts Land Rover's latest Pivi Pro infotainment system with a gently curved 13.1-inch touchscreen on the dash. The brand says 90 per cent of tasks are accessible in just two steps from the home screen, while there's also more connectivity than ever before, with over-the-air software update capability, Amazon Alexa integration, Spotify and, of course, Apple CarPlay and Android Auto with wireless connections for both programmes.
There's a 13.7-inch digital dash panel, while as you'd expect in a luxury car, buyers can opt for a Rear Seat Entertainment package, which adds a pair of 11.4-inch HD touchscreens mounted on the front seatbacks.
There's 15w wireless phone charging on offer, as well as up to 60w of power to charge devices by USB C; if this isn't enough there's also a 230v socket available.
The new MLA-Flex platform is also loaded with clever technology to improve refinement, ride comfort and capability on and off-road.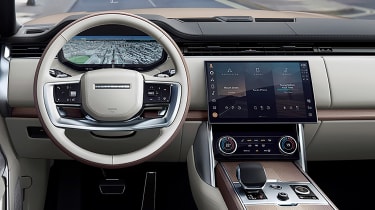 Along with the six off-road pre-sets for the Terrain Response 2 system there's also a Wade mode, which raises the body to give a 900mm wading depth, while the next-generation suspension set-up allows for up to 510mm of wheel travel to help boost off-road ability, a Range Rover calling card.
On-road, Land Rover's Dynamic Response Pro 48v active anti-roll tech helps to keep the car level in corners, improving stability and comfort for passengers, especially at high speed.
There's active noise cancellation with five times the range of previous systems and electronic air suspension with pre-emptive tech that uses navigation data to set the car up for the road ahead. All-wheel steering is standard, turning the rear wheels in the opposite direction to the fronts by up to seven degrees at low speed to give the more than five-metre-long Range Rover a 10.95-metre turning circle, less than most superminis.
On top of this, cabin storage has been optimised, with lots more clever trays and bins to store items, while boot space stands at 725 litres in both five-seat SWB and LWB form. Go for the seven-seat car and there's 312 litres with all rows in place, rising to 713 litres with the third row folded down.
There are a maximum 1,841 litres available in the SWB car and 2,601 litres on offer in the LWB model with all seats stowed away.
New 2022 Range Rover: SV models offer more personalisation
Land Rover is revealing the Range Rover SV models alongside the standard car, with this ultra-luxurious option gaining more personalisation potential and different design details.
Available in SWB form, as well as four or five-seat LWB configurations, the brand is offering two SV design themes: SV Serenity and SV Intrepid. The former features a metal-plated finish for the grille in Atlas Silver, as well as Corinthian Bronze accents, including the door inserts. The Range Rover lettering is also in Corinthian Bronze with Silver Satin surrounds.
The Serenity them has been designed to showcase the car's elegance and features mosaic-pattern embroidery inside, as well as lighter two-tone upholstery choices.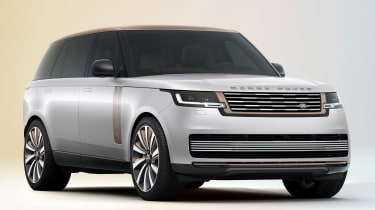 On the other hand, the SV Intrepid theme is a sportier, more driver-focused look and features dark Anthracite finishes in place of Serenity's bronze trim, while inside there's also a sportier focus to the single or dual-tone leather trim. Of course, buyers can specify their car's interior in any way they'd like.
All SV models feature ceramic badging outside, including an SV moniker on the tailgate, while inside these cool ceramic details are carried through to the main touchpoints, including the gear selector, Terrain Response dial and the volume knob.
For ultimate luxury buyers can opt for the SV Signature Suite, which only comes in four-seat configuration and adds a raised centre console that flows through to the rear of the car. This houses a retractable table in the centre, as well as a fridge for drinks and two crystal champagne glasses in between the rear seats.
New 2022 Range Rover: specs and pricing
From launch the new Range Rover will be available in SE, HSE and Autobiography trim levels, as well as a First Edition model that will be on sale for the first year of production.
Prices start from £94,400 for the D300 SE car, with the lowest-priced petrol on sale the P400 in SE trim, at £98,000. HSE spec rises to £100,700 for the D300, while the same engine in Autobiography trim starts from £114,300. First Edition trim is only available with either the D350 or P530 engine and is priced from £123,500.
Prices for the long wheelbase five-seat model begin at £120,000, which comes only in Autobiography and First Edition spec, while the seven-seat line-up starts from £103,200 for the SE model.
Prices for the plug-in variants are yet to be confirmed, but the P510e powertrain will only be offered in standard wheelbase form; long wheelbase models will be available with the P440e as the only plug-in choice.
The new 2022 Range Rover is on sale now, with deliveries commencing in spring next year, while prices for the PHEV and SV variants will be released within 12 weeks of the car's unveiling.
Q&A with Massimo Frascella
Design director, Jaguar Land Rover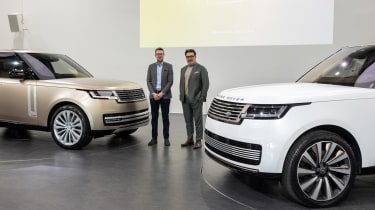 The man behind the fifth-generation Range Rover's new look tells us about the challenges and triumphs of the new car's design
Q: There have only been four before it, so what is the big challenge when you design a new Range Rover?
A: "You have to develop the look, make it more modern, but not go too radical so that it puts people off. The Range Rover is a design icon, so it needs to move forward in every area including design, but we really wanted to focus on the reductionism here and making modern luxury more understated. We had many design concepts – some more evolutionary than this."
Q: Tell us about these design concepts?
A: "We had many, but one in particular that was more evolutionary. But this car, the one that we decided on, is a bit more progressive. The real key to this car's design is its rear corners. We changed the way the lines work and it started to make sense."
Q: You kept many traditional styling cues, but will we see any of the new Range Rover's design features on the next Range Rover Sport?
A: "Yes, we kept the split tailgate, the floating roof; the Range Rover is still defined by three horizontal lines in profile. But I think they are different cars and they will have their own identity, so they will obviously be part of a family but have a distinct look."
What do you think of the new Range Rover? Let us know in the comments section
Source: Read Full Article