New 2021 Lotus Evija electric hypercar: new details revealed
The pure-electric Lotus Evija will feature five drivetrain settings, offering setups tailored towards maximum range or maximum performance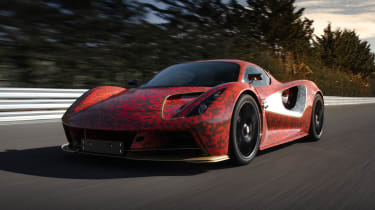 Lotus has revealed further details on the new Evija electric hypercar's drivetrain modes in a new teaser video.
The Rimac C_Two rival will be revealed later this year. Production will be limited to just 130 units – and each example will carry a base-price of £1.7 million.
Best hypercars 2020
The new Lotus Evija will feature five drive modes, each one incrementally increasing the amount of performance delivered by its pure-electric powertrain.
The least aggressive setting is called Range, and it limits the car's performance to 986bhp and 800Nm of torque, to maximise the distance the supercar can cover between charges.
City mode provides the same level of performance, but ramps up the car's regenerative braking system – which Lotus says is better suited to urban environments. Both of these lesser settings also disengage the front motor for better efficiency.
Tour mode provides a significant bump in power, pushing the Evija's power output to 1,381bhp and 1,700Nm of torque. It also re-engages the hypercar's front motor and activates the car's torque vectoring system to provide higher cornering speed.
Stepping up again, Sport and Track modes increase the Evija's output to 1,677bhp and 1,972bhp respectively. The latter setting also unlocks an increased level of torque vectoring and a Drag Reduction System, which is similar to that found on a Formula One car.
Lotus Evija: design and platform
The Evija's styling was penned by Lotus's design director Russell Carr. It draws inspiration from Le Mans sports cars and Formula One racers, so it's a significant departure from the firm's current model range. Lotus also says the Evija debuts a new design language that will "evolve and reappear" on its future cars.
It's based on a bespoke carbon-fibre monocoque chassis and cloaked in carbon-fibre body panels – the design of which were ultimately decided by aerodynamic performance. For example, the Venturi tunnels at the rear draw air through the body and increase downforce, while the LED tail-lights mimic afterburners on a fighter jet when illuminated.
An integrated front splitter, inspired by the Type 72 Formula One car, is designed to help cool both the front axle and the battery, which is located behind the seats. An active rear spoiler has also been integrated into the bodywork to improve aerodynamics and performance.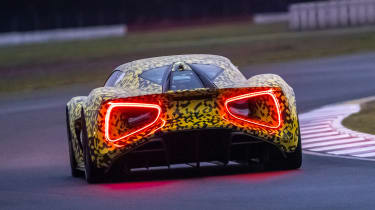 The Evija also features magnesium wheels that measure 20 inches up front and 21 inches at the rear. Carbon-ceramic brakes and Pirelli Trofeo R tyres are fitted as standard, while the in-board suspension (like that fitted to an F1 car) features adaptive dampers on each axle.
Lotus Evija: powertrain and battery pack
At the Evija's heart is a complex drivetrain. Lotus says it develops a maximum of 1,972bhp and 1,700Nm – which is four and a half times more than the firm's current flagship, the Evora 430. Such performance would make the Evija the world's most powerful road car.
The electric powertrain features four electric motors – one for each wheel. As such, Lotus claims that the Evija will crack the 0–62mph sprint in fewer than three seconds. The firm also states that 0–184mph will be dealt with in under nine seconds, while the car's top speed is in excess of 200mph.
What's more, torque-vectoring technology will also distribute power to any two, three or four wheels to maximise performance. When the car is driving on track, Lotus says that the amount of power going to each wheel can be increased to maximise agility. It can deliver full performance on track for seven minutes – the equivalent to around four laps of Silverstone.
When it's not being thrashed, the 70kWh battery, supplied by Williams Advanced Engineering, can cover 250 miles on a single charge – and it can recover its full capacity in just 18 minutes when plugged into a DC fast charger. The battery is also the first of its kind to be compatible with 800kW charging, although there are currently no such units available.
Lotus Evija: interior and infotainment
The cabin of the Lotus Evija is accessed via a pair of remote-operated dihedral doors, similar in function to those fitted to the McLaren 720S, and is trimmed almost entirely in carbon fibre. There are a pair of carbon-fibre-backed bucket seats with Alcantara pads for support and a pair of four-point racing harnesses in place of conventional three-point seat belts.
The rectangular steering wheel houses a range of buttons and dials, so the car's functions can be easily operated on the move. Meanwhile, a floating centre console between the seats has additional controls for the media, climate and nose-lift systems. There's just one digital display behind the steering wheel, although Apple CarPlay and Android Auto are available.
Lotus Evija: production and development
Production for customer examples of the Evija is due to begin in late 2020 on a new line at the firm's home in Hethel, Norfolk. The new building sits directly beside the Lotus test circuit and will handle the assembly of all 130 examples of the British brand's first electric hypercar.
The new facility comes at a time of great expansion at Lotus, made possible thanks to over £100 million-worth of investment from parent company Geely. Currently, 1,400 employees are based at Hethel.
Check out the latest on Lotus Evija's rival from Pininfarina, the Battista…
Source: Read Full Article