New 2021 Ford Bronco off-roader unveiled
Ford has revived the classic Bronco nameplate, providing a new retro-styled competitor for the Land Rover Defender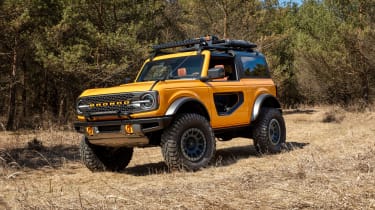 This is the all-new Ford Bronco. The revived off-roader follows the same vein as the new Land Rover Defender, blending chunky retro styling with modern technology. US buyers can pre-order the SUV now with a $100 (£80) reservation fee – and, when it enters production next year, the base-model two-door variant will be priced from $29,995 (roughly £24,000).
Ford says there are no current plans to introduce the new Bronco to the UK market, but the new Bronco would fit in well in a growing marketplace of revamped retro-styled off-roaders, which is currently dominated by the new Land Rover Defender, Jeep Wrangler and the Ineos Grenadier.
• Best 4x4s and off-roaders on sale now
New Ford Bronco: chassis and drivetrain
Like most purpose built off-roaders, the new Ford Bronco is based on a high-strength steel ladder chassis and it features a host of heavy-duty equipment, such as selectable four-wheel drive, a solid rear axle, locking front and rear differentials, extensive underbody protection panels and a two-speed transfer case.
There's also a set of long-travel Bilstein shock absorbers, enormous 35-inch off-road tyres and a pair of semi-active anti-roll bars, which can be disconnected to allow greater wheel articulation when tackling off-camber terrain.
The Bronco also has 11.6 inches (almost 300mm) of ground clearance – which is more than the new Land Rover Defender – as well as breakover and departure angles of 29 degrees and 37.2 degrees respectively. Finally, Ford says its revamped off-roader has a class-leading water fording depth of up to 33.5 inches (or 851mm).
However, unlike the original, the new Bronco is more than a piece of simple farm machinery. Ford has fitted this new model with a range of clever driver assistance technology, which the firm says will make off-road driving more manageable.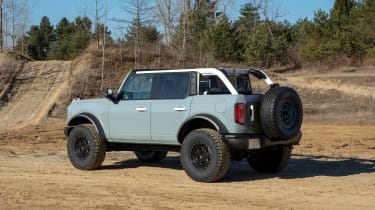 Ford's new Terrain Management System comes with a choice of seven driver profiles – four of which are geared towards off-road conditions. On top of the usual Normal, Eco and Sport modes, buyers also get Ford's Sand, Baja, Mud/Ruts and Rock Crawl settings, each of which play with the Bronco's diff-locks and traction control to keep the car moving.
There's also a new Trail Control cruise control, which is specifically designed to manage the car's powertrain at low speeds. This is coupled with Ford's Trail Turn Assist function, which the company says will use torque vectoring to tighten the Bronco's off-road turning radius.
Buyers have their choice of two turbocharged petrol engines. The entry-level model features a 2.3-litre four-cylinder unit, which develops 266bhp and 420Nm of torque. Ford's flagship Bronco will be powered by a 2.7-litre V6, with 306bhp and 542Nm of torque.
There's also a choice of two transmission options, with buyers offered either a seven-speed manual or a 10-speed automatic gearbox. The former has a class-leading low-range crawler gear ratio of 94.75:1, while the latter has a maximum crawl ratio of 67.8:1.
New Ford Bronco: design and interior
The new Ford Bronco's styling was heavily inspired by the firm's first-generation model. The company's engineers started the off-roader's design process by 3D scanning the original model and working around its proportions, essentially rescaling its lines to meet modern safety and performance requirements.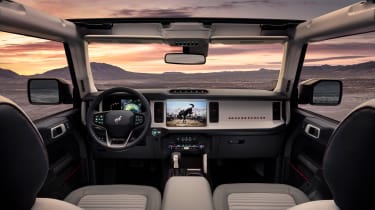 It shares the same slab-sided, bluff-nosed design as its predecessor, albeit with a range of modern conveniences such as LED daytime running lights, improved material quality, more accommodating seats and Ford's bang-up-to-date SYNC 4 infotainment technology, which has been lifted from the all-electric Mustang Mach-E. The infotainment system is available with either an eight or 12-inch screen and it's coupled with a digital instrument cluster.
The off-roader is available in either two- or four-door body styles – and both options come with removable frameless doors and a range of modular body panels, including a removable hardtop, a stowable fabric soft-top and snap-in rear quarter light windows. Four-door models have four removable roof panels.
Ford has designed the Bronco's interior to be hose-down – so, some models are available with interior drain holes, mildew resistant vinyl seats and washable rubber floor mats in place of carpets. The digital instrument binnacle and infotainment screen are also wipe-down, while the car's switchgear is protected with silicone rubber to prevent water ingress.
Do you want to see the new Ford Bronco go on sale in the UK? Let us know in the comments section below…
Source: Read Full Article