"Many car dealerships just don't try hard enough"
Mike Rutherford thinks the latest Driver Power survey confirms that some car dealerships aren't trying their hardest to sell cars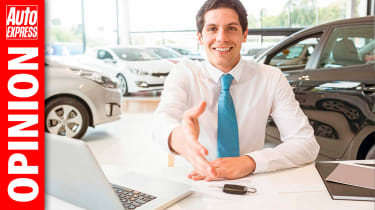 I'm not sure if it's laziness, complacency, arrogance or lethargy that's the issue at some franchised dealerships. But I do know that many just don't try hard enough – while continuing to press their self-destruct buttons. Take the Land Rover and SEAT dealer networks as examples. Both manufacturers are investing billions, and producing their finest cars ever. Yet in return, their networks have dumped themselves respectively in last and second-last in the Driver Power dealership survey.
If directors and dealer development managers at these two giants aren't demanding gargantuan changes at retailer level, they should be. Even I – a fan and former paying customer of both marques – feel deeply miffed. I've never known the Midlands firm working longer, building better cars, or trying harder. Meanwhile, the dealer network acquires the lowest-of-the-low status for itself. Well done.
New car sales reach 145,000 in June as dealers reopen
It's much the same with SEAT. At its Barcelona HQ, I have discussed and driven current and future cars that are as good as, or better than, those from sister brand Volkswagen. The response from the dealer network? Sleepwalking into the relegation zone! In 2015, SEAT was in similarly iffy territory. The concerned company asked if I'd address its conference to tell failing franchises where they were going wrong. Unpaid, I gave up a weekend highlighting the failings at the showrooms I had earlier visited. Five years on, they still prop up division four – also home to the DS, Renault, Mercedes, Nissan and BMW networks. All should be embarrassed, Land Rover, Mercedes and BMW retailers in particular. Such premium products have obvious appeal – but not if sourced from bottom-tier dealer networks. I speak as a journalist, and a consumer who still has modest Landie, Merc and BM products in his personal car collection.
Better – but still nowhere near good enough – are third-division networks representing (in descending order) Audi, VW, Volvo, Hyundai, MINI and Ford. At best we're talking mid-to-lower calibre dealers. I'm disappointed but not surprised, because I've been a customer at Audi, VW, Volvo and Ford franchises, and each failed horribly to impress.
Second-tier Kia, Citroen, Jaguar, Vauxhall, Skoda and Mazda networks are listening, learning, and longing for promotion to the elite league occupied by dealers representing Lexus, Honda and Toyota, followed by Porsche, Peugeot and underdog MG. The 20-plus dealer networks narrowly beaten or comprehensively thrashed by the top-three should remind themselves that Lexus, Honda and Toyota don't necessarily make the best vehicles on the market, but they are blessed with the best dealer networks. Result? Year after year – often decade after decade – customers remain fiercely loyal, largely thanks to the cream-of-the-crop retailers representing them on the front line.
With some justification, such consumers have concluded that good but not great vehicles respectfully served up by an elite, trusted, caring, sharing family of dealerships is preferable to a premium car casually spat out by a network that's simply not good enough.
Check out the results of Driver Power's 2020 car dealer survey here…
Source: Read Full Article