Manufacturers to face enforced electric car sales targets
Government plans mandate for electric cars to make up a certain proportion of manufacturer's sales in the UK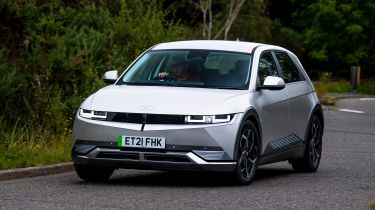 Car manufacturers will be required by law to meet sales targets for zero-emission vehicles (ZEVs) under a new mandate announced by the Government.
The percentage of mandated ZEV sales has yet to be decided, with the Department for Transport (DfT) intending to hold a consultation on the matter. It says the aim is to "improve consumer choice" and help deliver on the commitment to end the sale of new conventional petrol and diesel cars by 2030, and hybrid sales by 2035.
2030 petrol and diesel ban: what is it and which cars are affected?
Greg Archer, UK director of the European Federation for Transport and Environment, has been involved in talks with the DfT about the mandate ahead of the start of the consultation. He told Auto Express that he thought intermediate targets for makers were essential, "beginning in 2024 with a fifth of new cars sold being ZEVs, rising to around three quarters by 2030".
Archer also said "only zero-emission vehicles should count towards targets", with no credits for hybrids, while fines for missing targets "must be more expensive than those set by the EU" to ensure makers prioritise delivering EVs to the UK.
Before the full details were revealed, AA president Edmund King said the mandate was "probably unnecessary". Reacting to the possibility of a 20-per-cent ZEV mandate in 2024, the organisation's head of roads policy, Jack Cousens, warned that the targets must match "manufacturing capability" and "public demand". His biggest concern was that manufacturers would be forced to rush through electric cars that are "not fit for purpose" or risk financial penalties.
The announcement comes as part of the publication of the Government's net-zero strategy, which also includes £620million of extra funding for the plug-in car grant and EV charging infrastructure, particularly the on-street residential chargepoint scheme. A further £350million will be allocated for supporting the UK automotive sector in electrifying its vehicles and supply chains.
Some makers are not commenting on the proposals, but deferring to the Society of Motor Manufacturers and Traders. Its chief executive, Mike Hawes, said a "well designed, flexible regulatory framework" had the potential to increase the pace at which electric vehicles arrive on UK roads.
Vauxhall's managing director Paul Willcox welcomed the mandate in principle, but said in order for it to work, there would need to be "complementary targets on the other key parts of the electric vehicle ecosystem".
ZEV mandates around the world
California kicked off the Zero Emissions Vehicle mandate trend in 1990 when the California Air Resources Board required car makers to sell an increasing number of ZEVs. Currently, EVs must make up 25 per cent of sales by 2025, but companies are able to trade credits with other car makers to meet targets. Stiff penalties are in place for those who don't.
China's mandate for zero and low-emissions vehicles requires 18 per cent of new vehicles to comply by 2023.
An EU emissions target requires car makers to cut CO2 emissions by 37.5 per cent by 2030, but the commission is now proposing an even larger reduction to 55 per cent.
Reaction: what the experts say
Mike Hawes
Chief executive, SMMT
The automotive industry is putting zero-emission vehicles on Britain's roads at a pace beyond all forecasts. A well designed, flexible regulatory framework could help maintain – or even increase – this pace to ensure we deliver our decarbonisation ambitions. Combining regulatory commitments with financial ones is the key to a successful transition to zero-emission road transport.
Paul Willcox
Managing director, Vauxhall
We welcome the announcement, which will provide clarity to the UK motor industry and the rest of the electric-vehicle ecosystem on the basis of a 360-degree approach. Vauxhall believes a mandate can work if there are complementary targets on the other key parts of the electric vehicle ecosystem, which are key to driving Britain to a more sustainable transport infrastructure.
Jack Cousens
Head of roads policy, AA
Manufacturers know the 2030 and 2035 targets, and most are working to achieve those goals. A consultation will help set the percentage of new EV sales, but the initial targets must be realistic. They must match public demand and manufacturing capability. The worst case could be makers rushing through EV production to meet the ZEV mandate, and the car parc is filled with cars not fit for purpose.
Greg Archer
UK director, Transport & Environment
The success of the ZEV mandate will depend on the details. First, only zero-emission vehicles should count towards targets. Second, intermediate targets are essential, beginning in 2024 with a fifth of new cars sold being ZEVs, and around three quarters by 2030. Thirdly, fines for missing targets must be more than those set by the EU; this will ensure makers prioritise the UK BEV market ahead of the EU's.
Click here for our list of the best electric cars on sale right now…
Source: Read Full Article