Lexus LC 500 Convertible Regatta Edition revealed
The limited edition Lexus LC Regatta Edition features a unique colour scheme, which the company says is inspired by a luxury ocean-going yacht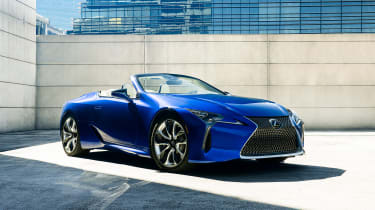 Lexus has launched a special edition version of the LC 500 Convertible. It's called the Regatta Edition, and the Japanese company says it's inspired by the world of yacht racing.
Tweaks over the standard LC 500 Convertible include a unique Structural Blue paint finish, paired with a Marine Blue folding soft top. The interior is trimmed in a blend of white and blue leather, which Lexus says was designed to "evoke the ambience of a luxury marina."
• Best sports cars on sale now
It's mechanically identical to the standard Lexus LC 500 Convertible. Power is supplied by the same naturally aspirated 5.0-litre V8 petrol engine, which produces 457bhp and 530Nm of torque. Drive is sent to the rear wheels via a 10-speed automatic gearbox, which should offer a 0–62mph time of around five seconds and a top speed of 160mph.
The LC 500 Regatta Edition will be available to order from 5th August and Lexus is currently prying its customer base for expressions of interest. An official price is yet to be confirmed, although the company has told us that fewer than 10 examples will be sold in the UK.
As such, a price-tag of over £100,000 for the Regatta Edition could be possible, given the special edition model's exclusivity and the fact that the current range-topping LC 500 hardtop already costs around £91,000.
New twin-turbo V8 engine previewed in Lexus LC racer…
Source: Read Full Article