Lamborghini's 63 is a 4,000hp, Twin-V12 Superyacht
You'll need a very different kind of driving license if you want to take Lamborghini's latest offering out for a spin. Officially going by the name of "Tecnomar for Lamborghini 63", this new beast — unveiled today some 75 miles from the brand's home — is a bit of a boat. In fact it's a lot of a boat: it's a high-performance yacht.
Lamborghini and the Italian Sea Group came together to create this powerboat. The 63-foot (19.2m) yacht appears to be largely based around the Tecnomar Evo 55 range, but with some pretty significant differences derived from Lamborghini design and technology rather than just a restyled model.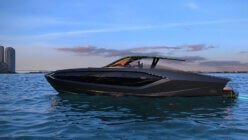 For starters, the yacht uses carbon fiber for the hull and superstructure, rather than aluminum or GRP composite. Though the styling is as close to Lamborghini ethos as hydrodynamics will allow, Tecnomar's nautical engineers have made it as efficient through the water as they can. Satisfying Lamborghini tradition, the 63 uses V12 power. In fact it has a pair of V12 engines — although they're marine-grade diesel MAN V12-2000s rather than mad Italian petrol units.
With a relatively low weight of 24 tons, the 4,000hp available from the power units can push the 63 up to 60 knots — or about 69mph. That's pretty nippy for a boat, and comfortably the fastest thing on the Tecnomar fleet.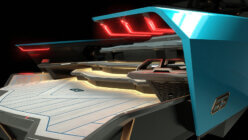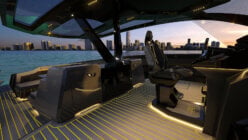 Of course the styling is an important part of the link-up. Lamborghini Centro Stile — the in-house design and customization department — has littered both inside and out with references to Lamborghinis from across the brand's 57-year history. You should be able to spot the Y-shaped bow lights, as a nod to the Sian FKP 37, among others.
The cabin is a maritime/hypercar crossover too. There's carbon fiber lashings throughout, including Lamborghini's "Carbon Skin" soft material in the seats. The helm — that's ship talk for steering wheel — is a Lamborghini steering wheel, and you even get two start/stop buttons straight from the cars.
Lamborghini's chairman, Stefano Domenicali, said:
"This yacht represents the significance of creating a valuable partnership, at its best: our co-operation allows the essence of both organizations' style and expertise to be transferred to different worlds, sharing in their diversity to interpret and add value to the final product in a new environment. If I had to imagine a Lamborghini on water, this would be my vision. I'm delighted to celebrate this successful collaboration."
The Italian Sea Group expects to deliver the first boat at the beginning of 2021. There's no price available, but since the official press release refers to "selected owners", we suspect it's both extremely high and not generally available…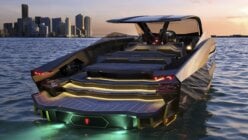 Source: Read Full Article