Is driving an electric car really child's play?
With many motorists wary of driving electric cars, Peugeot set out to show it was so easy a child could do it, and perhaps better than their parent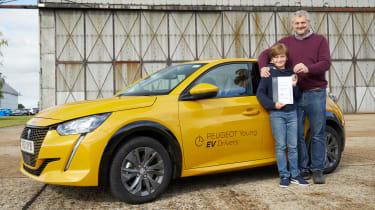 When Peugeot called for would-be young drivers willing to challenge their grown-ups in a driving contest, I was pretty sure my 10-year-old son wouldn't measure up.
Not that he's lacking in grit, determination or the desire to give his poor old dad a public showing-up, but the 150cm minimum height criteria looked challenging. However, one more felt-tip line on the kitchen door proved we'd be close enough as long as he skipped a haircut, leaving just the tiny hurdle that he was yet to drive a car. The boy clearly wouldn't stand a chance when it came to the 'challenge the grown-ups' part of Peugeot's scheme, I reasoned, so I gamely agreed we'd do it.
Electric car track day: are EVs fun to drive?
Market research was to blame for why Peugeot wished to unleash potential mayhem at the Bedford Autodrome. While many drivers are clearly eager to throw themselves headlong into electric motoring, research shows a cohort of the less gung-ho remain wary of switching from petrol or diesel cars to new-fangled EVs. Specifically, they're worried that driving a battery-powered car might be complicated or confusing, at least next to the models they've been used to for years. This activity was Peugeot's chance to prove that driving an EV is such a piece of cake that – wait for it – even a child could do it.
It was hard to keep the excitement under control on the long early Sunday morning slog up from Sussex to Bedford, where a small but committed Peugeot contingent had set up camp. Shortly after arriving, as my son hopped up and down in a frenzy of excitement on the tarmac next to a bright yellow Peugeot e-208 – a state of emotion possibly amplified by the tube of Rowntrees Fruit Pastilles consumed in one gulp since our fuel stop – I couldn't help wondering whether someone might be making a terrible mistake.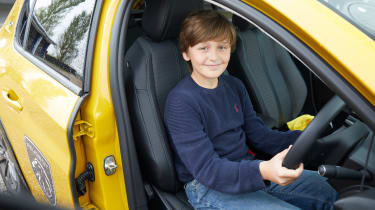 Still, at least it wasn't me misreading the tape measure, because a trial sit in the e-208 proved it to be an ideal fit for the vertically challenged. Not only were youthful feet in easy range of the pedals, but Peugeot's trademark i-Cockpit set-up combining instruments you look at over the top of – instead of through – with the unusually compact steering wheel, also seemed ideal for small people. With the driver's seat set to its highest, my boy could even see out of the windscreen. I left him in the capable hands of Peugeot's instructor team with not much more than the usual sense of trepidation, and headed off for a well deserved croissant.
The Peugeot e-208 happens to be one of Auto Express's top-three electric small cars, and the first part of driver training was a chance for all the kids in the challenge to get to grips with its specification. We've called the e-208 cute in our reviews, but with its aggressively chiselled headlights and pointy nose, black-trimmed wheelarches and a tailgate spoiler, our car looked positively feisty. The cabin has an appealingly sporty ambience too, and once you're settled behind the wheel, the attractive 3D i-Cockpit with holographic instrument pack gives the car a contemporary, techy feel.
The first step in the kids' brief training programme was a 15-minute guided tour around the vehicle, which involved a look under the bonnet at the electro-mechanical bits and an explanation of the charging procedure, both of which are more straightforward to explain to a 10-year-old than the internal-combustion equivalent. Moving inside, the instruction turned to the simple push-button starting procedure and the 'auto gearbox' selector with forward and reverse, plus an extra position for maximum regenerative braking. There was also instruction on the section of the instrument panel that shows how efficiently the car is being driven, with an instant readout showing your miles per kilowatt-hour. This would prove to be vital information during the forthcoming challenge, which is probably why no one bothered telling the grown-ups.
All the kids seemed to make easy work of the theory, but how would they get on with the actual driving? Mine hadn't even worked an accelerator or brake pedal before, unless you count a few goes on an old Sega Rally game in our local arcade. Out on the track there were crash barriers, and he'd be steering the thing – good grief! Only an instructor with a dual-control brake pedal and divine providence stood in the way of potential disaster, I felt sure, especially as I watched my son's first cautious yards from the 'pits' onto the track, and the enormous hash he made of his first ever corner. If he carried on like that, victory for dad seemed assured.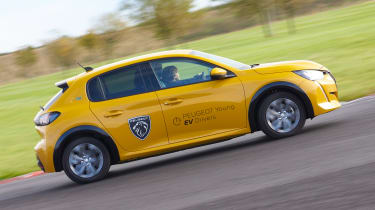 Would you believe it, though? Twenty minutes later I was watching the lad zooming around the circuit at 50-60mph with enough confidence to flash me a cheeky grin and a wave as he shot past. The writing was on the wall.
It duly transpired, of course, that the actual challenge would be nothing to do with heroic wheel-to-wheel battles at high speed on the circuit, and all to do with the drive for efficiency. And thus, not having fully appreciated the nature of the task, it was only half-way through my stint at the wheel that I realised the key to success involved keeping eyes glued to the aforementioned "efficiency meter".
If you're one of the drivers still wary of plugging into the EV future, you may not have heard of miles per kWh yet. It's a concept as simple as "miles per gallon", and just as important if you're looking for an electric car that's cheap to run, because it reveals how carefully an EV "sips" the charge from its battery. Thanks to society's fixation on "range anxiety", you'll rarely see mi/kWh quoted anywhere in new-car brochures, which are typically all about how many hundreds of miles you can drive between charges. That's often much more about the size of the battery you're buying, than how efficient your new car can be.
Maybe car makers don't think 'mature' consumers can grasp the concept, yet all the electric cars I can think of have mi/kWh displayed on the dashboard – just as you probably expect to see an instant mpg fuel economy readout on a petrol or diesel vehicle.
Anyway, to cut a long story short, number-one son duly completed a pair of competitive laps of the Bedford Autodrome with his eyes fixed firmly on the efficiency readout, making best use of the regenerative braking to record an impressive 5.2mi/kWh. So what about dad? Suffice it to say, by the time I'd realised no one was going to be impressed by my perfectly clipped apices, the game was already up. I snatched the auto shifter back into regenerative mode for my second and final lap, but crossing the line with the meter showing 4.8mi/kWh meant only one thing: victory to the challenger and proof, if any were needed, that driving an EV is such a piece of cake that even a 10-year old can do it. Dammit.
Click here for our list of the best electric cars on sale right now…
Source: Read Full Article