'I'd prefer less electric car hype and fewer broken promises'
Mike Rutherford thinks realism is key to sustaining the growth of electric cars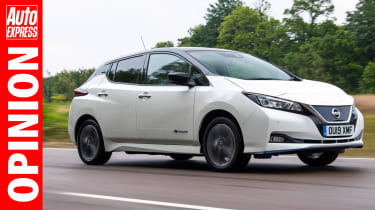 It's 10 years, almost to the day, since I first drove the Nissan Leaf – the first mainstream pure-electric car on sale in Britain. Great that 500,000 have been built since. Shame that its maker has almost certainly made a loss on every one of them.
The problem is that 100-per-cent-electric cars with punishingly pricey battery packs are expensive to make and comparatively difficult to sell in large numbers, which in turn means they're built in low volumes. Such vehicles lack the necessary economies of scale their less expensive, pile-'em-high, sell-'em-cheapish petrol or diesel counterparts enjoy.
Best electric cars to buy 2020
This isn't just a Nissan problem, it's a major headache for the global motor industry. Keen, lean, mean Elon Musk may have mastered the art of selling 100-per-cent-electrics at a profit, but Tesla is an exception to the general rule, because pretty much every other firm loses money on pure-EV sales.
So before we complain about the unquestionably high price stickers slapped on these cars, maybe we should derive some comfort from the fact that we're able to buy most of them at less than cost.
But according to TV bloke turned EV crusader Robert Llewellyn, "Within two years, they will cost the same or cheaper, and manufacturers who don't do that will go out of business." It means that in 24 months the – for example – Volkswagen e-up! (currently £23,000) will be the same as the petrol up! (from £13,000 today). And if it doesn't, VW won't survive. Really? You sure, Bob?
I'd prefer less EV hype, more realism, fewer broken promises, the whole truth about the cars, the often-criticised charging network, and National Grid, which still suffers too many power cuts. It's time for more EV-related honesty. On the political scene, Labour has just announced – in brutally honest fashion – that, if elected, it will simply ban all Brits from purchasing new petrol, diesel and hybrid cars as early as 2030, bludgeoning buyers into pure EVs or even costlier hydrogen vehicles. Never mind that by prematurely declaring combustion-engined or part-electric cars illegal in our showrooms, UK firms such as Jaguar and Land Rover, and their employees, will be gravely wounded.
On the industry front, the signs are looking more reasonable and considered, with Polestar already demanding greater transparency; GM telling its dealers each one needs to spend hundreds of thousands on EV training and kit; and Citroen soon staging its Urban Collectif, where we'll discover more about Ami, its dirt-cheap breakthrough personal mobility machine that's genuinely unique.
Kia is also saying and doing the right things thanks to its already world-beating e-Niro and Soul EV, plus at least one new electric model every year for the next seven years.
Among the volume manufacturers, Nissan of Japan bravely went for the title of World EV Champion, temporarily acquired it, then lost it as the Leaf started to look out of shape and out of breath. Kia from neighbouring South Korea is fighting fit, has got its timing right, and intends to inherit that World EV Champ crown – if it hasn't already done so.
Source: Read Full Article