GT Sport Daily Races: Keeping It Real
The last set of GT Sport Daily Races for this year is heading to the real world, and taking players to some of the game's destinations around the globe.
Race A heads out to California, and the Willow Springs facility on the edge of the Mojave Desert. It's an N400 pick and mix this week, with a choice between two Porsches — the 2009 911 GT3, and the 1995 Carrera RS Club Sport — at the Big Willow circuit. To make the two competitive with one another, there's both Balance of Performance (BOP) and unique, preset vehicle tuning for the four-lap event, so just pick your Porsche and go racing.
Boasting almost as few corners as Big Willow (10 rather than nine), Race B will take you to Austria's Red Bull Ring. The race here is for Gr.3 cars — essentially GT3 race cars, loosely based on road-going machines. You can pick from any of the vehicles in this class that you own for this five-lap race.
If it's corners you like though, Race C has them all. It's just a two-lap race, but given that the circuit is almost 16 miles long that shouldn't be a surprise. Yes, you'll go to the Nurburgring, and the full 24-hour race layout for this week's endurance race slot.
Unusually, the cars are a little slower than in the Race B slot for Race C this time round. You can again choose from any suitable car in your garage, but it's Gr.4 cars — similar to GT4, with cars based on road cars and the most basic nod to racing requirements. This usually means front-wheel drive dominance, but the mile-long Dottinger Hohe may put a different complexion on affairs.
As it's only a two-lap race, there's not a lot of race strategy applicable this week. Both tire — racing hard — and fuel use multipliers are not high enough to require a pit stop, so just get out and race.
These three races will run through to Monday, January 4 2021, when another new set of three will replace them.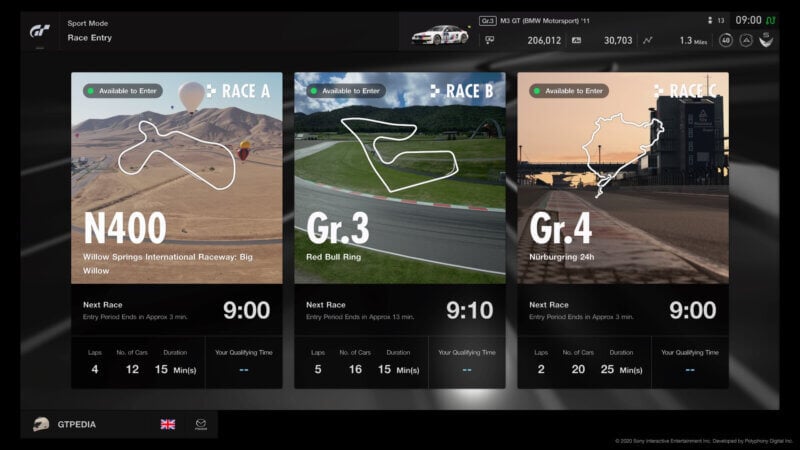 Race A
Track: Willow Springs – Big Willow, 4 laps
Car: Porsche 911 (993) Carrera RS CS '95, Porsche 911 (997) GT3 '09 – Provided Car
Tires: Sports Soft
Start Type: Grid Start
Fuel use: Off
Tire use: Off
Race B
Track: Red Bull Ring, 5 laps
Car: Gr.3 – Garage Car
Tires: Racing Hard
Start Type: Rolling Start
Fuel use: Off
Tire use: Off
Race C
Track: Nurburgring 24h, 2 laps
Car: Gr.4 – Garage Car
Tires: Racing Hard
Start Type: Rolling Start
Fuel use: 2x
Tire use: 5x
Source: Read Full Article