GT Sport Daily Races: Hatching a Plan
A new round of Gran Turismo Sport Daily Races gets underway today, with a variety of races to suit all tastes. We've got road cars, Le Mans machinery, and cars mid-way between the two this week, as well as both real and fictional race tracks to deal with.
Race A gives players a choice of European hot hatchbacks for the week's racing. You can take your pick from the Citroen DS3, Peugeot 208 GTi, Renault Sport Clio RS220, and Volkswagen Golf GTI, although the game will provide whichever car you choose.
Unusually, the cars here have adjustable settings. However, as they're provided machinery, this merely takes the form of pre-set, non-standard settings aimed at tightening up the field so players don't need to engage with anything but the racing. Simply pick your car and head out for the four-lap race of the Dragon Trail Gardens circuit.
Race B steps the pace up a little with the Gr.4 cars. These road car-based racing machines head to one of the fastest race tracks in the world, for a four-lap race at Fuji Speedway. There's no complication here, so just pick your weapon and go racing.
Our third race for the week goes to Japan's Autopolis circuit. Originally intended to host Formula One, the track never fulfilled its purpose but is a staple of top-level Japanese racing and once hosted the World Sportscar Championship.
You'll be channeling this event this week, as you'll be driving your choice of Gr.1 car. This class encompasses cars from the Group C era to modern LMP1 — and beyond, with some concept machinery from the Vision Gran Turismo stable.
There's one special consideration for this race, with both the Racing Medium and Racing Soft tires available and mandatory. That means players must use both tire grades during the race or face a one minute post-race time penalty. With 6x tire wear that could lead to some interesting tactics in the 12-lap race.
These three races will run through to Monday, May 31, when another new set of three will replace them.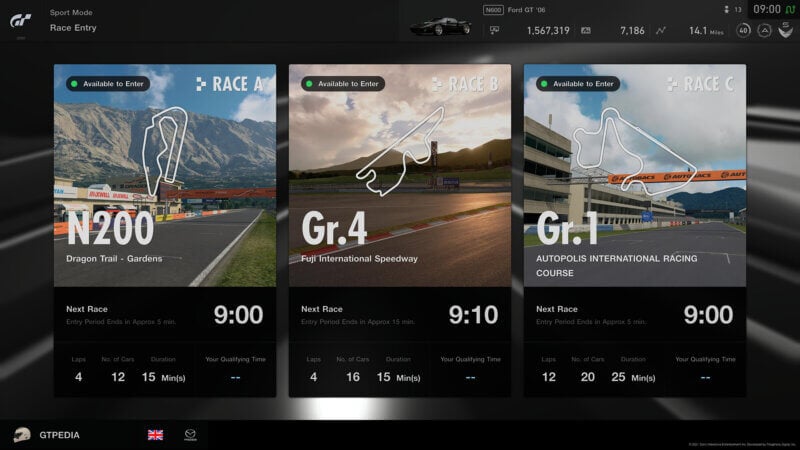 Race A
Track: Dragon Trail – Gardens, 4 laps
Car: N200 – Provided Car
Tires: Sports Medium
Start Type: Grid Start
Fuel use: Off
Tire use: Off
Race B
Track: Fuji International Speedway, 4 laps
Car: Gr.4 – Garage Car
Tires: Racing Medium
Start Type: Rolling Start
Fuel use: Off
Tire use: Off
Race C
Track: Autopolis International Racing Course, 12 laps
Car: Gr.1 – Garage Car
Tires: Racing Medium*, Racing Soft*
Start Type: Rolling Start
Fuel use: 2x
Tire use: 6x
* denotes mandatory tire
Source: Read Full Article